This morning we had a tour of Fire Station #5 so that Preston could finish up the requirements for his Tiger Cub Badge. They knew a tour was planned, but were expecting more people for some reason... but since it was just Preston, Callen and me... they took a lot of time with us and let Preston see and do a lot of really neat things! He was so excited and learned a lot from this field trip! The firemen were so nice, and we greatly appreciate the time they spent with us!
When we first entered the firehouse, Fireman Stevenson explained that it is their home away from home and they spend A LOT of time there. They have nice big, comfy chairs and a TV so that in between calls they relax. There is a bedroom for the "boss" and then a big room with lots of beds for everyone else. And sometimes they actually get to sleep. =) He showed us their kitchen and the big maps on the walls that help them know the city. Preston told him our address and he found us right away!
Then he took us out to the trucks. He showed us the ambulance, and there were some paramedics working on some stuff inside of it. One of them said he was an Eagle Scout... and had previously been a bull rider! Wow!
Checking out the ambulance.
Then we got to check out the firetruck. Preston sat up where the "boss" sits and got to try on the headphones.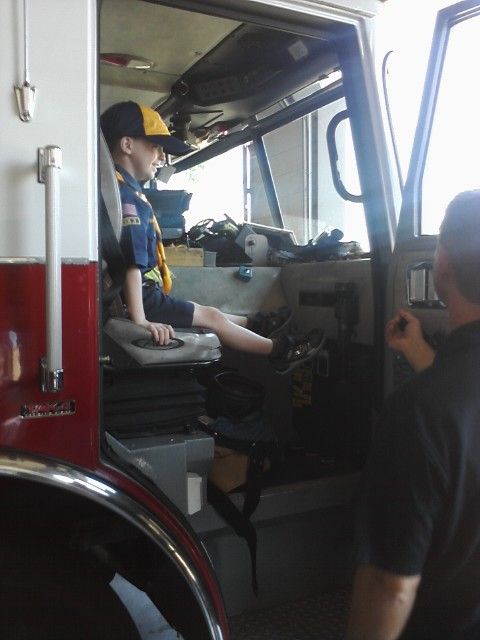 Where the "boss" sits.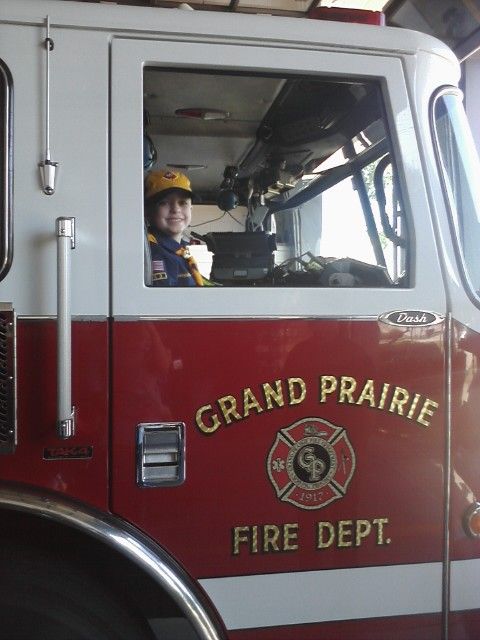 Fireman Preston!
Then Fireman Fritz came out and showed us their uniform and how they put it on. It's very heavy and VERY hot in the summertime, but it protects them from fire. He also put on the mask that they use to be able to breathe fresh air instead of smoke. Preston liked that he talked like Darth Vader in the mask.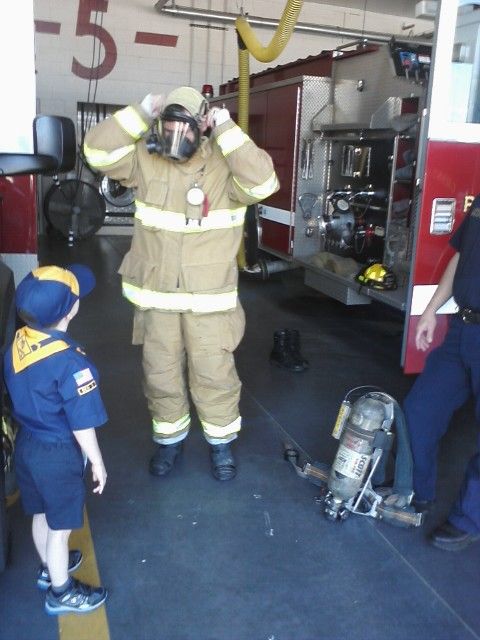 Putting on all the gear.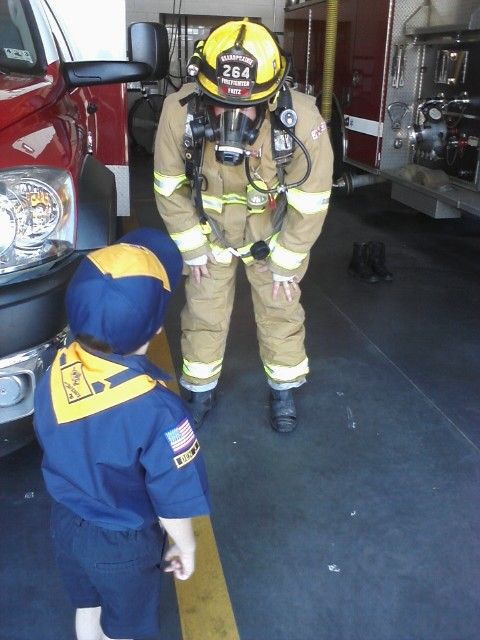 He talks like Darth Vader!
Then Fireman Lane let Preston ride in the firetruck as he pulled it out of the garage. And let him shoot water out of the hose. That was pretty exciting for Preston!!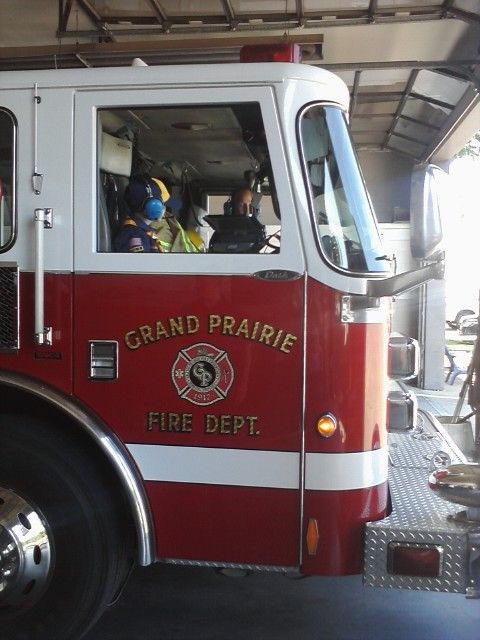 Pulling the truck out of the garage!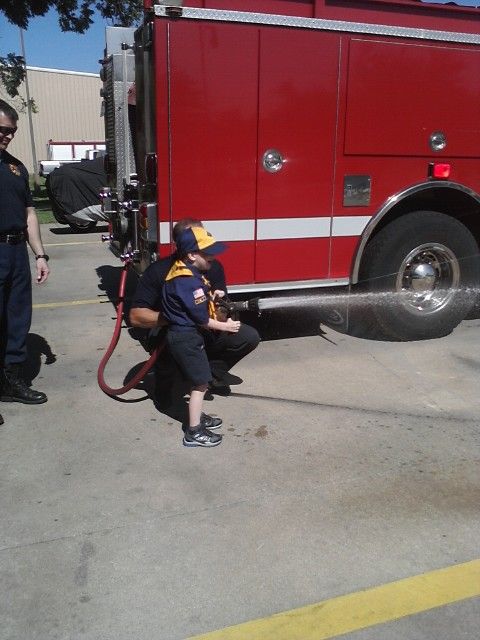 Wow, working the fire hose!
Preston got a nice tour of all the tools and equipment in the fire truck too.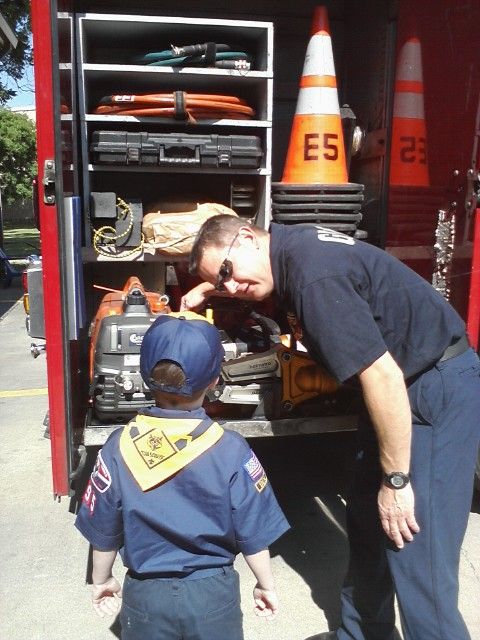 Jaws of Life, etc.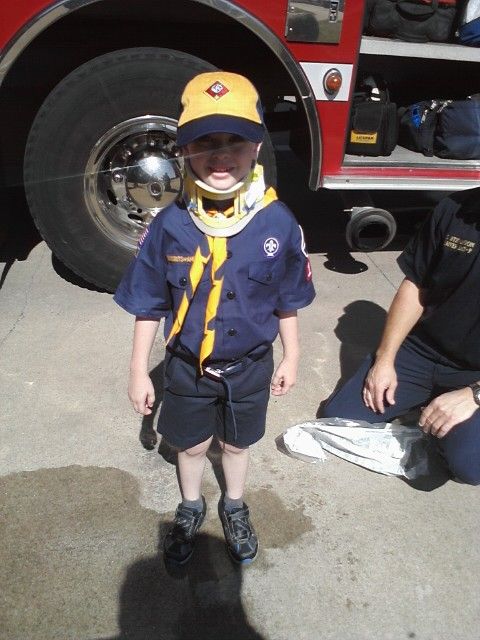 He got to try out a neck brace.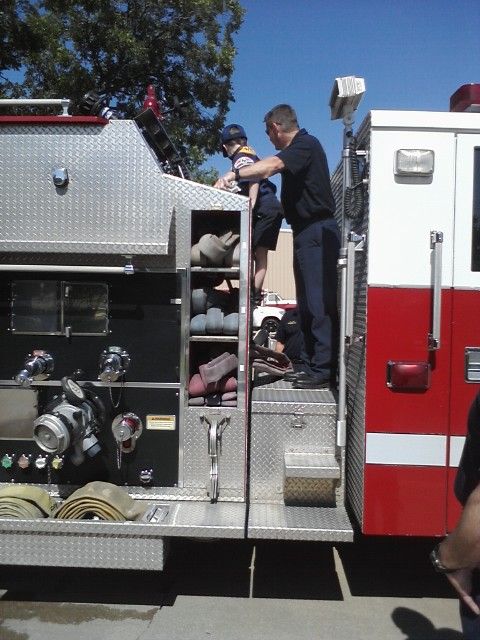 Look at all the buttons and levers!
It was a great tour and the firemen were so nice to give us so much information and hands on experience. We were joined on our visit by a butterfly AND a lady bug. Haha.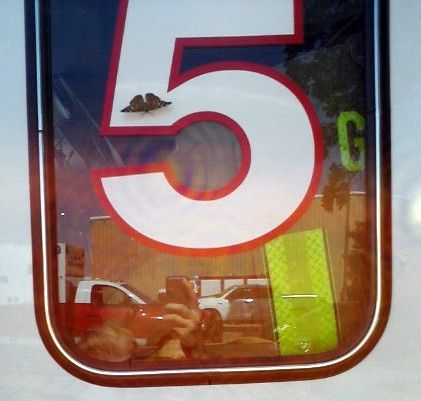 Butterfly!
Thanks Fire Station #5 and crew!