In my life this week...
Last week we took a trip to Michigan to visit Michael's parents. It was a great vacation, with only a few minor bumps (basically just 19 hours of driving each way and some grumpy kiddos). I will post a blog on it soon, hopefully. I have lots of pix to share and certainly want to record our trip for memory's sake here. This week was basically just recovery mode and trying to get back into the swing of "normal life." We had a Homeschool Group meeting on Tuesday, plus I had Children's Ministry Training that evening. We had lunch with my mom on Wednesday, then Children's Church that evening. Michael had band practice at church (he's running sound on Sunday) and is working this evening. I'll have AWANA training most of the day tomorrow, plus a friend's baby shower and then Michael works tomorrow evening too. So... back in full swing, for sure!
In our Homeschool this week...
Tot School:
We started the
1plus1plus1equals1.net
"Tot School" printables
this week with letter "A." Callen was pretty excited to have his own notebook with things to do. He loved saying, "I do school. Where's my notebook?" We worked on recognizing the letter, which he was already pretty good at, as well as went over apples and other kinds of fruits. I use a notebook, the print outs in sheet protectors and Crayola Dry-Erase Crayons. He colored, drew lines and circled various things as we went through it. Some times I went through the pages with him, and other times I just handed him the notebook and let him do what he wanted. He also put together a three-piece puzzle of an apple, worked on putting things in order and laced a laminated picture of an apple... he actually really enjoyed that for a while! We also read lots of apple and fruit books this week, like
A Cow's Alfalfa-Bet
,
The Bowl of Fruit
,
A Book of Fruit
,
Apple Picking Time
,
Apple Farmer Annie
,
Under the Apple Tree
and
Growing Colors
.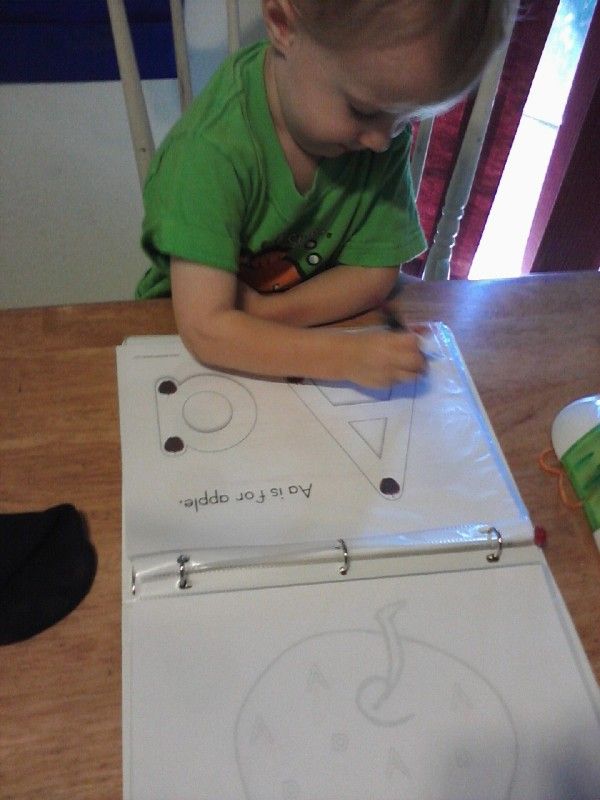 Coloring the little apples red, then connecting them.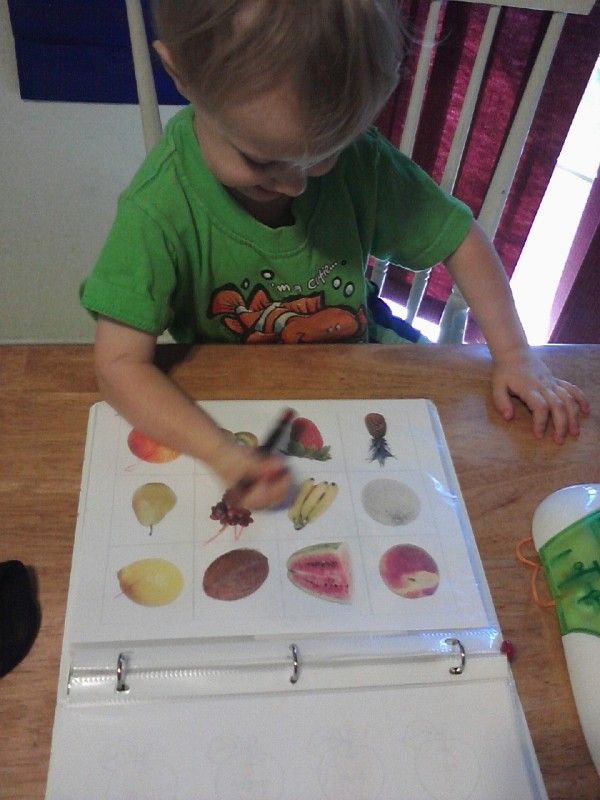 Identifying different fruits.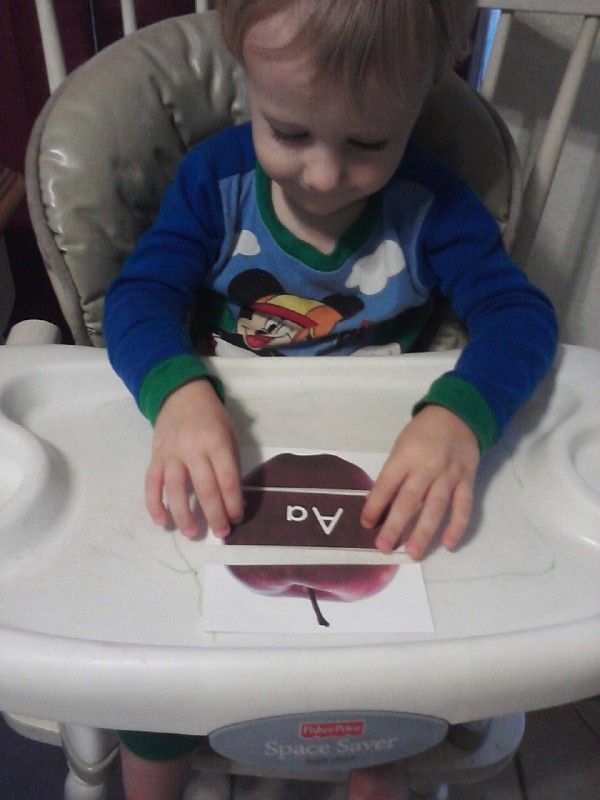 Three-piece apple/Aa puzzle.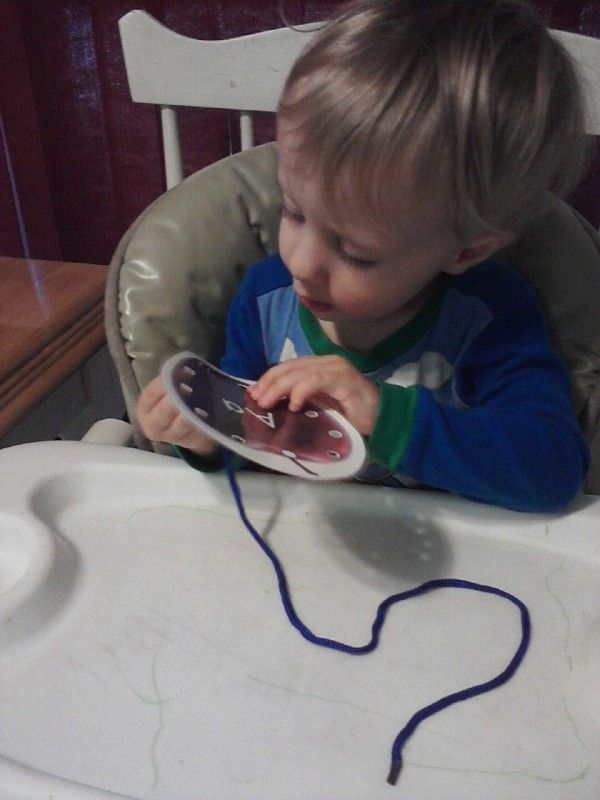 Lacing the apple.
Bible:
We continued with Jesus as the "Light of the World." We used
Mama Jenn's printable
up on our Morning Board to help us continue memorizing John 8:12, which Preston seems to have down now. We looked up verses in
The Discoverer's Bible
that described Jesus as light. We made a sunshine craft to help remind us that God is the best source of light. (The lesson plans said to do a craft that includes crayon shavings, an iron, etc., but... yeah, we didn't do that, did this instead.)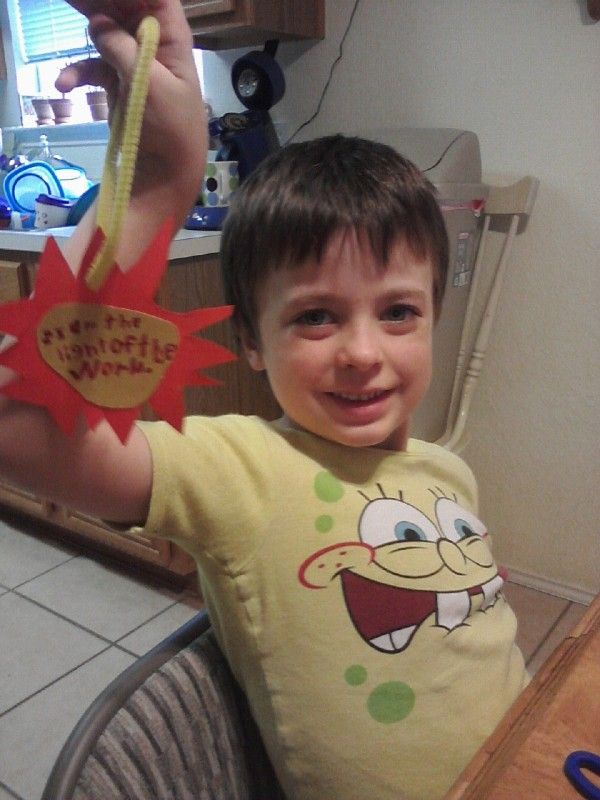 You are my sunshine!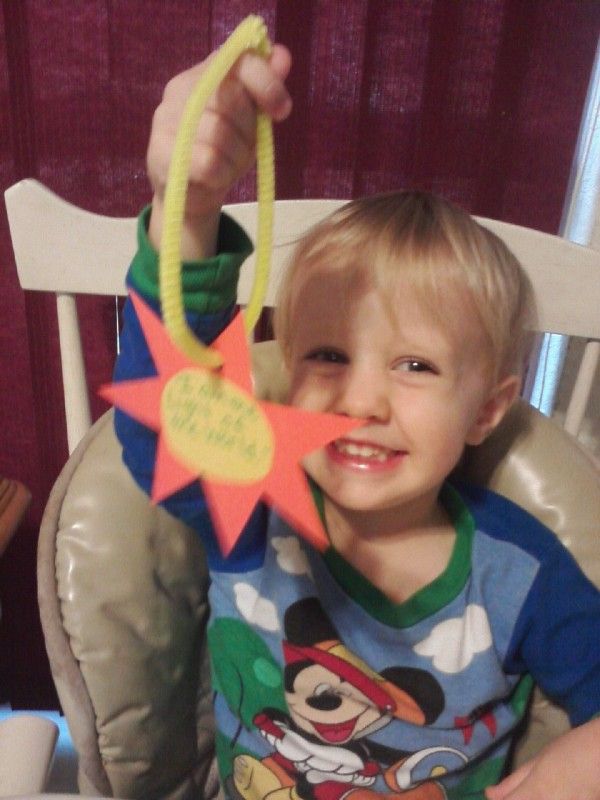 My only sunshine!
Reading/Writing:
We continued
Spelling by Sound & Structure
. The words got a little more difficult this week, but not much. Preston is still breezing through it. He only stumbled on the word "black" once on the very first day. And we started our first lessons in Primary Language Lessons. So far, so good with that. I'm really curious as to how Preston is going to like/dislike it as we go. So, we'll see!
History:
This week's history topic was The Pilgrims. Our hands on activity was to create an oiled window, using a sheet of paper and cooking oil. Preston was really impressed that it became see-through and water-proof with the oil! We read a lot from our MFW books and library books, or books I already had. Our main read-aloud from MFW was
Squanto, Friend of the Pilgrims
, which was we started and finished this week. We also read
If You Sailed on the Mayflower
,
Who's that Stepping on Plymouth Rock?
,
Samuel Eaton's Day
,
You Wouldn't Want to Sail on the Mayflower
, and
The Pilgrims of Plimoth
.
Math:
Preston worked on addition facts this week, including adding the next whole 10, adding over 10, then adding 9, 8 and 7.
Science:
We continued talking about space a bit, specifically the Big Dipper (read
The Big Dipper
), constellations and another close star called Betelgeuse. To show how much bigger Betelgeuse is than our own sun, we did a measuring experiment outside. Basically, it's A LOT bigger.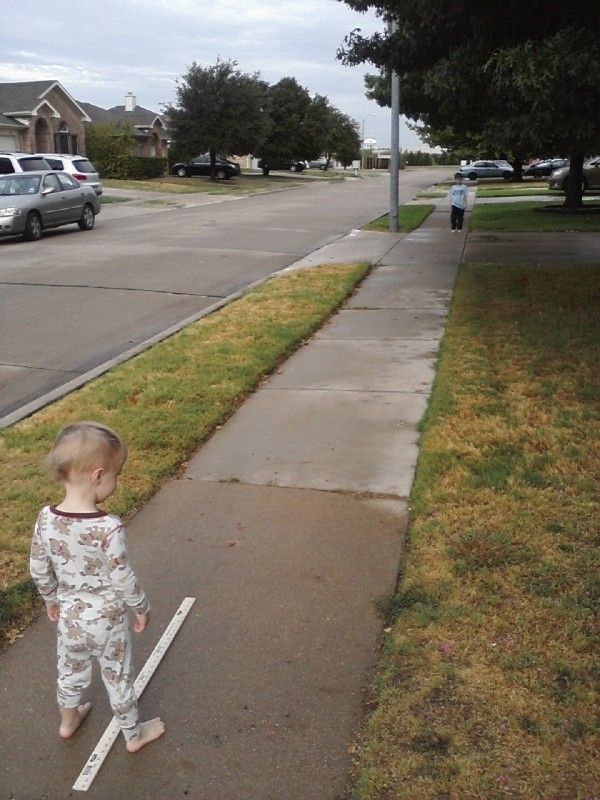 It's from here to way over there!
Music/Art:
We continued the
My Very First Art Book
, and did a dot finger painting. And in the
My Very First Art Coloring Book
, Preston and Callen colored a skyline of London with dots (or they were supposed to... basically just ended up in scribbles).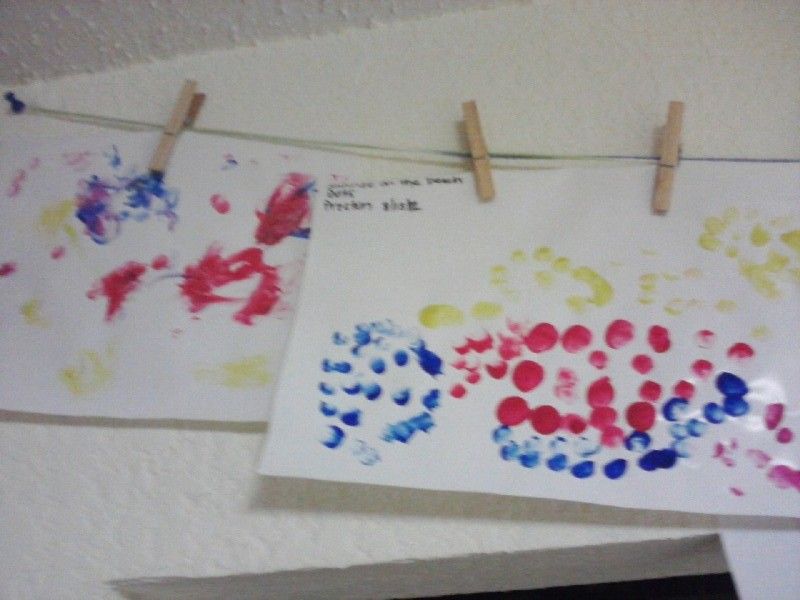 Preston's is a Sunrise on the Beach, he said.
Spanish:
Continued with the next two episodes of
Salsa
. We reviewed words having to do with "La Calle" in our
First Thousand Words in Spanish
. And we moved into our second lesson of
La Clase Divertida!
. We had a couple of hands on activities this time, including creating a color wheel and making Tostones. The plantain was not really ripe enough so it didn't come out that great, boys weren't too crazy about 'em. Going to try again next week after the second plantain has had some more time to ripen.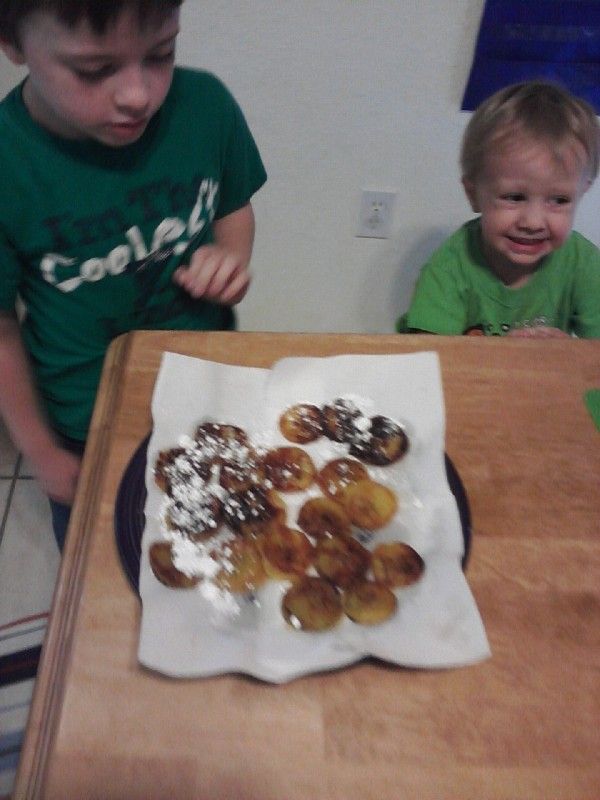 They were excited, and then not impressed.
We are using Adventures in My Father's World. See our curriculum
here
.
[
This post contains affiliate links for Usborne Books & More and Amazon.com. By clicking on those links and purchasing items, you are helping me continue to be a SAHM so that I can focus on homeschooling my children! Thank you!]