In my life this week...
Didn't do much out of the ordinary this week. Working on my
business
a bit, because I got three brand new recruits this month. Very excited about that! The boys and I were lazy, just hung out inside otherwise. Michael had some training for his teaching job, he starts classes on Monday. Very excited that he is getting to do that again... there was a bit there where we thought he wasn't going to have a class this semester. Praise God he does!
Things I'm working on...
I had to institute a new behavior chart to try to bribe... er, give the boys an incentive for behaving. They've been on the wild side lately... talking back, out right defying us, etc. So, I created a sticker chart... stickers for good behavior and x's for naughty behavior. If they get 15+ stickers for the whole week, they'll get some sort of prize. Nothing fancy, but something to show that it pays off to behave. We are using this chart in conjunction with the
Doorposts
'
Blessing
and
If-Then
charts. We've had those up for a while but have failed to really stick to them. Hopefully this will do some good. It's Friday afternoon, and the boys have 11 and 12 stickers (it only goes through Saturday)... so, we'll see!
Posted on the pantry door for ALL to see!
In our Homeschool this week...
Tot School:
We continued the
1plus1plus1equals1.net
"Tot School" printables
this week with letter "B." Callen was slightly less excited about his notebook this week, even though the theme was Balls. I mean, come on... he is obsessed with all kinds of balls. Wow, the novely wears off so fast! We didn't really spend a lot of time on his pages this week, but we went through them... he did the tracing, coloring, scribbling, lacing, puzzling and all. We even did a Baseball Lapbook (and I'm trying to wrack my brain to remember where I got that from, printed it out a long time ago and I usually try to save the links... but I guess I didn't this one, oops!). And, of course, we played with Balls and read lots of books about Balls like
Beach Ball
,
Hit the Ball Duck
,
Preston's Goal,
The Ball Bounced
and
Froggy Plays T-Ball
.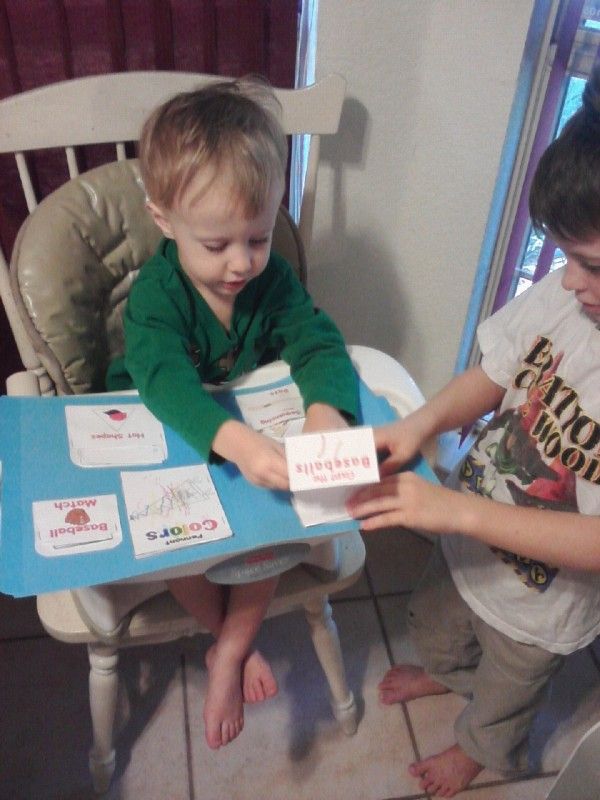 Big Brother helped a lot with the lapbook.
[Quick Callen story: Last Wednesday at church, we were making fish to go along with the story of Jonah. There were little foam stickers and googly eyes to decorate your paper plate fish. At one point, Callen came to me and said "Eye in my nose!" I tried not to freak out, but calmly look in his little nose. I asked him three times "Did you put one of those eyes up your nose?" Twice he said yes, and the last time he said no. I couldn't see anything up there, so I dismissed it and made a mental note to check closer later. Mental note instantly forgotten after a room full of 2-5 year olds! Fast forward to this Wednesday, and Callen lets out a great big sneeze. He comes running to me with something in his hand says "Eye from my nose!" Oh my gosh, y'all... there was a little, red foam dot (about 1/4" around) in his hand, covered in boogers! That thing HAD been up his nose for a WEEK! Thankfully it didn't bother him too much or cause any major damage, and it easily came out with that big sneeze. It was part of a sticker so it had a sticky side and I guess it was just stuck up there all that time. I felt so bad because I had totally forgotten about him telling me about it in the first place and didn't make it a point to look later. GEEZ! That was my first (and hopefully ONLY?!) experience with a kid sticking something up his nose... I know it could have been a lot worse, I've heard the stories! So, praise God it wasn't a big deal.]
Bible:
Introduced Jesus as "The Bread of Life." We used
Mama Jenn's printable
up on our Morning Board to help us memorize John 6:35. We looked up verses in
The Discoverer's Bible
that described Jesus as bread, food or drink for the spirit. Added the Bread of Life picture to our Names Poster. Preston wrote the first line of the memory verse as copy work.
Reading/Writing:
We continued
Spelling by Sound & Structure
. Reviewing the words we went over the first 5 weeks. On today's test, Preston missed "sick" and "road." Not sure if it was because he wasn't fully paying attention, or really got confused spelling it. I don't make him write the words out for the tests, just spelling them aloud to me, so sometimes he gets lost in this thoughts (y'know, since there's usually a screaming 2 year old around, lol). Continued with lessons 4-6 in Primary Language Lessons.
History:
This week's history topic was New Netherland/New York and the Dutch colonists. Our hands on activity was to make butter! The boys enjoyed shaking the cream for about 2 seconds, but we managed to make really good butter. FYI, a little salt goes a long way... yes, I over salted it. It tastes good on toast, though! Our main read-aloud from MFW this week was
The Courage of Sarah Noble
. So far I have been reading most of the read-alouds, but this time Preston read a few of the short chapters from this book as we traveled to and from errands this week. We also read from our MFW book
American Pioneers and Patriots
, and from the library,
The New Americans: Colonial Times 1620-1689
.
Shaking the cream into butter!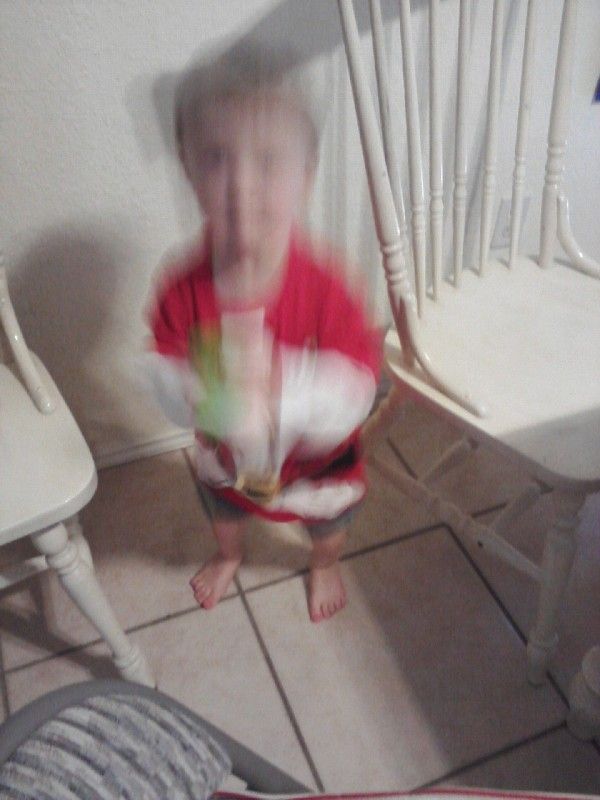 Shake, shake, shake!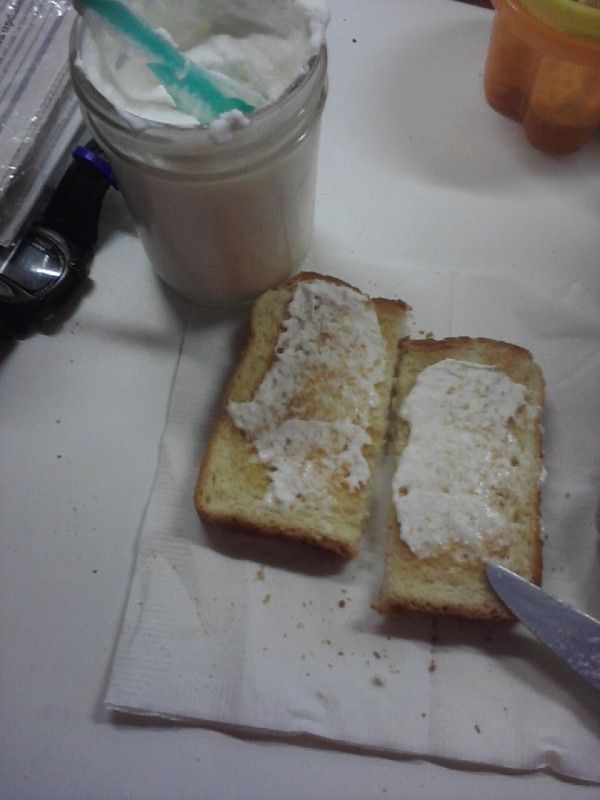 We made butter!
Math:
Preston continued working on addition facts this week, including adding with 6, reviewing 6, 7 and 8, then moving on "what's the difference?" and "how many more?"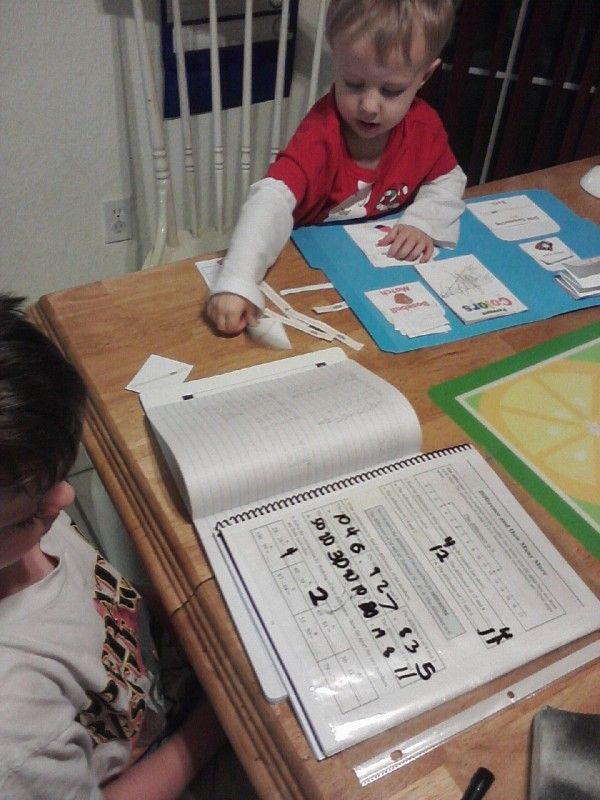 Math and lapbook work.
Science:
Science went along with our scripture verse this week, having to do with bread. We did two yeast experiments. Mixing water, yeast and sugar in a bottle and putting a flat balloon on the top... watched it expand because of the carbon dioxide. Then tried the same thing with salt, no expansion.
Music/Art:
We continued the
My Very First Art Book
, using a painting by Franz Marc to discuss "wild colors." We colored animals in crazy colors. And in the
My Very First Art Coloring Book
, we used another Franz Marc painting and colored outside of the lines so that the colors all ran together.
Spanish:
Continued with the next two episodes of
Salsa
. We reviewed words having to do with "La Juegateria" in our
First Thousand Words in Spanish
. And we continued our second lesson of
La Clase Divertida!
. I attempted the tostones again, and though they were much better this time, the boys still didn't care too much for them. Oh well, I tried.
Callen's reaction... see, not a fan.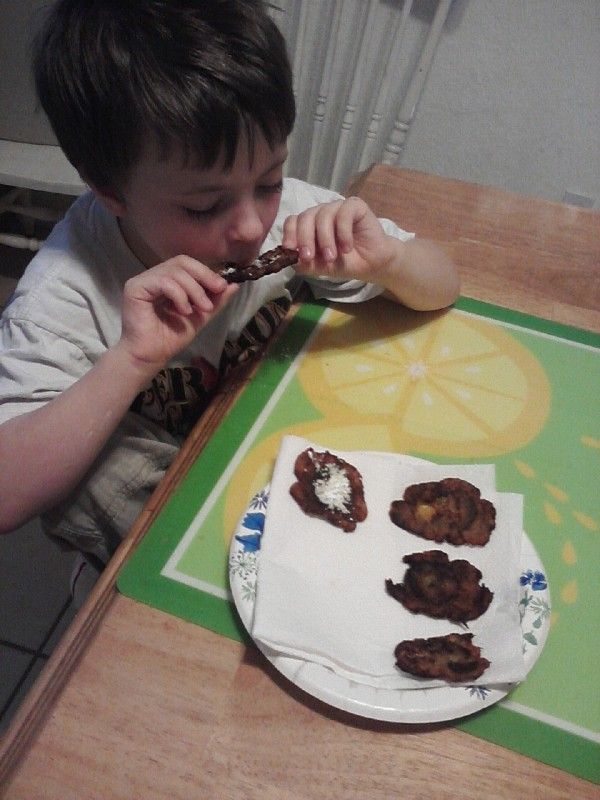 Mostly ate the powdered sugar off the top.
We are using Adventures in My Father's World. See our curriculum
here
.
[
This post contains affiliate links for Usborne Books & More and Amazon.com. By clicking on those links and purchasing items, you are helping me continue to be a SAHM so that I can focus on homeschooling my children! Thank you!]