In my life this week...
So, I'm posting this on Monday because this weekend was crazy busy. I was out at a three-day carnival event with my
Usborne
team. Friday, as we were setting up, it was 105 degrees!!! We were under a tent in the shade, but my gosh... it was stinking hot! Then a wild cold front came through over night and the next day was beautiful and about 80 degrees. Whew, thank you, Jesus! But, that was a whirlwind weekend, for sure. Thank you to my mom and husband, who took the kids all weekend because I was barely home! This week we are off school, so time to catch up on... EVERYTHING!
Places We're Going & People We're Seeing...
Last Tuesday, we had our homeschool group meeting. Got to hang out with the moms while the kids played, yay! The boys spent most of Friday with Grandma and Grandpa, so they were happy campers. And Michael did fun things with them on Saturday and Sunday, like they got to see Finding Nemo in 3D and visit with Mema! And on Sunday, we went to the early service at church so that I could get to my booth later that morning. I actually got to sit through an entire church service for the first time in MONTHS! It was much needed, let me tell you!
In our Homeschool this week...
Tot School:
We continued the
1plus1plus1equals1.net
"Tot School" printables
this week with letter "D" for ducks and birds. Of course, we read a ton of duck and bird books! Lol. Callen kept asking "read duck! read duck!" so I think he is enjoying our little system of school so far. We read
Dimity Duck
,
Chibi: A True Story from Japan
,
Birds
,
Albert
,
Duck at the Door
,
Duck Soup
,
Fix-It Duck
,
Hit the Ball Duck
and
Find the Duck
.
Coloring upper and lower case D's
Bible:
We used
Mama Jenn's printable
up on our Morning Board to help us memorize Matthew 7:24 this week. We are learning about Jesus as our rock. This completely confused Preston at first... what does a rock have to do with Jesus? But, after reminding him about several hymns and songs he already knows, including "The Wise Man Built His House Upon the Rock," he got it. He really likes that song, lol We looked up verses in
The Discoverer's Bible
that described Jesus as our rock and shelter. Preston wrote the memory verse as copy work and we added to our Names of Jesus branch on the wall.
Reading/Writing:
We continued
Spelling by Sound & Structure
. Preston aced both spelling tests he had this week. Continued with lessons 10-12 in
Primary Language Lessons
.
History:
We started off the week reading a short chapter book about Roger Williams called
Finding Providence
. Then we moved on to talk, read and learn about Benjamin Franklin from various sources. We read from our Story of America book that came with our MFW set, but we also read several different biographies of his life. Franklin was quite a man... there's so much to learn about all that he did and said during his lifetime! Preston added his picture to our timeline, created a mini version of his Poor Richards Almanac and drew a picture of the kite and lightning experiment on his notebooking page. The books we used this week were:
The Power of Industry
,
The Life of Benjamin Franklin: An American Original
,
Benjamin Franklin: His Wit and Wisdom from A-Z
,
The Amazing Life of Benjamin Franklin
and
How Benjamin Franklin Stole the Lightning
.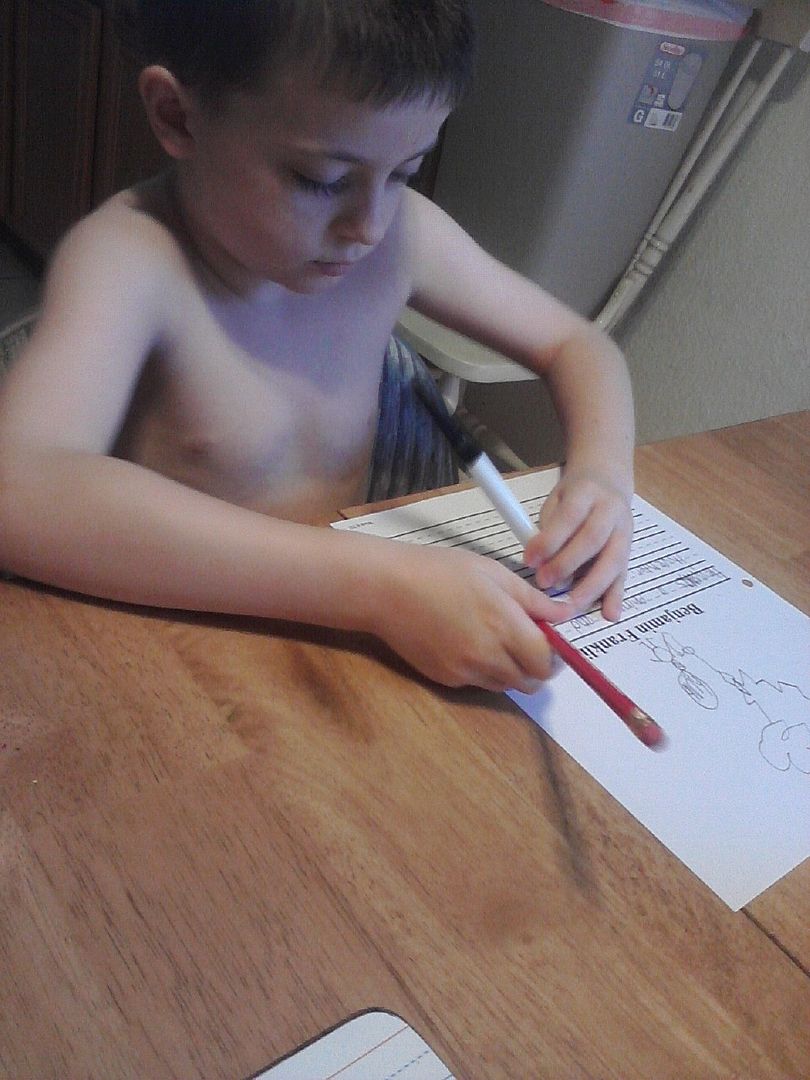 Working on his Ben Franklin notebook page.
Math:
Preston continued working on addition facts this week, including fact families with 15, 16, 17 and 18. We did then a mixed review and a chapter review since it was a very long chapter that spanned several weeks. He'll have a chapter test next Monday when we start up again.
Science:
This week's focus was on the composition of the earth. We read from
First Encyclopedia of Science
about the layers that make up our world, Preston drew a diagram and summarized the ideas we discussed in his Science Notebook.
Music/Art:
We continued the
My Very First Art Book
, with how different paint brushes create different affects and lines. He painted a watercolor picture using several different brush shapes and sizes. Then, we used
My Very First Art Coloring Book
and he created a watercolor effect using markers and then just running a wet paint brush over it to smear it. We listened to our
Story of Tchaikovsky CD
, telling us about his life interspersed with examples of his music. We also read
Tchaikovsky Discovers America
, a wonderful story that uses details from his person diary to create a fictional story from the view point of a little girl who meets the man. The kids loved it!
Smeared marker = watercolor effect.
Spanish:
Continued with the next two episodes of
Salsa
, which. We reviewed words having to do with "El Zoologico" in our
First Thousand Words in Spanish
. And we continued reviewing our third lesson of
La Clase Divertida!
. I had a Spanish teacher at our book this past week, looking for books in Spanish that actually commended me on my pronunciation of some of our Spanish titles, lol. Yay!
We are using Adventures in My Father's World. See our curriculum
here
.
[
This post contains affiliate links for Usborne Books & More and Amazon.com. By clicking on those links and purchasing items, you are helping me continue to be a SAHM so that I can focus on homeschooling my children! Thank you!]