In my life this week...
Another week in the books... man, this is flying by. Saw all my friends posting their pictures and tears regarding their kids going back to school. And mine were already in the 7th week! Hehe. Our year is already well under way, so crazy! We have another break coming up soon. So far really digging this 4 weeks on-1 week off schedule! I like knowing I have a week break to look forward to soon, and I'm sure Preston does too! Oh, and Preston got a haircut this week. Thanks, JC Penney, for offering FREE cuts for kids, that was nice of you! Haha.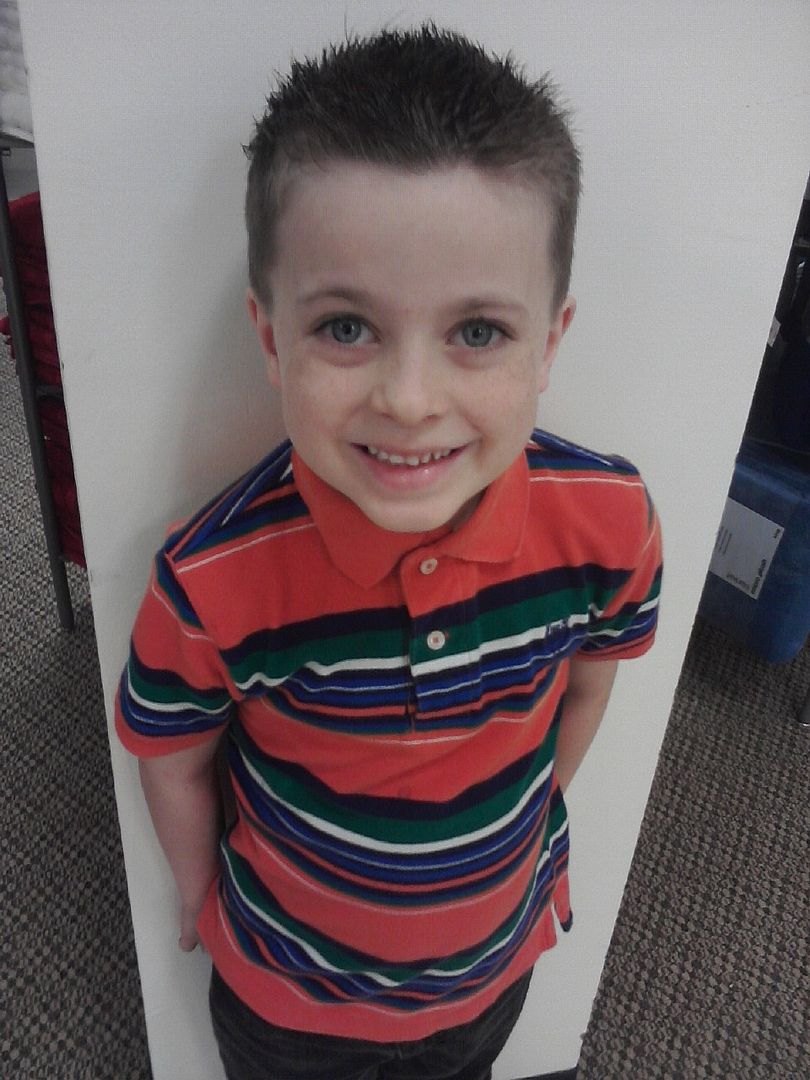 Stylin' there, PJ!
Places We're Going & People We're Seeing...
Last weekend, we went to the Fort Worth Stockyards to get some of the pressed pennies there for
Preston
. He got his 15 stickers on this behavior chart, and that was his prize. We had fun, but were rushed to get back home for a meeting... so I hope to go back down there again when it cools off a bit and see more of the sights! The boys spent Friday with their grandma because I worked a preschool bookfair in Dallas. They had fun watching the electric company chop down the trees in my mom's backyard because they were growing up into the power lines. Broke my mom's heart, of course. Her backyard was so beautiful and well shaded, and they just butchered everything back there, stomped on her plants and crushed their storage shed. Geez.
In our Homeschool this week...
Tot School:
We continued the
1plus1plus1equals1.net
"Tot School" printables
this week with letter "C" and a focus on cats and pets. We made a cute, little toilet paper roll kitten from
Spell Outloud's HS Printables
. Callen has a really hard time pronouncing the hard "c" sound... including his own name! So, this week was a challenge, and most of his "c" words come out sound like "t" words. But, he's getting better. Michael got him to say his name correctly yesterday, even if it was just the once! He'll get it. We read a bunch of cat and pet books:
Moses The Kitten
,
Cats, Cats
,
Cats Are Like That
,
The Best Cat in the World
(this one is really sad, I don't recommend it for littles!), and
"Mine Will," said John
.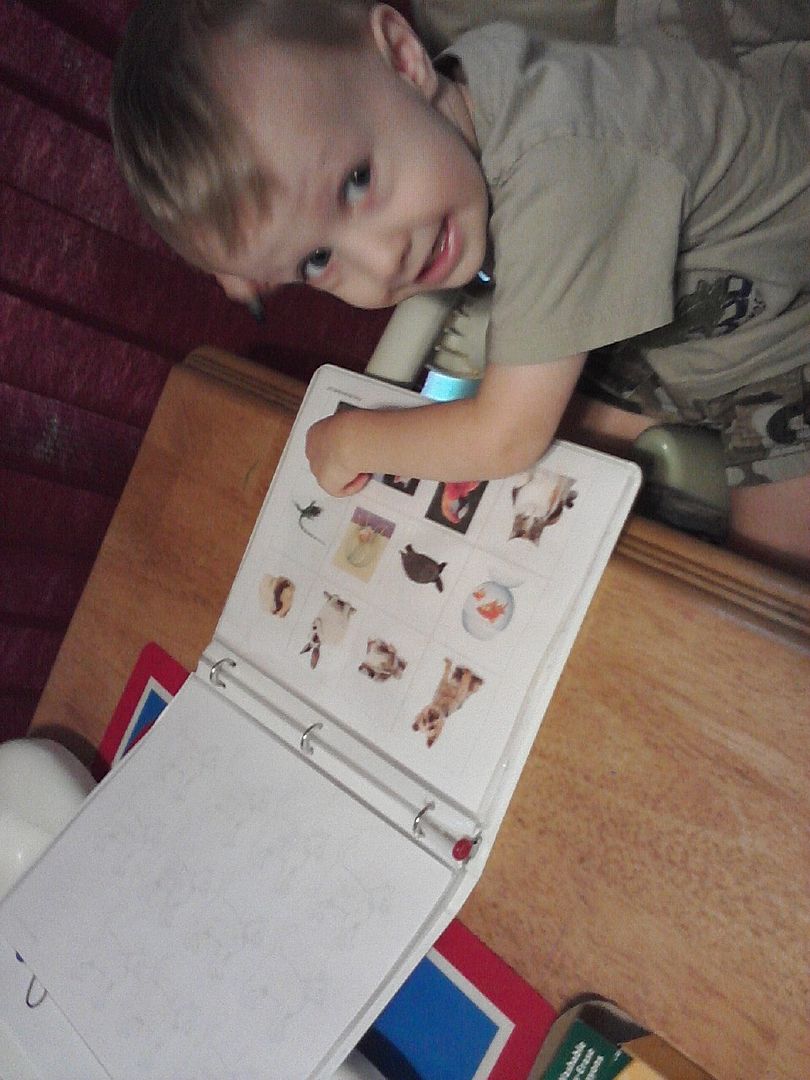 Pointing out different pets as I call them out.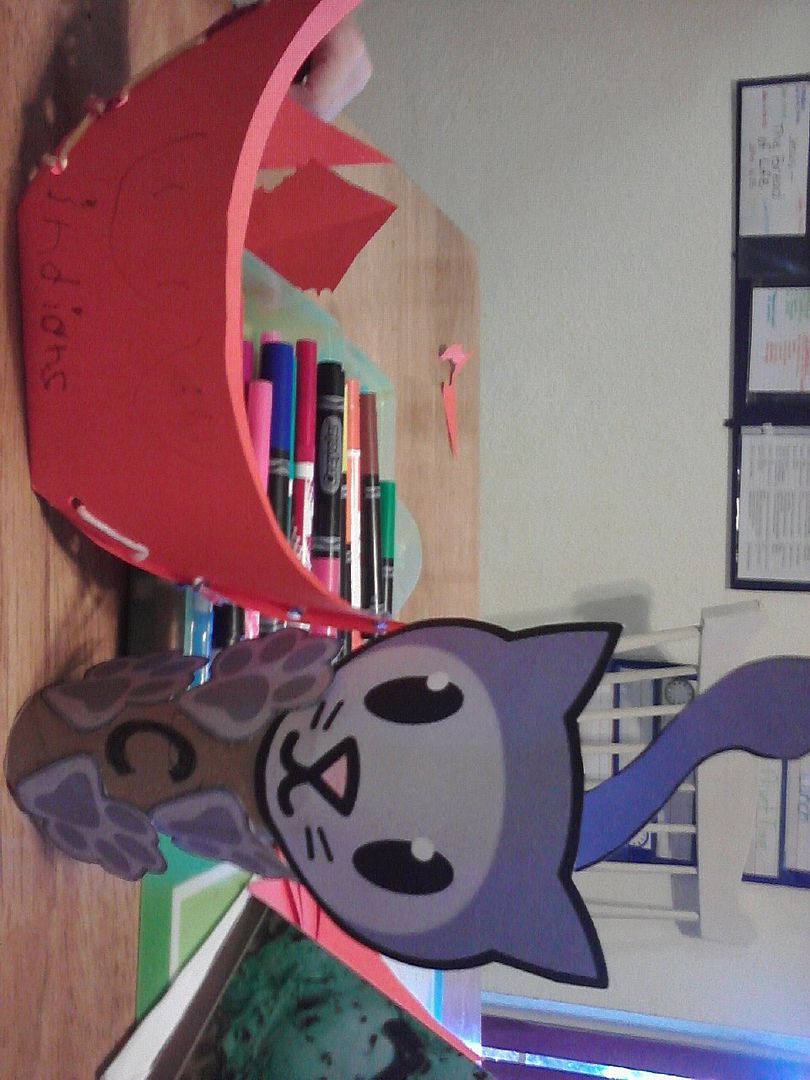 Preston's Canoe and Callen's Cat.
Bible:
Continued working on Jesus as "The Bread of Life." We used
Mama Jenn's printable
up on our Morning Board to help us memorize John 6:35. We looked up verses in
The Discoverer's Bible
that described Jesus as bread, food or drink for the spirit. Preston finished writing the memory verse as copy work. We talked about communion, made a Bread of Life napkin holder and incorporated science by making bread (sort of)! Preston read the book
Bread and Jam For Frances
aloud to Callen one morning.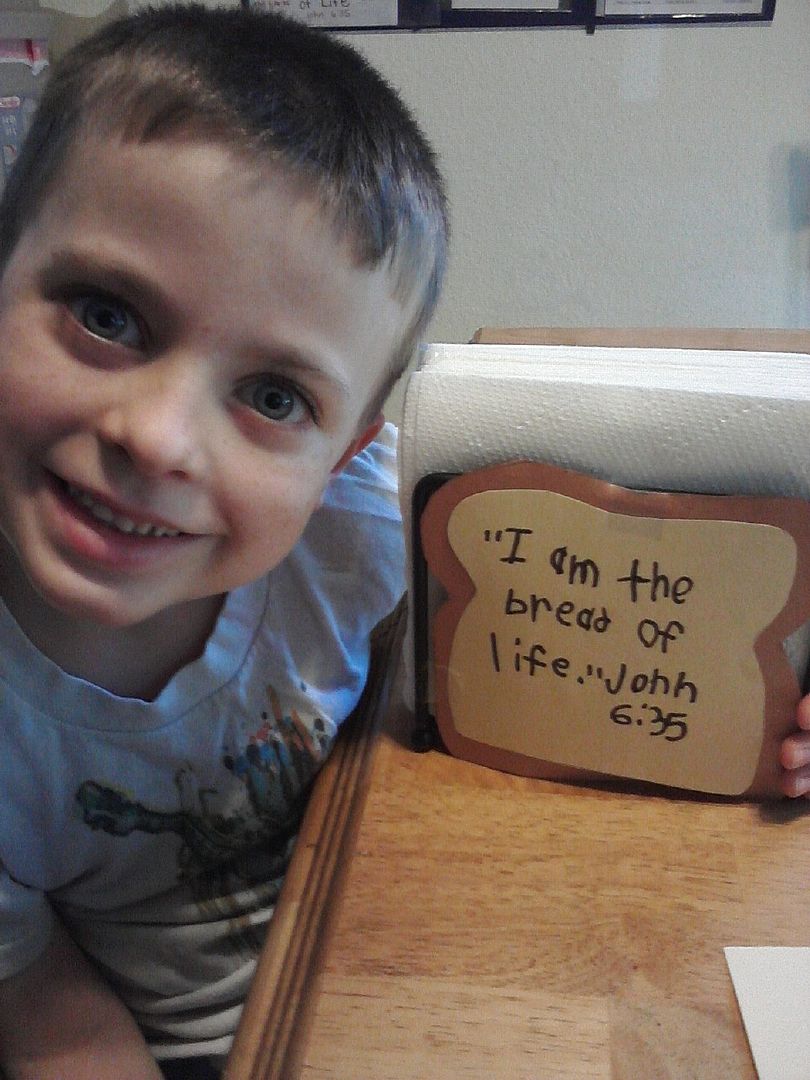 Napkin Holder
Reading/Writing:
We continued
Spelling by Sound & Structure
. This time Preston got caught up on spelling the word "egg" incorrectly as "eeg." Maybe I need to have him write them instead. Hmm. Continued with lessons 7-9 in
Primary Language Lessons
. I wondered how Preston would like this particular type of book, and so far he LOVES it... keeps asking to move on and do more. I think the reason he likes it is mostly because it's so easy at this point, lol. All we are doing is answering some open-ended questions, reading a poem or taking dictation. He doesn't even fuss about the few lines of dictation, which is HUGE! Preston also spent some time IM'ing with his dad which was great for helping to improve his typing! And Dad kept giving him math problems to solve and trivia to look up online, lol.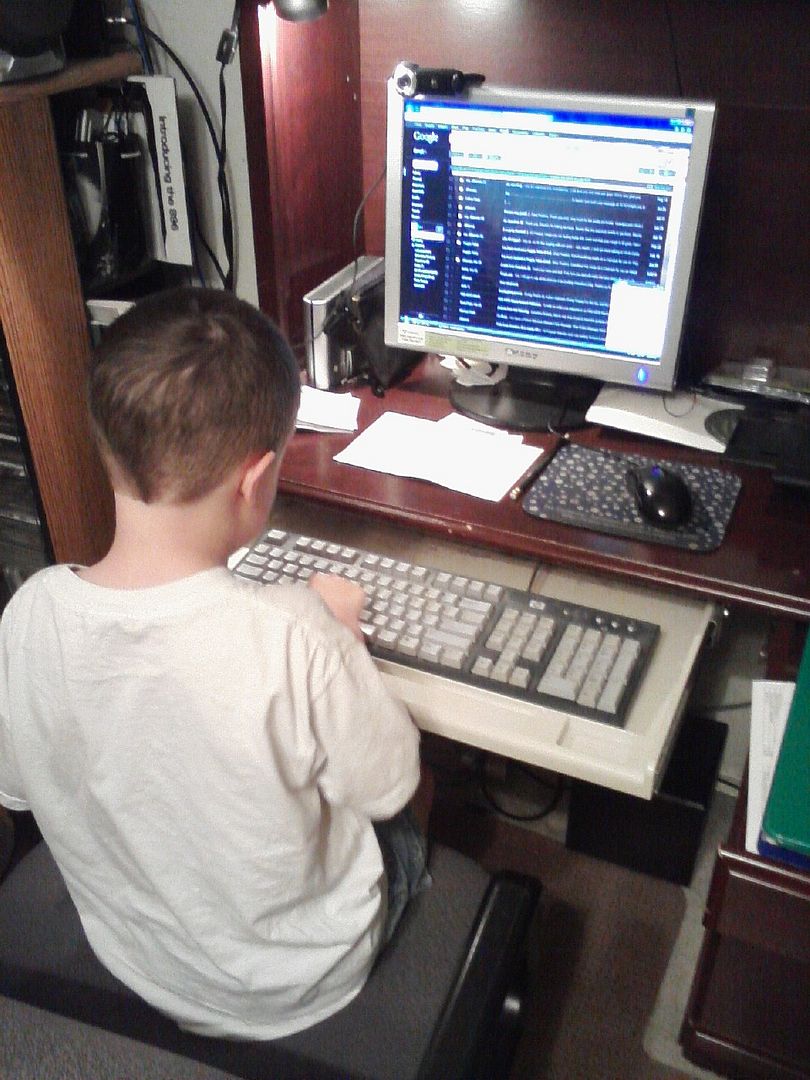 Typing on IM with Dad.
History:
This week's history topic continuing with pioneers in the Michigan area! We finished reading
The Courage of Sarah Noble
and I had Preston give me a very short recap of the story for his notebook. We also read from our MFW book
American Pioneers and Patriots
, and since it was a story about "portage" or a canoe trip, we made a construction paper canoe. From the library we borrowed
Colonial Crafts
, which featured a lot of different jobs that people had to do back then. The boys enjoyed this book and found it quite interesting to learn about these jobs that are done in factories and whatnot now and how they did them back then!
Math:
Preston continued working on addition facts this week, including fact families with 11, 12, 13 and 14. Next week we'll do 15-18 and finally finish this chapter with some review.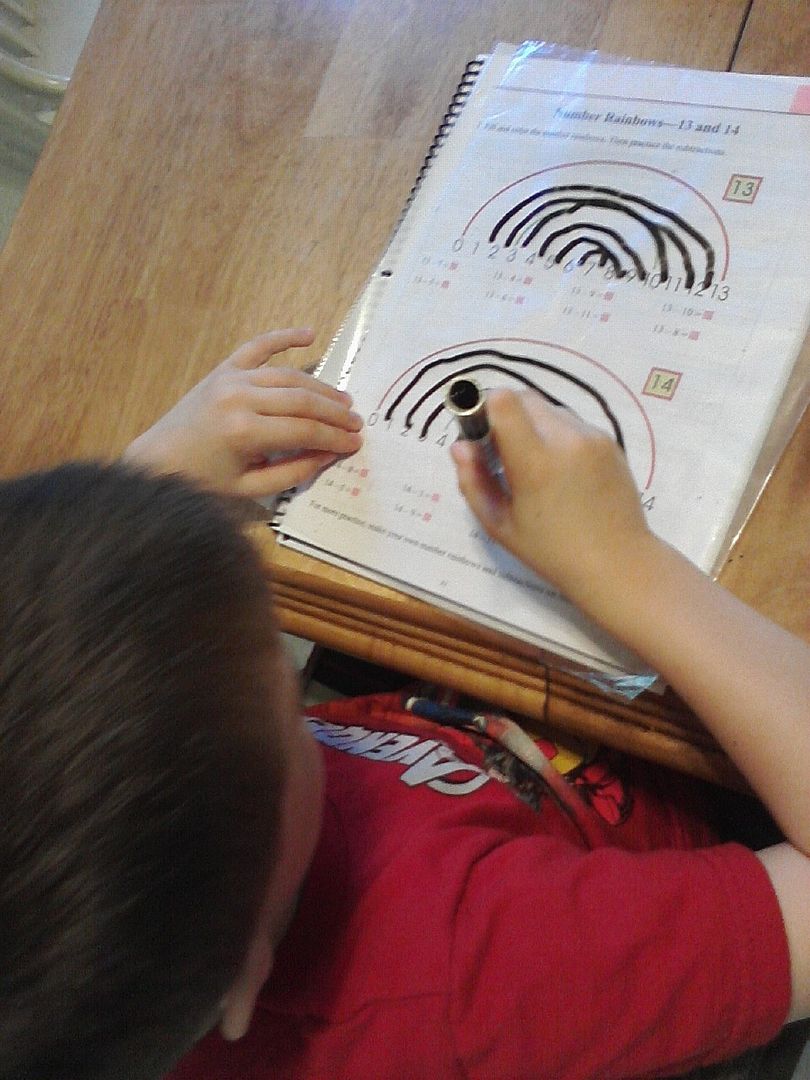 Math Mammoth work.
Science:
Science went along with our scripture verse this week, having to do with bread. We made playdough and bread. Or, rather, we attempted to. I have never had luck making either one, to be honest, and this time was no different. The playdough never seemed to stop being sticky no matter how much flour I added. And the bread came out too dense... don't think I let the yeast rise long enough. Sigh. Oh well. Preston got the point. I hope. We used the book
Science in the Kitchen
for these "experiments." We ended up just playing with real Play-doh for a while, instead.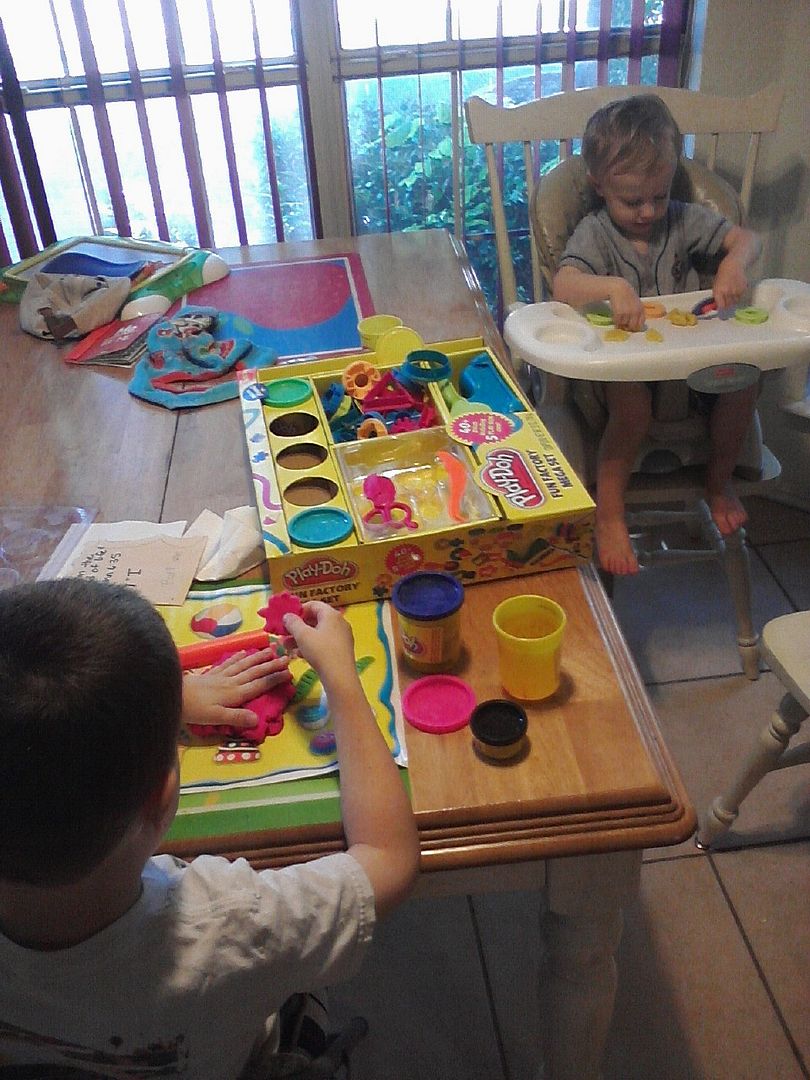 Play-Doh fun!
Music/Art:
We continued the
My Very First Art Book
, and worked with water colors to create Cool Blues and markers in yellow, orange and red to make Warm Tones. We also continued listening and learning about the song "America" and how it was originally "God Save the Queen."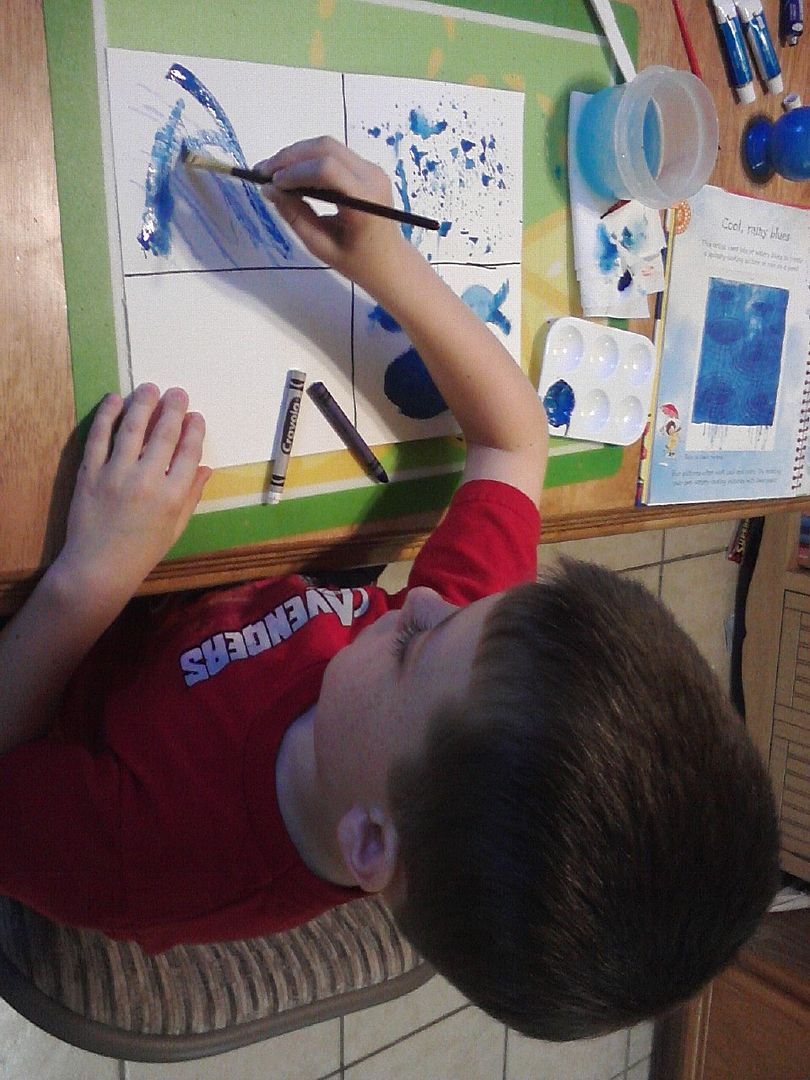 Painting with Cool Blues
Spanish:
Continued with the next two episodes of
Salsa
, which were a different take on the Three Billy Goats Gruff. We reviewed words having to do with "El Parque" in our
First Thousand Words in Spanish
. And we started our third lesson of
La Clase Divertida!
. We learned about the Mayans, and Preston worked on a bark painting of a monkey. We also learned more of the alphabet song and the reviewed the days of the week (something we'd already learned).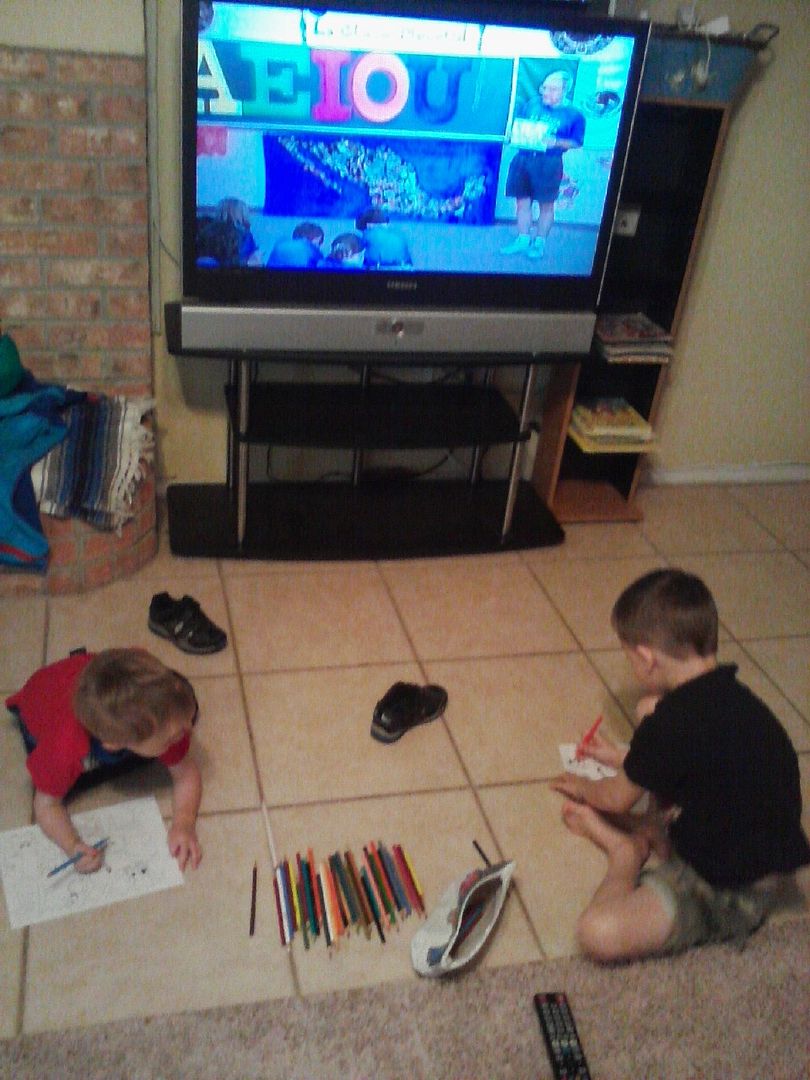 Reviewing los vocales with coloring sheet.
We are using Adventures in My Father's World. See our curriculum
here
.
[
This post contains affiliate links for Usborne Books & More and Amazon.com. By clicking on those links and purchasing items, you are helping me continue to be a SAHM so that I can focus on homeschooling my children! Thank you!]