In my life this week...
Allergies. Still. Snot. Itchy. Yuck. Miserable. That pretty much sums me up for the past... geez, how many weeks? All of them, seems like. Other than that, it was a pretty busy, go-go-go week for us. Lots to do and prepare for. Michael is going to be helping me with a booth event tomorrow morning, Country Day on the Hill in Cedar Hill. Should be interesting working with him at this... we've never done that before. Kinda already looking forward to next week so we can take it easy a bit, haha.

Places We're Going...
Monday, Cubscouts had their Raingutter Regatta. Michael and Preston worked hard on his boat for several days, and on an errand before the meeting, Preston sat on it in the car. Sigh. I ran home, superglued the bottom back on as best I could. Preston didn't win, but I think he had fun anyway. Lol.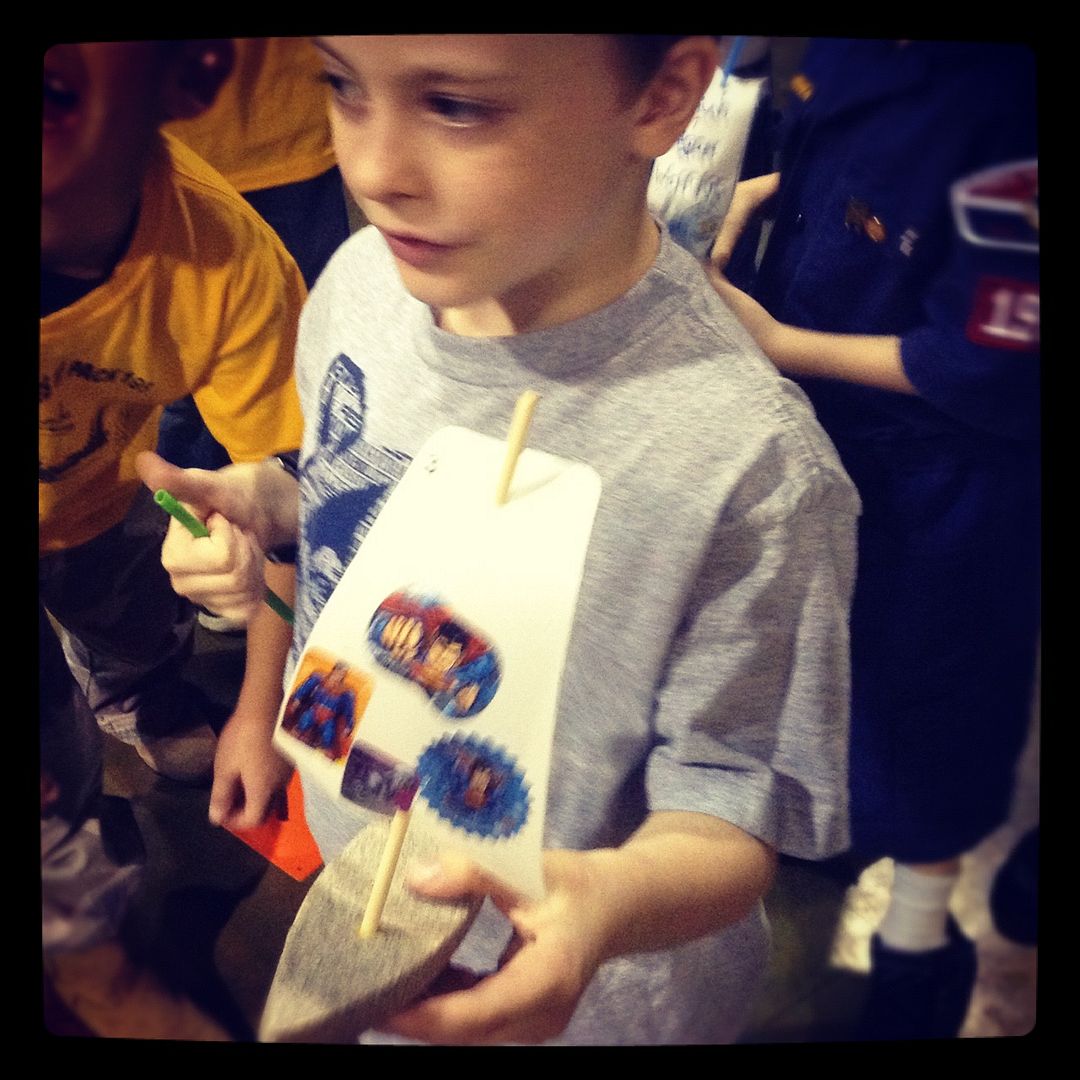 Waiting for his turn.
Blow! Blow!
On Tuesday, we had our monthly homeschool meeting. And on Wednesday some of us got together and went to the Green Meadows Petting Farm and Pumpkin Patch in Lynn Creek Park. We had a blast. The boys LOVED the playground down there and didn't even wanna go to the farm part, lol. But we had fun there too. Got to pet, chase and learn about all kinds of animals. And I milked a cow! I mean, y'know, they got to milk a cow. Haha. I learned that a mama pig's gestational period is 3 months, 3 weeks and 3 days, she gives birth around 3am and each of her piglets weigh right around 3-pounds. CRAZY, huh?
Wednesday was also AWANA... I didn't have a helper this week, so had to wrangle SIX 2-3 yr olds on my own. It actually went better than usual, which is quite funny.
In our Homeschool this week...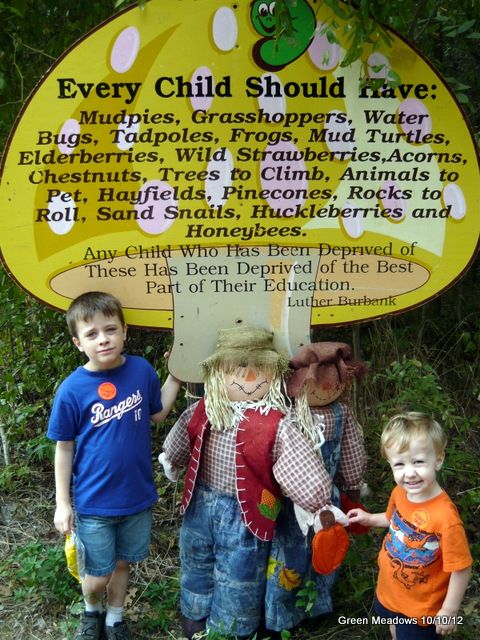 Loved this sign out at the farm.
Tot School:
We continued the
1plus1plus1equals1.net
"Tot School" printables
this week with letter "H" for Hammer, and other tools. We checked out several tool books from the library, including
Little Bunny's Cool Tool Set
,
Tools
,
The Toolbox
, and
Workshop
.
Bible:
We started talking about Birds in science this week, and our Bible lessons go along with that. Took a small break from the Names of Jesus. We looked up verses in
The Discoverer's Bible
that talked about birds... specifically eages and doves.
Reading/Writing:
We continued
Spelling by Sound & Structure
. Preston aced both spelling tests he had this week, again. Continued with lessons 23-25 in
Primary Language Lessons
.
History:
We started our state lessons this week. It is a very light run-through of the states, one per day... so obviously not too intense and Preston isn't expected to remember everything and recite it. I do hope some of it sticks. I will share a quote from him for each state that he will tell me on Friday, or as I'm doing this recap, telling what he specifically learned, remembers or thought was interesting (and may or may not be correct, lol)...
Delaware
- "It is known as the First State." Books:
Delaware
.
Pennsylvania
- "It's state bird is some type of chicken." This is actually incorrect, Delaware's is a chicken, PA's is a ruffed grouse. Books:
Pennsylvania
,
William Penn: Founder of Pennsylvania
and
Raising Yoder's Barn
(an Amish story).
New Jersey
- He couldn't think of anything except "NJ is the abbreviation!" Then later came back, after reading about it again and said, "The first baseball game was played there!" Books:
New Jersey
.
Georgia
- "Georgia is known for the three p's: Pecans, peanuts and peaches. And pines, that's four." Books:
Georgia
and
Mountain Wedding
(a funny book about a family coming together in early Georgia).
Preston has a notebook page for each state, on the back is a bunch of information and interesting facts about the state, and on the front is a picture of the state, it's motto, state bird and flower, plus the year it came into the U.S.A. He colors the page, writes the state capital and the state abbreviation. He also colors in each state on a map of the U.S. as well (I make him hunt down where the state is located).
Math:
Preston finished up Chapter 4 of his Math Mammoth workbook this week, did a mixed review, chapter review and took his chapter test: Got 15 out of 18 correct, 83%.
Science:
This week's focus was on birds, like I said above. We read from
Birds, Nests & Eggs
, listened to CD of bird calls from
Sing, Nightingale, Sing
and made our own binoculars.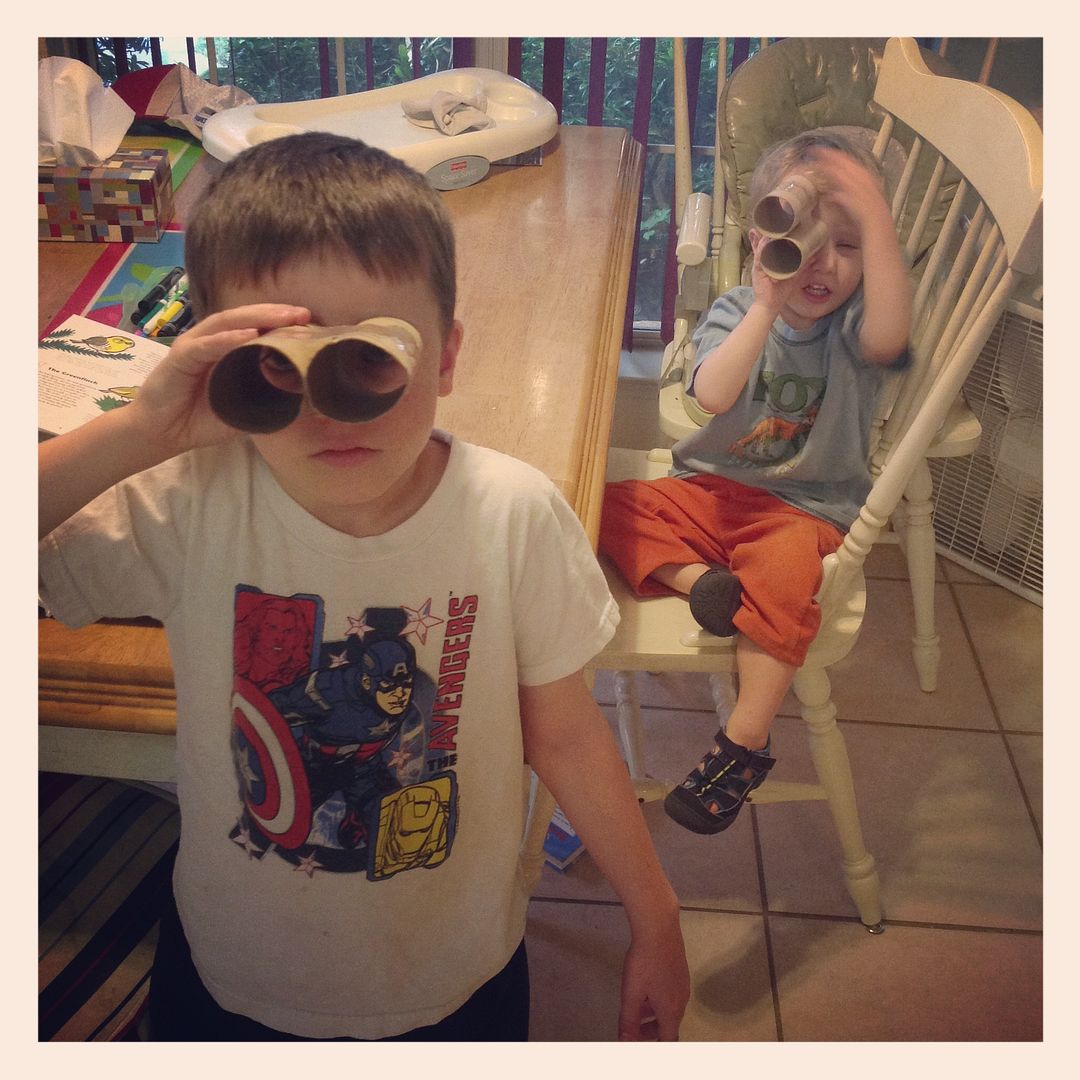 Not sure Callen quite gets it.
Music/Art:
We didn't do much of music or art this week, other than when the boys made birthday cards for my mom and aunt. Preston cut out shapes and glued them on to form different designs or objects.
Spanish:
Continued with the next two episodes of
Salsa
. We reviewed words having to do with "La Playa" in our
First Thousand Words in Spanish
. And we continued with Lesson 5 of
La Clase Divertida!
. Honestly, we didn't do much with Spanish this week other than watch the videos and go through the book.
We are using Adventures in My Father's World. See our curriculum
here
.
[
This post contains affiliate links for Usborne Books & More and Amazon.com. By clicking on those links and purchasing items, you are helping me continue to be a SAHM so that I can focus on homeschooling my children! Thank you!]