In my life this week...
My word, this week was a blur, really. Today, however, tragedy struck... I know it's rather insignificant in light of some other major tragedies in the world today, but Big Tex burned to the ground today at The State Fair of Texas. I don't know why, but seeing the images of him fully aflame caught me off guard and made me cry! I couldn't believe it. I was already sad enough that we weren't able to make it out to the fair this year, but Big Tex "dying" on his 60th birthday is just heartbreaking...
In our Homeschool this week...
Tot School:
We continued the
1plus1plus1equals1.net
"Tot School" printables
this week with letter "I" for Igloo and cold! It helped that we had some cooler days this week... though it's certainly not igloo weather, lol. We checked out several tool books from the library, including
Brr!
,
Building an Igloo
,
Polar Bear Night
,
It's Winter!
and
Cold Paws, Warm Heart
.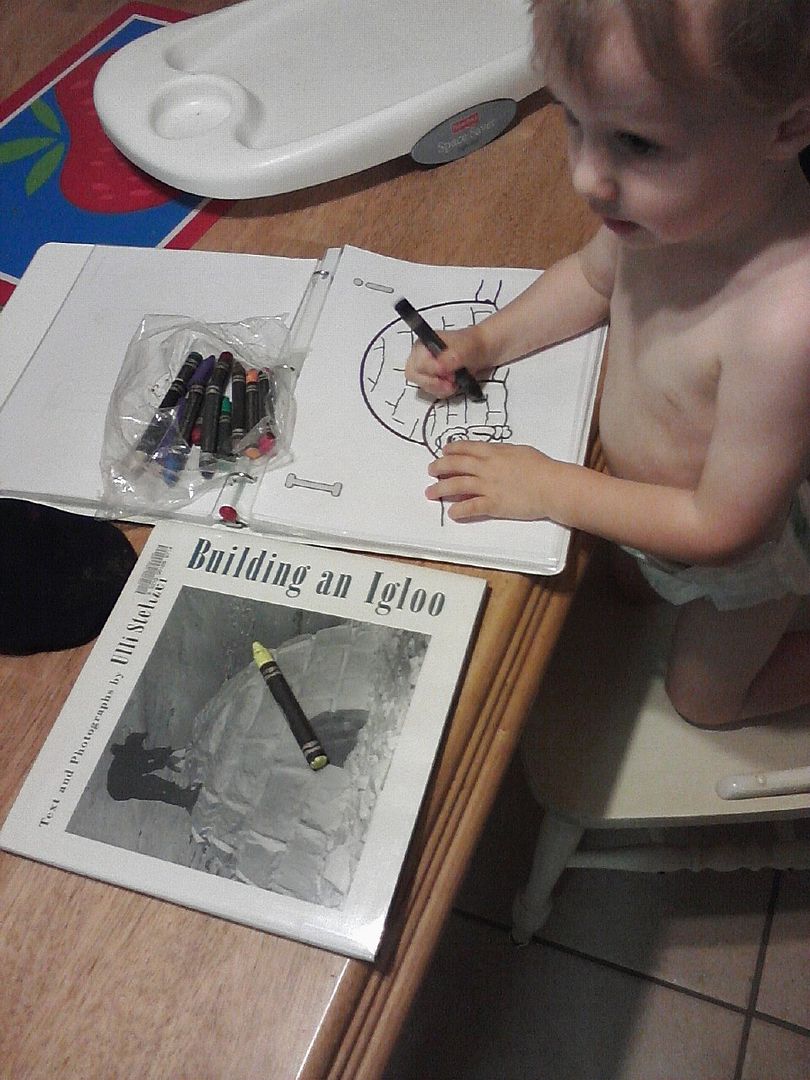 Coloring an igloo after learning how they are built.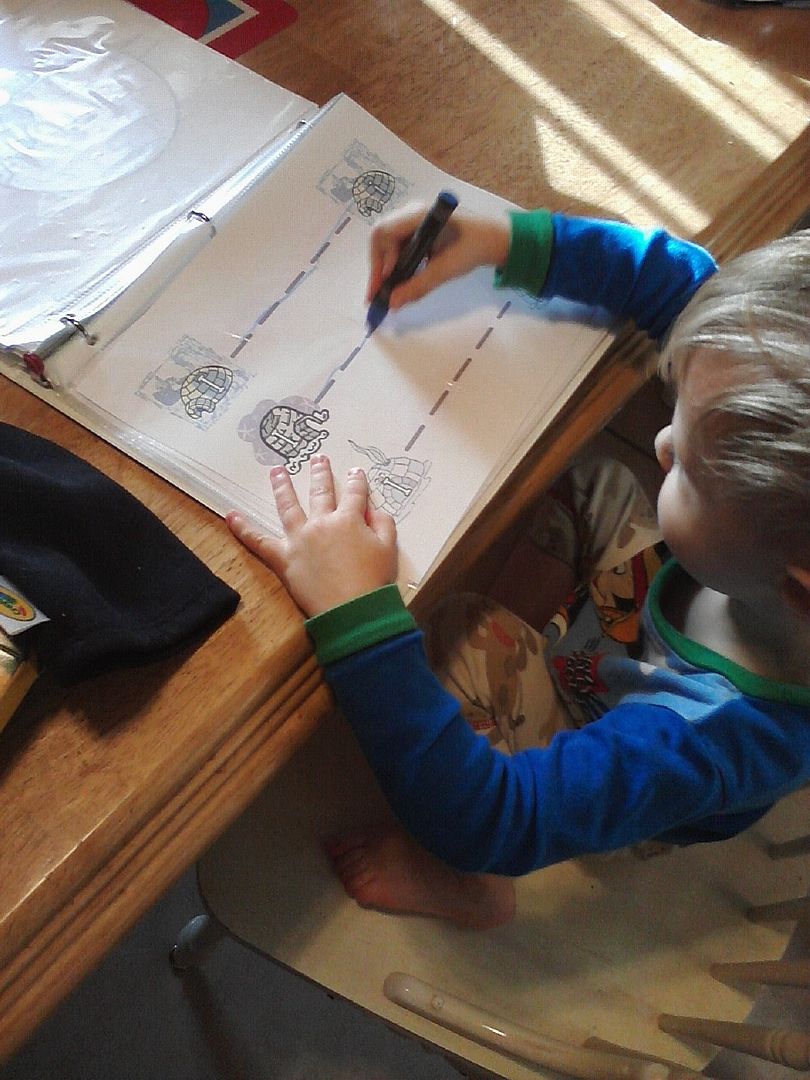 Getting good at straight lines, yay!

Bible:
Preston started his new memory verse, John 14:6. We looked up verses in
The Discoverer's Bible
that talked Jesus being the only way to God, to heaven.
Reading/Writing:
We continued
Spelling by Sound & Structure
. Preston aced both spelling tests he had this week, again. Continued with lesson 26 in
Primary Language Lessons
. We started a new read-aloud,
Farmer Boy
, by Laura Ingalls Wilder. The boys are really enjoying hearing a chapter a day over lunch. We even did an experiment it talks about in the book. It said you can put a whole cup of popcorn into a completely full glass of milk, and it won't overflow. They were right!
Our full cup of milk and popcorn.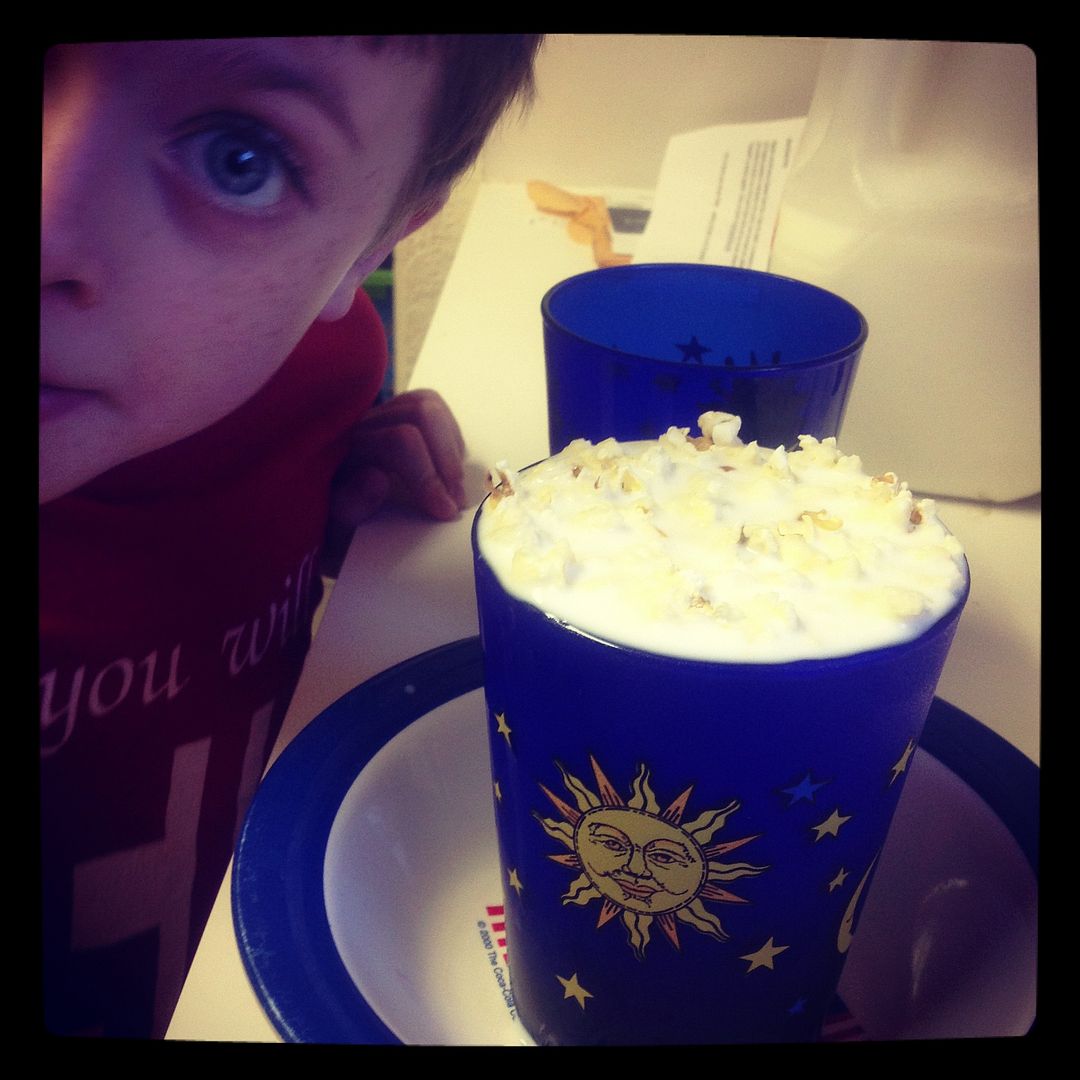 All of it in ONE cup, didn't overflow!
History:
According to MFW, we were doing "Week 14" but we skipped Thanksgiving week, 'cause well, we're not there yet. So, even though it's our 13th week of school, we're doing Week 14's lessons. Anyway, we continued our state lessons this week. It is a very light run-through of the states, one per day... so obviously not too intense and Preston isn't expected to remember everything and recite it. I do hope some of it sticks. I will share a quote from him for each state that he will tell me on Friday, or as I'm doing this recap, telling what he specifically learned, remembers or thought was interesting (and may or may not be correct, lol)...
Connecticut
- "It's bird is a robin and it's the Constitution State." Books:
Connecticut
and
The Milkman's Boy
.
Massachusetts
- "Lots of presidents were born there." Books:
Massachusetts
and
The Boy on Fairfield Street
(about Dr Seuss!).
Maryland
- "Clara Barton, founder of the American Red Cross is a native." (No, he didn't remember that, he had to look up something and tell me. Books:
Maryland
and
Molly Bannaky
.
South Carolina
- "It's motto is "Where I Breathe, I Hope."" Books:
South Carolina
.
Preston has a notebook page for each state, on the back is a bunch of information and interesting facts about the state, and on the front is a picture of the state, it's motto, state bird and flower, plus the year it came into the U.S.A. He colors the page, writes the state capital and the state abbreviation. He also colors in each state on a map of the U.S. as well (I make him hunt down where the state is located).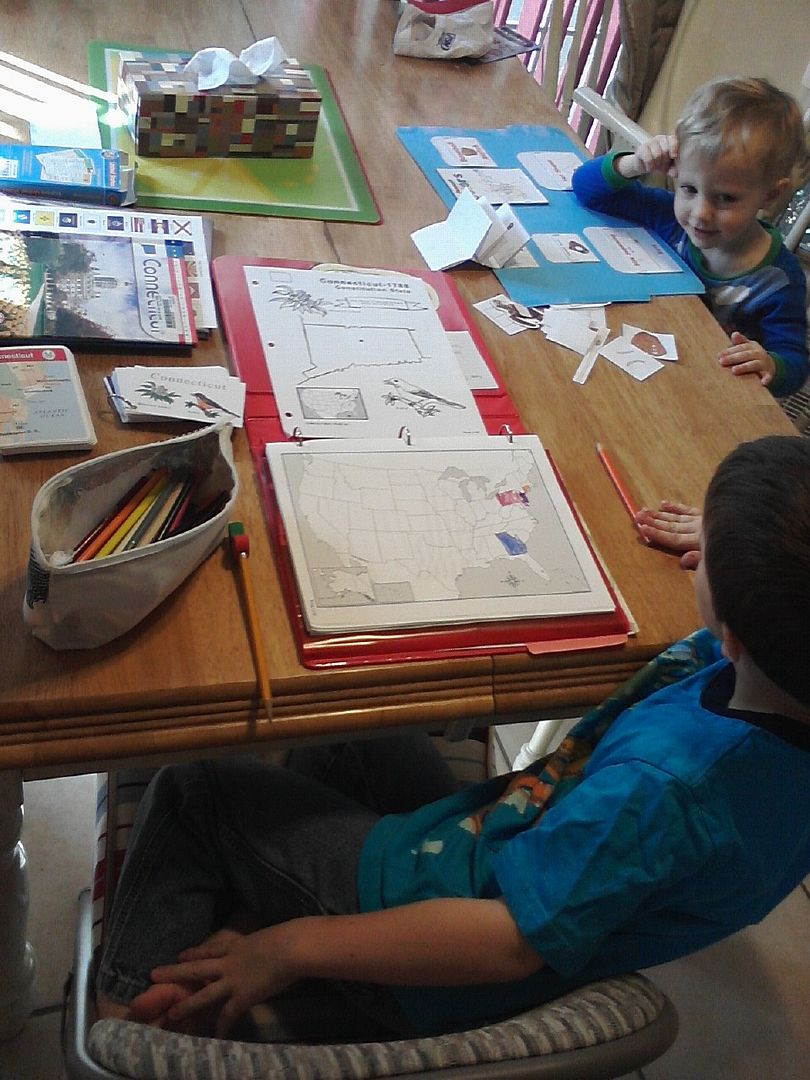 Finding a state on the map!
Math:
Preston started Chapter 5 of his Math Mammoth workbook this week, which is shapes and geometry. It was a pretty simple review of basic shapes, their names and characteristics. We also went through patterns and using shapes to make other shapes.
Preston doesn't like coloring, so this was a BIG deal.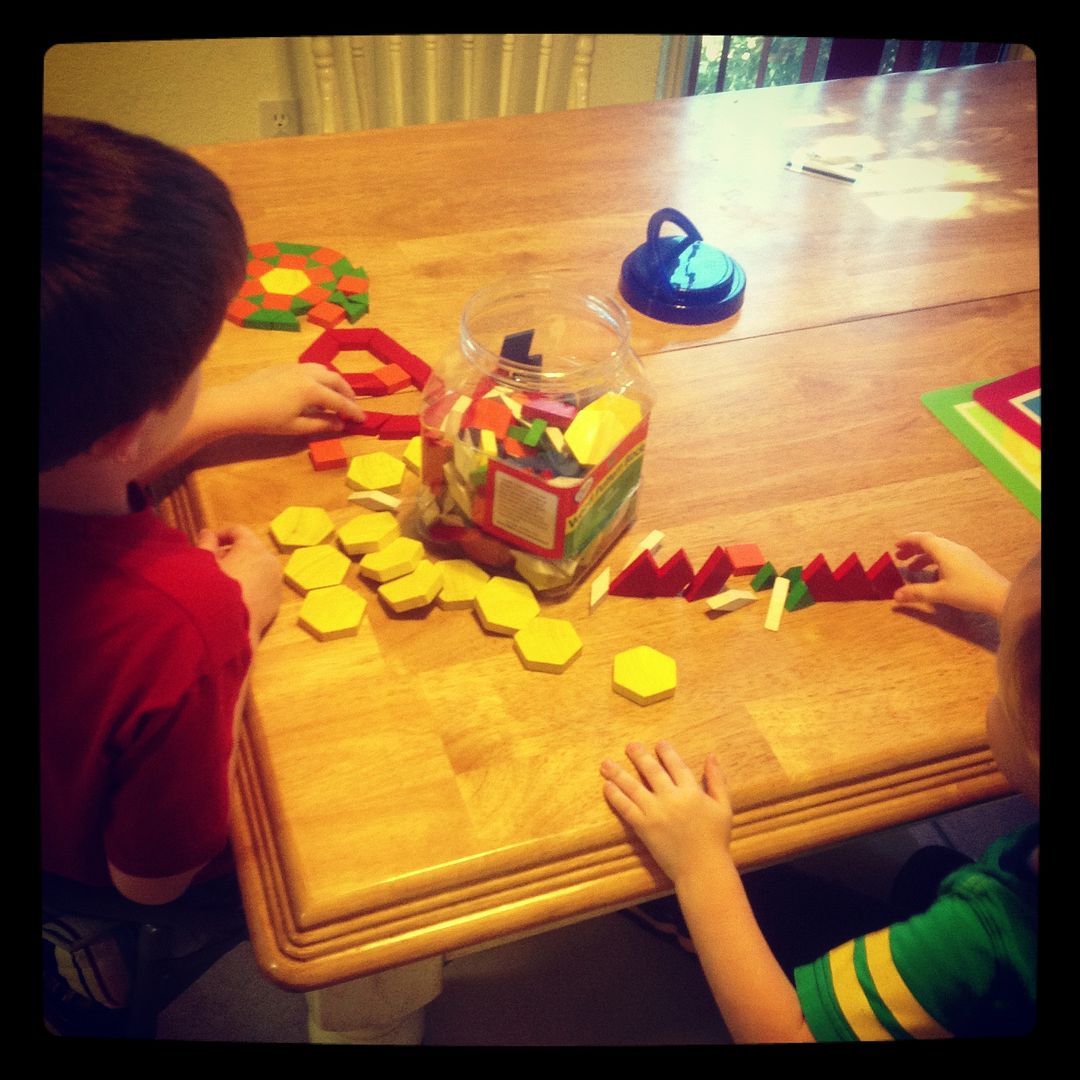 Pattern Block Playing
Science:
This week's focus continued to be birds, specifically the state birds for the states we learned each day. We read from
Birds, Nests & Eggs
, and listened to CD of bird calls from
Sing, Nightingale, Sing
and put up a bird feeder. It's one we put up a while back, but had fallen out of the tree because of wind and then never got put back up. So, back up it went! Haven't seen any birds using it yet, guess they have to find it again.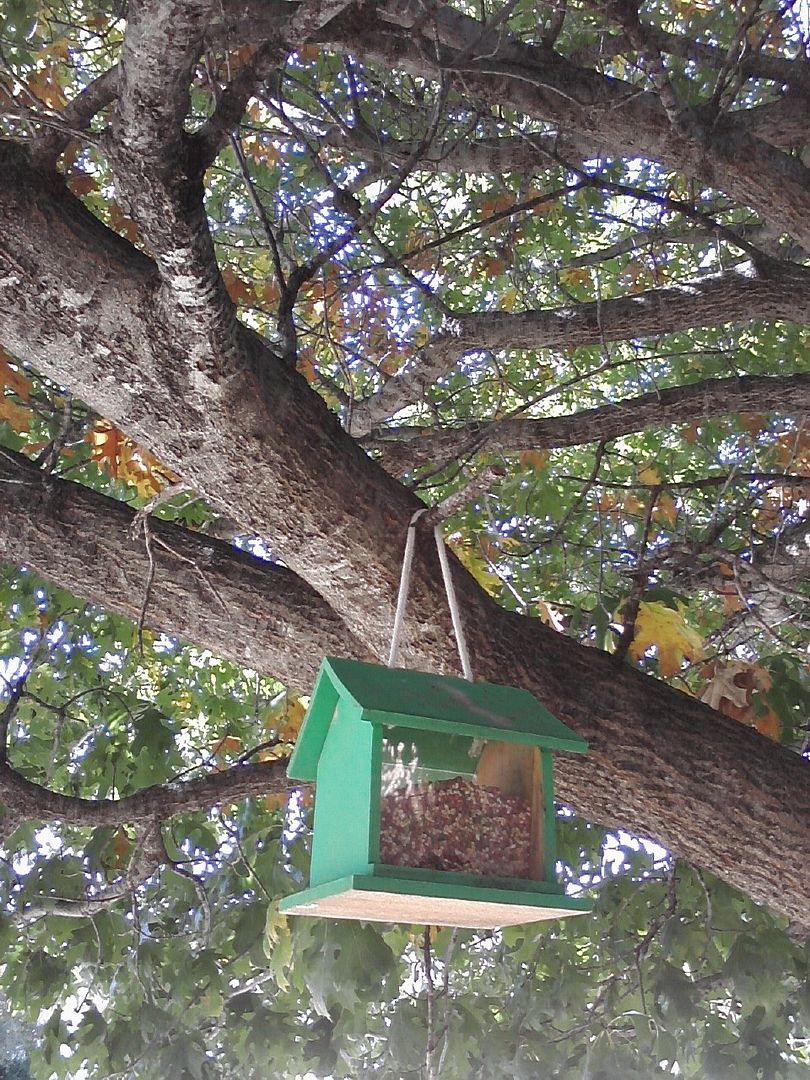 Our birdfeeder.
Music/Art:
Started learning "America, The Beautiful" this week, and listened to some more of "The Nutcracker." The boys worked on some artwork involving cutting or ripping pieces of paper to create new images. They had a blast with that, of course.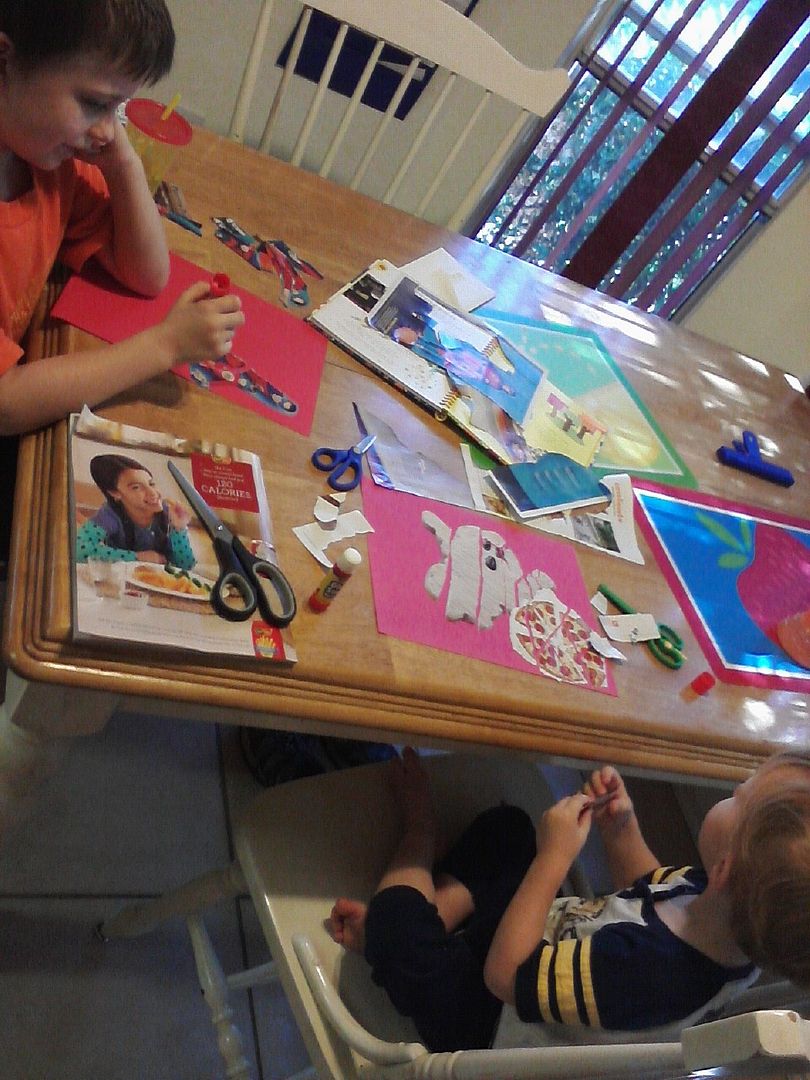 Ripping paper is fun!
Spanish:
Continued with the next two episodes of
Salsa
. We reviewed words having to do with "La Escuela" in our
First Thousand Words in Spanish
. And we started with Lesson 6 of
La Clase Divertida!
.
We are taking a week off next week because I'll be working Share-A-Thon at
Power FM
Wednesday through Friday. And... we're ready for a break. At least I am, lol!
We are using Adventures in My Father's World. See our curriculum
here
.
[
This post contains affiliate links for Usborne Books & More and Amazon.com. By clicking on those links and purchasing items, you are helping me continue to be a SAHM so that I can focus on homeschooling my children! Thank you!]