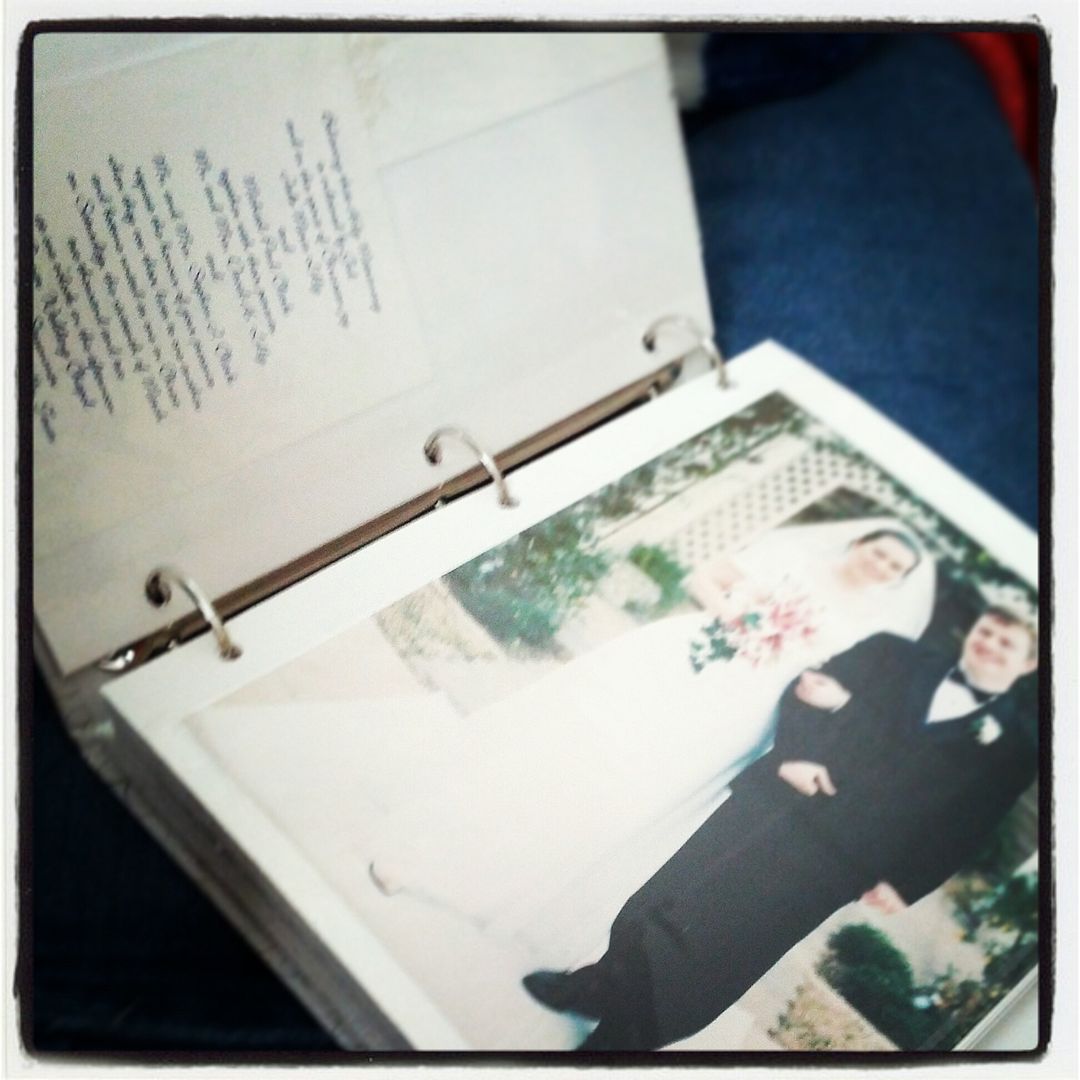 Looking through our wedding album.
Michael and I celebrated our 11th Wedding Anniversary on Saturday. We had a great time together, too. We dropped the boys off with my parents after lunch, and went to see the Titanic Exhibit at the Fort Worth Museum of Science and History. My friend Veronica works there and scored us some discounted tickets, woot woot!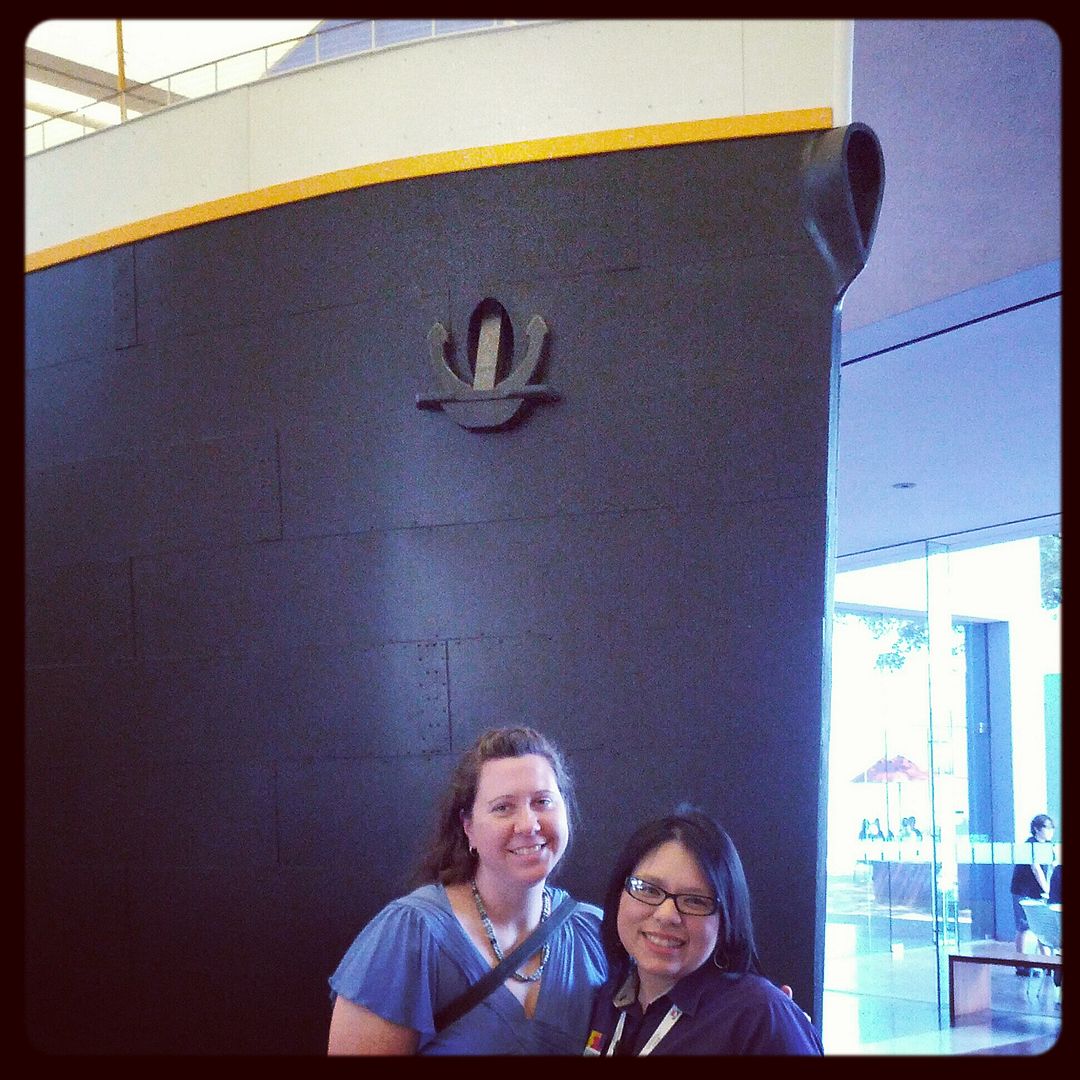 Me and Veronica in front of the "boat."
I have always been interested in the history of the Titanic tragedy. Michael wasn't terribly thrilled to go, but ended up thinking it was interesting anyway. We actually TOUCHED a piece of the hull... how cool is that?! Also, when you start, they give you a "boarding pass" and on the back it has information about one of the real people from the voyage, and at the end you see if you survived or not. A little morbid, perhaps, but I thought it was pretty neat. My person was a 34-year-old 2nd class passenger with her kids, 8 and 2 (wow!), and she and the kids survived. Michael was a 1st class passenger, yet he, his wife and daughter didn't survive (though his 1 yr old son did!). Crazy, huh? Anyway, I really enjoyed seeing the artifacts that used to lay beneath the sea for so long.
After the exhibit, we drove around Fort Worth a bit trying to figure out what to do till dinner... the Titanic exhibit had only lasted about an hour so we had a lot of time to spare. We explored a little, then headed to Sundance Square. We visited the Thomas Kinkade gallery, the Barnes & Noble down there (the first one I ever experienced back in the day, haha) and walked around. For dinner, we went to Pizzeria Uno's. Mmm! So good! The waitstaff there was so funny... this one guy kept busting out in song and getting stuff stuck in my head.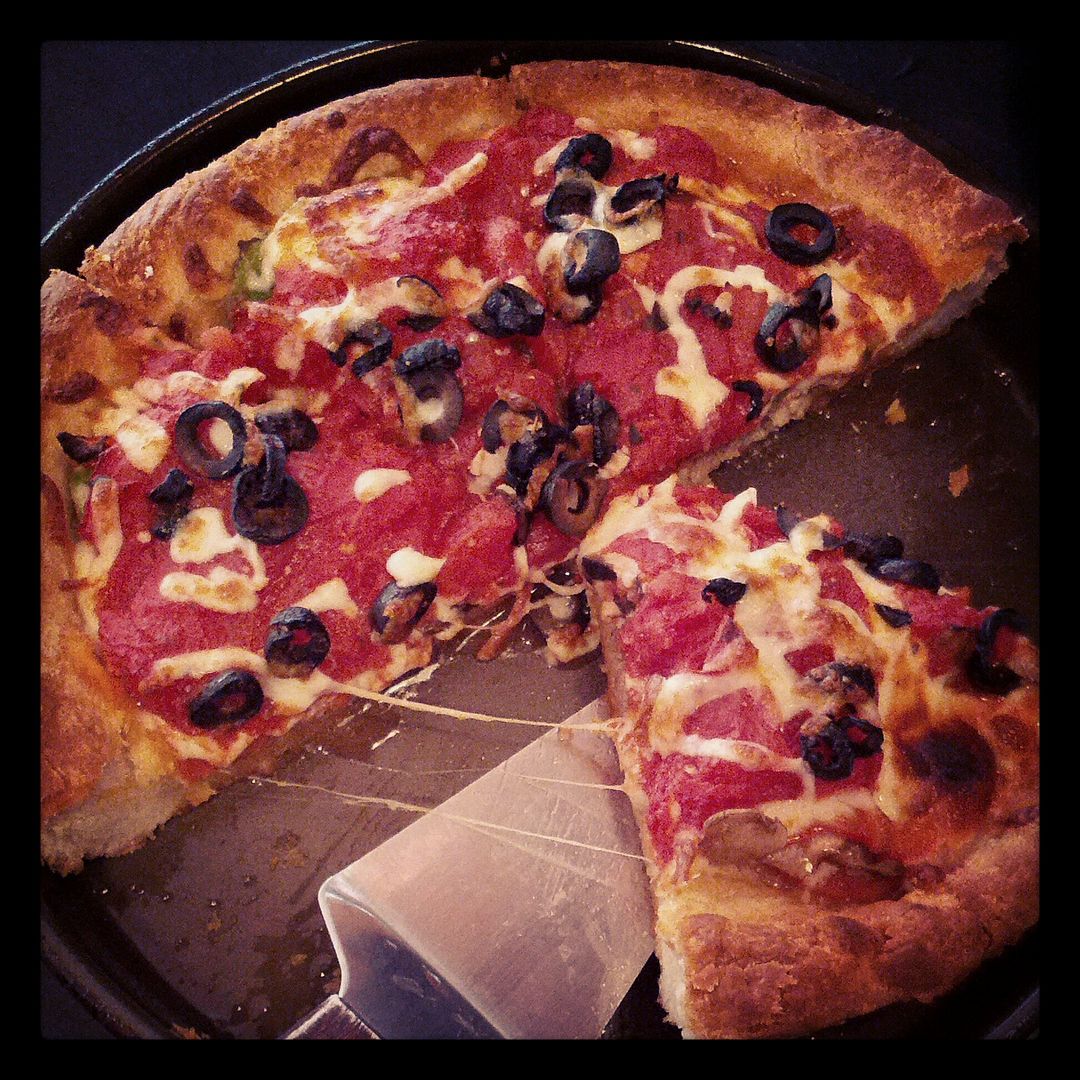 Ridiculously delicious!
After dinner, we walked around some more and then at 7:30 it was time for our carriage ride. What? Haha. Michael reserved a tour of the square via carriage ride. So fun! Lived in Fort Worth almost all of my life, never done THAT before. Our horse was nicknamed "Lucky" for the weekend (St Patrick's Day weekend) and had sparkly green hooves and everything! Haha. Michael picked just the right time for us to take the ride, too... the weather was perfect, the sun was setting. So romantic!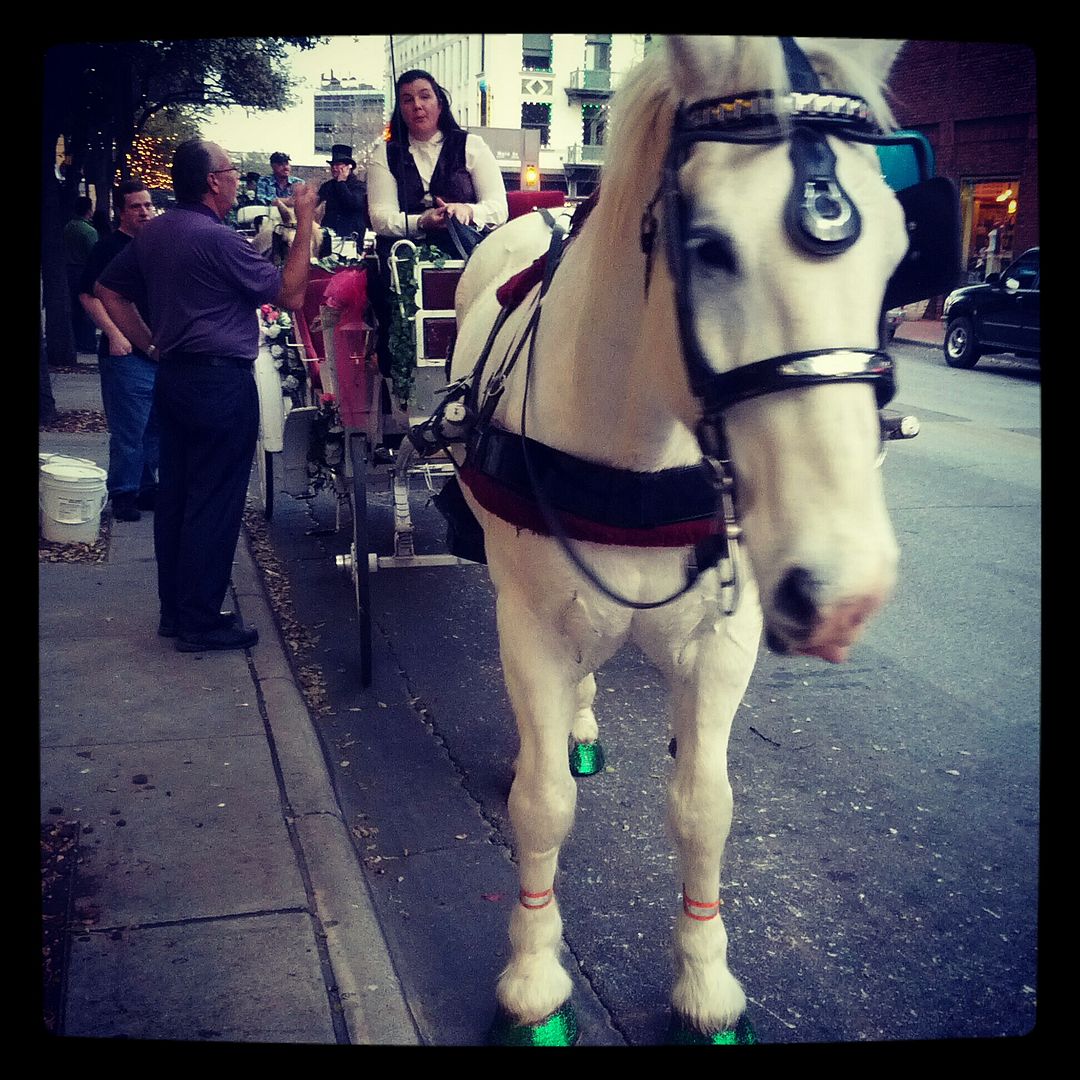 Giddy up, Luck!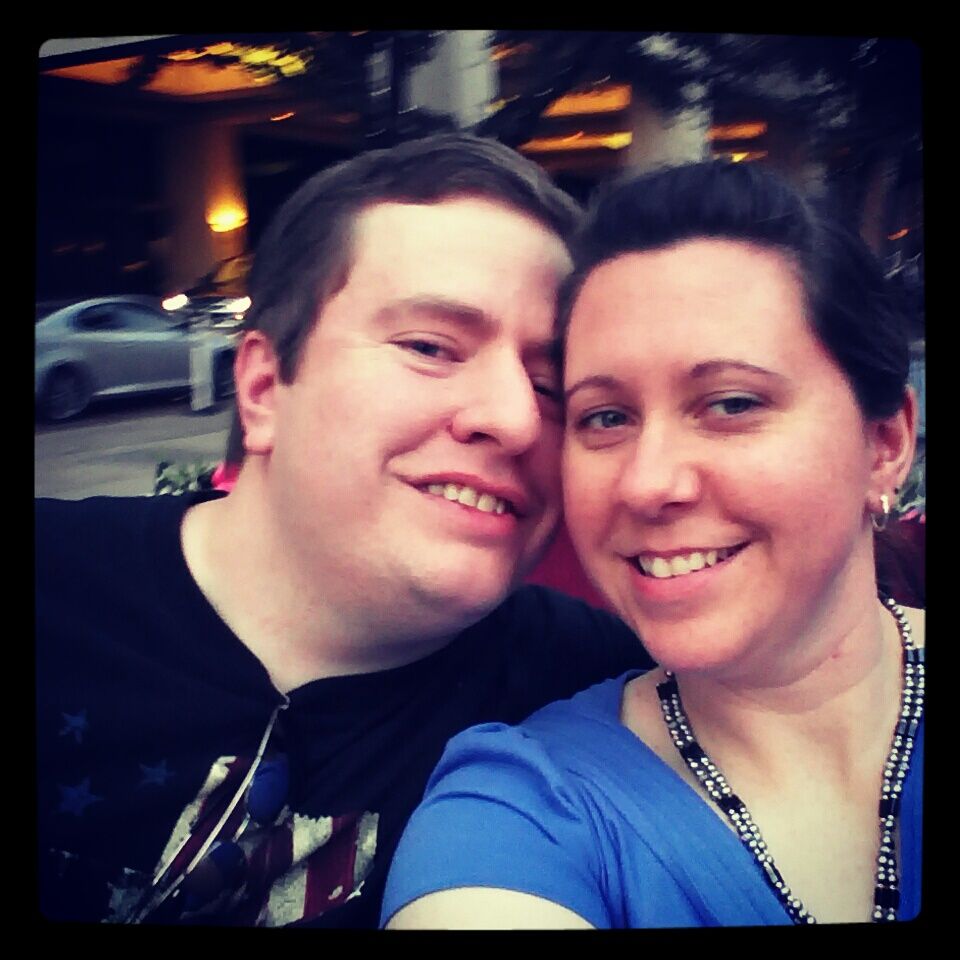 Happy couple! After all these years!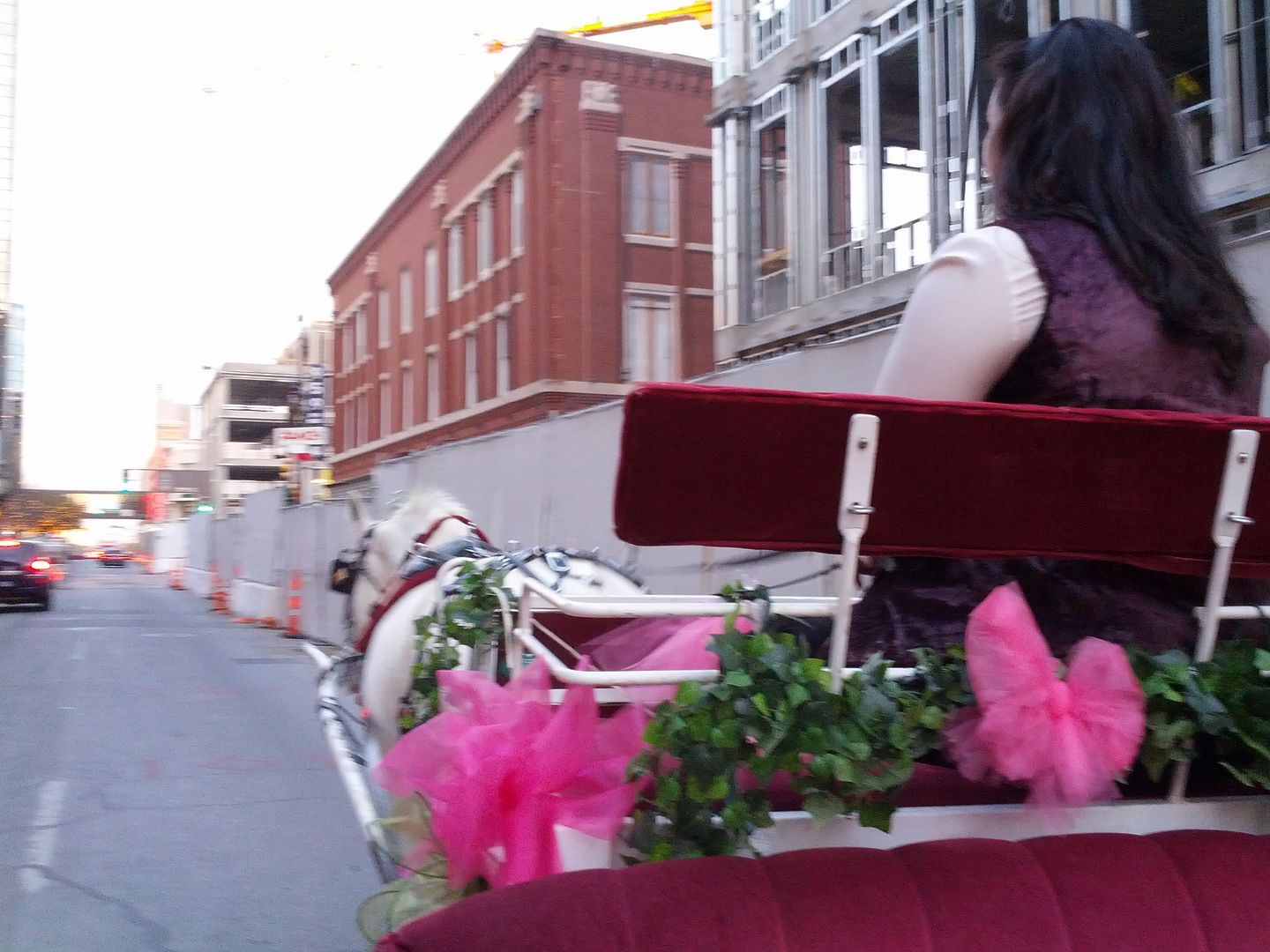 Despite the construction, it was a fun ride!
After the ride, we reluctantly headed back to pick up the boys and get back to normal life. Lol. It was so great to get to spend a fun day with my husband, just the two of us. It's so rare these days. But I'm glad we were able to do it on our anniversary! Thanks, honey!