Pictures to Share...
Playing in the leaves. Boys! It's SPRING now!
Helping Daddy cut back the trees.
In our Homeschool this week...
Tot School:
We continued the
1plus1plus1equals1.net
"Tot School" printables
this week with letter "
X
" for Xylophone/Musical Instruments! We read a few books having to do with music:
Boom Bah!
,
Play Me A Story
and
Animal Music
.
Bible:
This week's name of Jesus was "Good Shepherd." Preston's memory verse is John 10:14 and we looked up verses in
The Discoverer's Bible
that talked about Jesus being a shepherd and us being the lambs. We added to the Names of Jesus branch, which is nearly full! Wow.
Reading/Writing:
We continued
Spelling by Sound & Structure
. Continued with lesson 70-72 in
Primary Language Lessons
. We finished
Mountain Born
, and Preston wrote a brief report on it (a few sentences).
History:
This week Preston learned about four states: Kansas, West Virginia, Nevada and Nebraska and we read a book for each of them...
Wagon Wheels
,
When I Was Young In the Mountains
,
Hoover Dam
and
Dandelions
.
Math:
Preston continued Part B of Math Mammoth, Second Grade. Finished Chapter 9 on adding and subtracting money, and did the chapter review, mixed review and chapter test. Also, did a subtraction with regrouping worksheet to continue practicing that skill.
Science:
This week's lessons were about magnets, and we started off with a couple of pages in
The First Encyclopedia of Science
. Then we moved on to the "Fun With Magnets" kit and did a few of the projects in there - like floating a bar magnet on water and it pointing North to make a compass.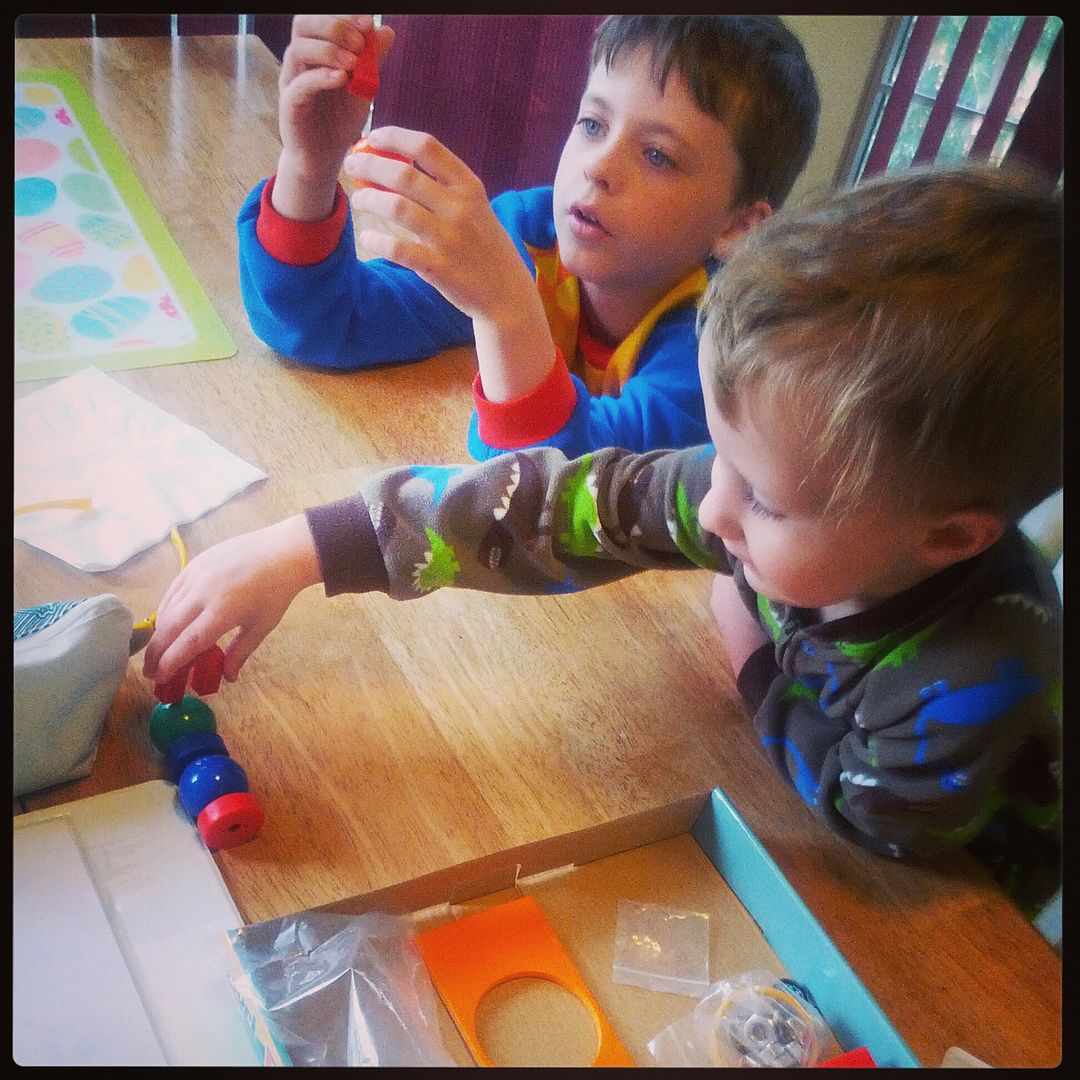 Playing with Magnets
Music/Art:
Our patriotic song this week was "Battle Hymn of the Republic." We also continued our
World's Greatest Artists, Vol 1
unit study, with our sixth artist: Pablo Picasso. This week, we read from
Picasso
,
Paris in the Spring with Picasso
and
When Pigasso met Mootisse
(just for fun). Preston finished coloring
Three Musicians
. We listened to another track from Tchaikovsky Sleeping Beauty and continued the story.
Spanish:
Since we are done with Salsa, and don't have the next disc for Las Clase Divertida... we've slowed down on Spanish work lately. We used a cheap, little work book on food this week just to review those terms and finished it up as well!
We are using Adventures in My Father's World. See our curriculum
here
.
[
This post contains affiliate links for Usborne Books & More and Amazon.com. By clicking on those links and purchasing items, you are helping me continue to be a SAHM so that I can focus on homeschooling my children! Thank you!]