It wasn't even that hot outside!
In our lives this week...
Three weeks ago, we had our A/C company come out to do a routine inspection/tune-up so that when warm weather got here we wouldn't suddenly find out it was broken (like we have several years in a row!). He came out, said everything was fine. Then, on Sunday, a few hours after we turned the system on because it was warm and humid, water began leaking through our garage cieling. Yep... out they came again to fix a PVC pipe that had come unsealed. And then, on Tuesday, after we returned home from the dentist (Preston had to get a cavity-filled), I turned the A/C back on and several hours later, I realized it wasn't very cool in the house. I looked and, sure enough, the unit was not cooling to the temperature it was supposed to. Waited till about 11:30 at night, and the guys finally showed up, said it was a solid block of ice and it looked like the refrigerant was used up. Um, shouldn't the guy have noticed it was low either Sunday or three weeks ago? Sigh. They didn't have any and couldn't do anything with it all frozen, anyway, so we were put on "priority" for first thing in the morning. Annnnnd, we didn't see the guy until after 4pm that next day (priority, eh?). He said the refrigerant was fine, it just wasn't getting released as it should so he fixed that. Thankfully, it's been fine since then. But man, I am so tired of trouble with our still-new, not-yet-paid-for unit. Hopefully, this will be the only trouble we have this year and we can get through the summer just fine?!?! Praying so!
In our Homeschool this week...
Tot School:
Since we're done with our A-Z stuff, Callen didn't do much "school" this week. He did some doodling in the
Wipe-Clean First Letters
book and a few other dry-erase books he has, as well as coloring books.
Bible:
This week's name of Jesus was "The Word" and Preston's memory verse is John 1:1. We looked up verses in
The Discoverer's Bible
that talked about Jesus being The Word. Preston did his copywork and we added the verse to our Names of Jesus branch on the wall.
Reading/Writing:
We continued
Spelling by Sound & Structure
. Finished with lessons 79-82 in
Primary Language Lessons
. That's all of that for the year! We continued with
In Grandma's Attic
, our last read-aloud.
My happy readers!
History:
This week Preston learned about inventors, as well as four states: Montana, Washington, Idaho and Wyoming. Books we read included:
Volcano: Eruption & Healing of Mt. St. Helens
,
Mailing Mae
and
Potato: A Tale from the Great Depression
.
Math:
Preston finished Part B of Math Mammoth, Second Grade! Completed a mixed review, a chapter review and the Chapter 10 test. All that's left is a few more reviews and an end of the year test next week!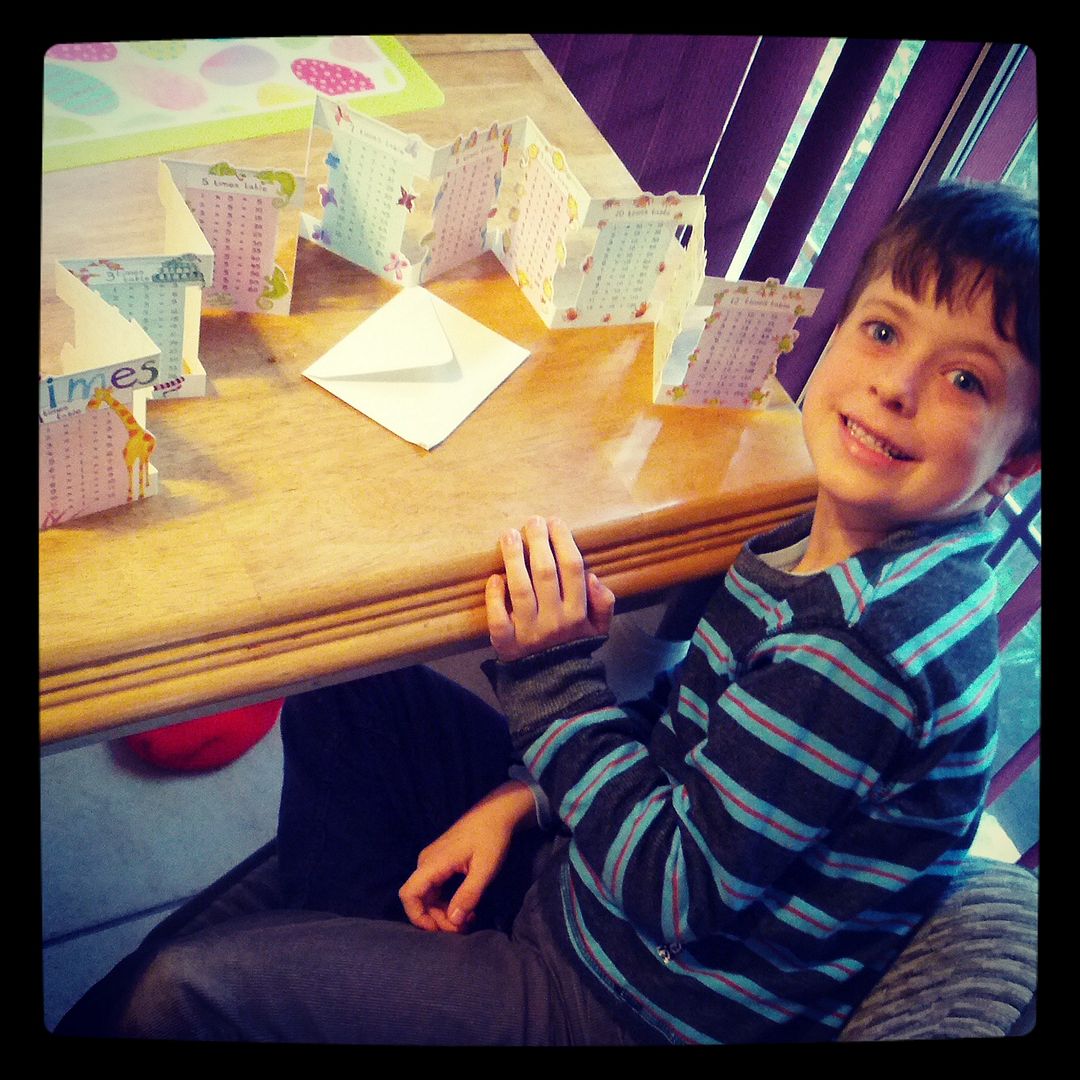 Preston with his multiplication tables card from Phoenix Trading.
Science:
This week's lessons were about Sound. Did a couple of pages from
The First Encyclopedia of Science
. And used some info out of
Science with Air
about how air affects sound, as well.
Music/Art:
Our patriotic song this week was "Armed Services Medley." We finished our
World's Greatest Artists, Vol 1
unit study by constructing a lapbook portfolio of all that we learned and Preston's artwork. Can't wait to show it off!
Spanish:
Pretty much just quit with Spanish for the year. =)
We are using Adventures in My Father's World. See our curriculum
here
.
[
This post contains affiliate links for Usborne Books & More and Amazon.com. By clicking on those links and purchasing items, you are helping me continue to be a SAHM so that I can focus on homeschooling my children! Thank you!]