As you have already heard me whine about, I'm sure, we aren't officially starting school until we move and get settled in a new place (and at this point, I have NO idea when that will be!). But, I got antsy, and decided we have to start SOMETHING before I go nuts! And the kids are getting kinda funky, too, so I feel they need a little more structure in their day on a regular basis. Preston finished up his Rod & Staff Health and Manners workbook on Friday (here's hoping he retains some of those manners, sheesh!), and I told him that we'd be starting some school on Monday. He didn't groan or complain, and first thing Monday morning he woke me up and said, "Let's do school!" So, I think that means he's ready. Lol.
Going along with
iHomeschoolNetwork.com
's Blog Hop (which is really supposed to be a 4-week-long thing, and I crammed into one post because, again, we're un-officially starting, lol), here is an update on Clark Family Academy...
Curriculum:
For Preston, my 3rd-Grader, we will be using
My Father's World Exploring Countries and Cultures
, BUT because I don't have the ability to pull out all of the stuff and put maps up and all that (thanks to our beautifully staged home right now), I decided to start with the subjects that don't require many supplies.
Preston's curriculum
We are doing
Spelling Power
, according to the MFW ECC instructions. We did the survey and spelling test and Preston gets to start with Level C. He was pretty pumped about not having to start at the beginning. The Justice League notebook is where he does his writing. And we are starting up Grade 3-A in
Math Mammoth
on the iPad. I was not looking forward to having to print out all of the pages in the two workbooks this year, then the amazing
Amanda Pelser
posted a tutorial on how to do worksheets on the iPad (and her example was even using Grade 3-A of Math Mammoth, um... yeah!). So, no more spending tons of money/ink trying to print out everything, AND Preston enjoys getting to use the iPad, of course!
My preschooler, Callen, and I will be doing
Before Five in a Row
... at some point. I have lent most of the books for that curriculum to a friend doing it with her kiddos, and since we're not ready to truly start, haven't asked for them back.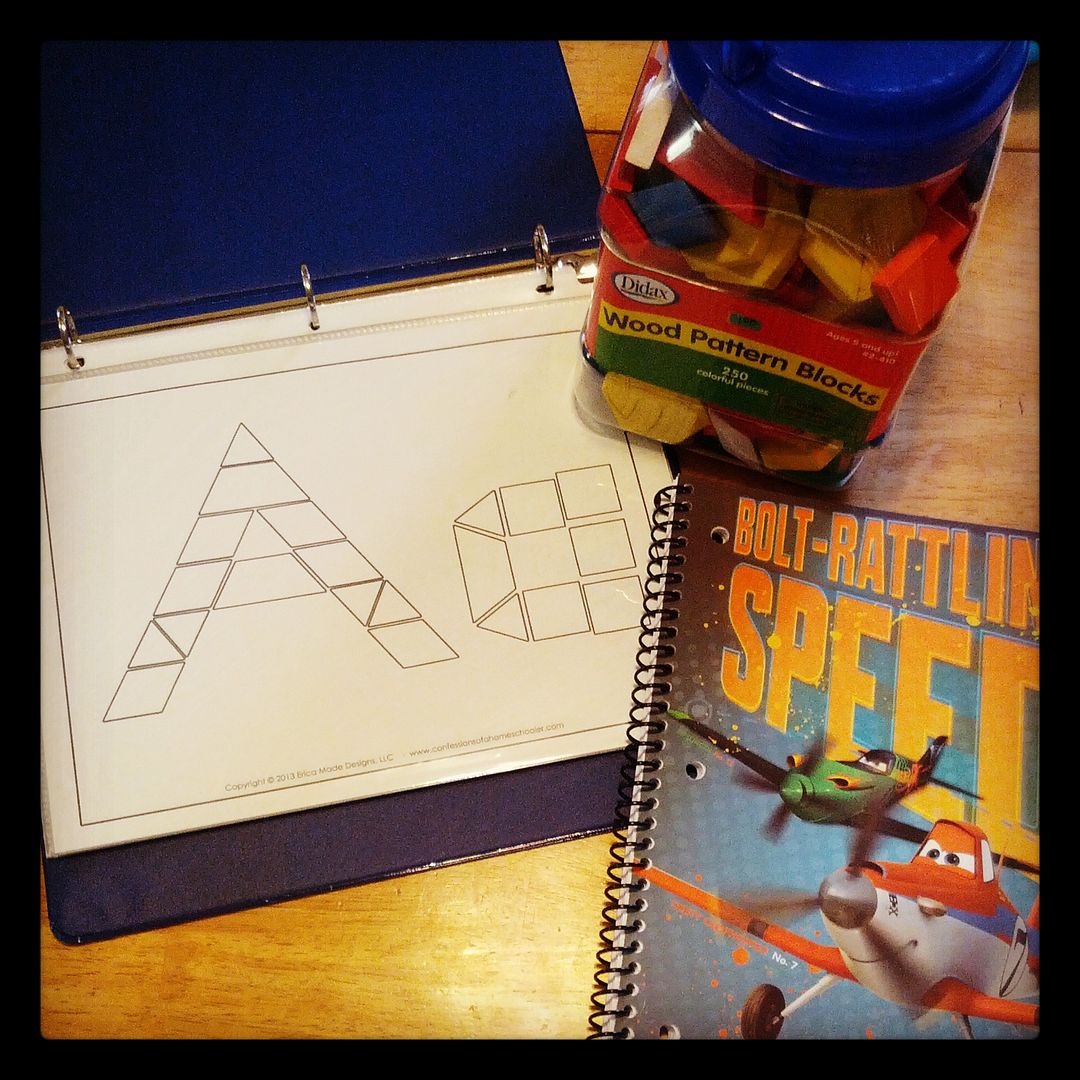 Callen's curriculum
So, for now, Callen will be doodling in his Planes notebook, and creating letters (
print outs from COAH
) with his
Wooden Pattern Blocks
. He'll also be running around like a banshee, and getting into trouble. That's just what he does. I'll be finding other things to do with him/occupy him as we go.
School Room:
Welp... I was really hoping to be settled into a new place that has a nice area that we can set up "school." It's certainly something on top of my 'want' list when we look at houses. But, for now, our supplies/books are stashed away deep in my closet. I was able to dig out what we needed and find a place to have it easily on hand but mostly hidden as well.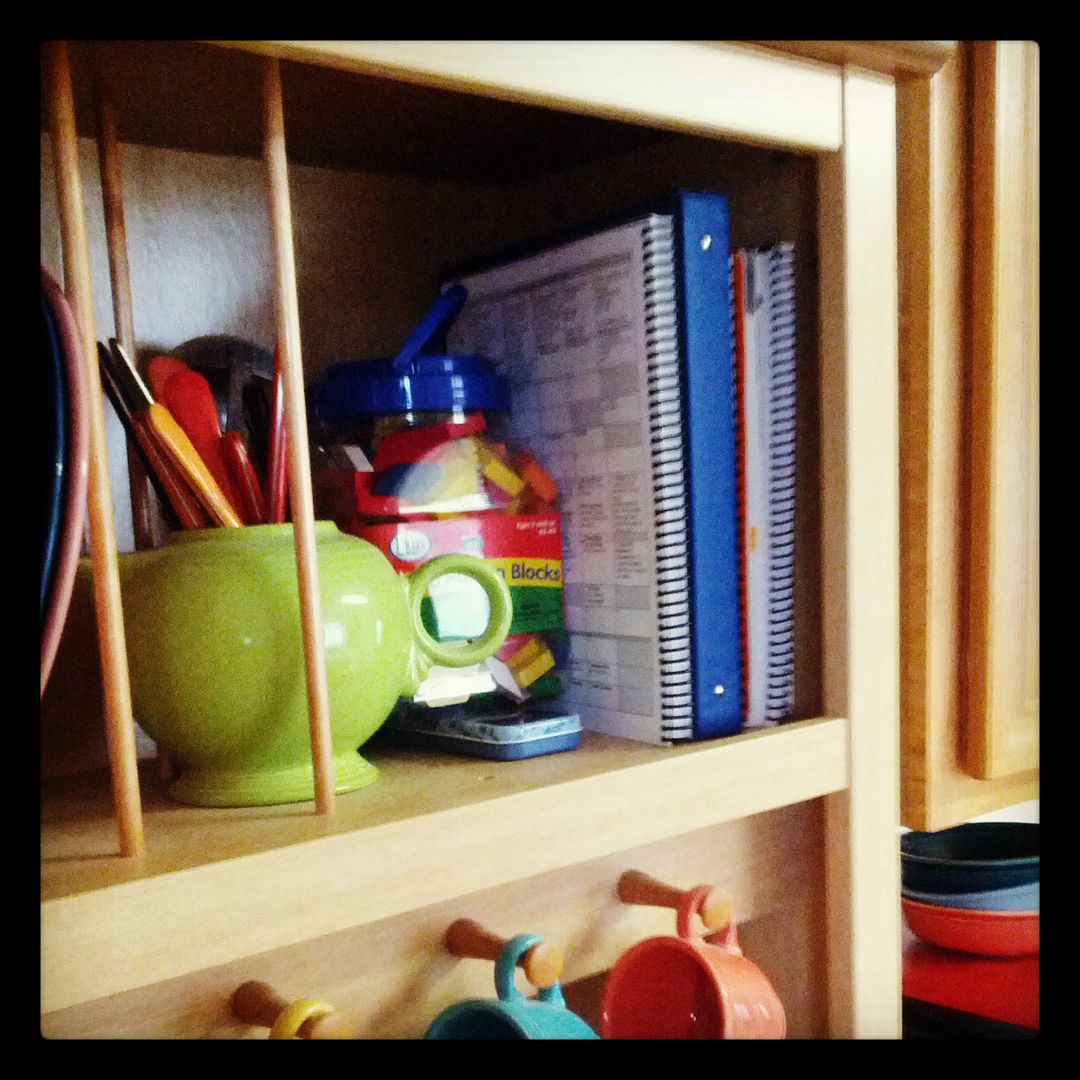 Just a few books for now!

The books are tucked away in a corner of our kitchen hutch, close to the kitchen table. That way when potential buyers come in for a showing, they can still see our beautiful kitchen and not be distracted by a ton of school stuff all over the place.
Our staged kitchen, photograph from our listing.
Student Photo:
Ok, obviously I haven't done much with this. But here are my two dudes hard at work on Monday...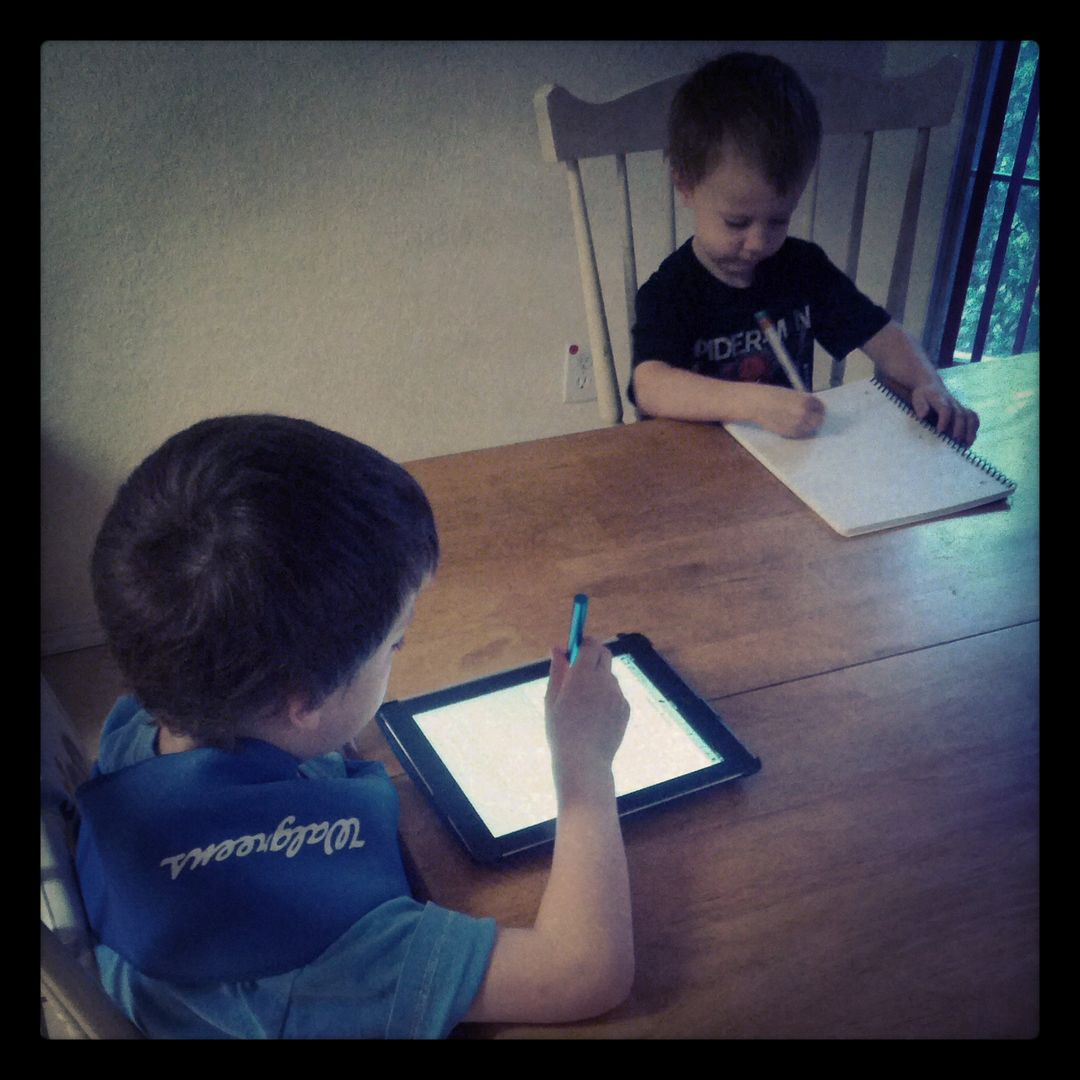 Doing work just before dinner.
Day In the Life:
Our first day (yesterday) went a little something like this... Preston woke me up excited to get started. So, before Callen woke up and demanded breakfast, we got to work on the Spelling Power Survey and Placement test to see where we start in that big 'ole book! I read through the list of words, Preston spelled to me, and I wrote them down. Now, I told him that would NOT be the norm, because even though he hates to write and complains about it constantly, he HAS to do it. But, since we had to get through a bunch of words and I needed him to concentrate on actually spelling, I knew it'd go smoother if I did the writing. And it did. He did great! After that, Callen woke up... we did breakfast, tidied the house, ran out for a few errands, came back for lunch, Preston hurt himself*, headed out to the chiropractor, came back, Daddy came home, we ALL took naps, woke up, did some more school (what you see them doing in the picture above, Preston doing math and Callen "writing" in his notebook), dinner, then off again to a children's ministry meeting, back home, tidy up some more, kids watched a tv show with dad, bath, bed. Whew! Certainly made for a full day. Obviously, not all our days are that packed with go-go-go! Thank goodness!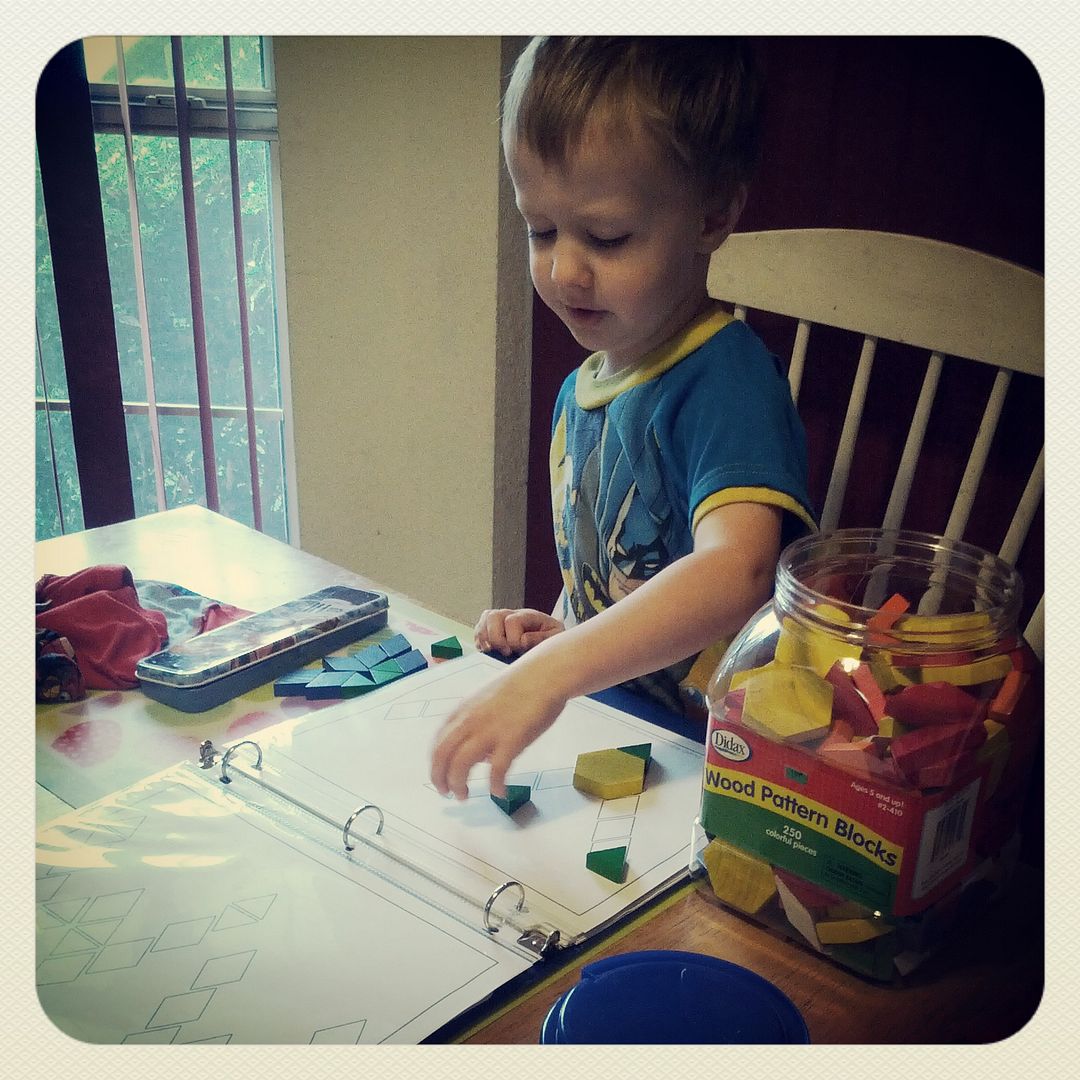 Building the capital 'V'.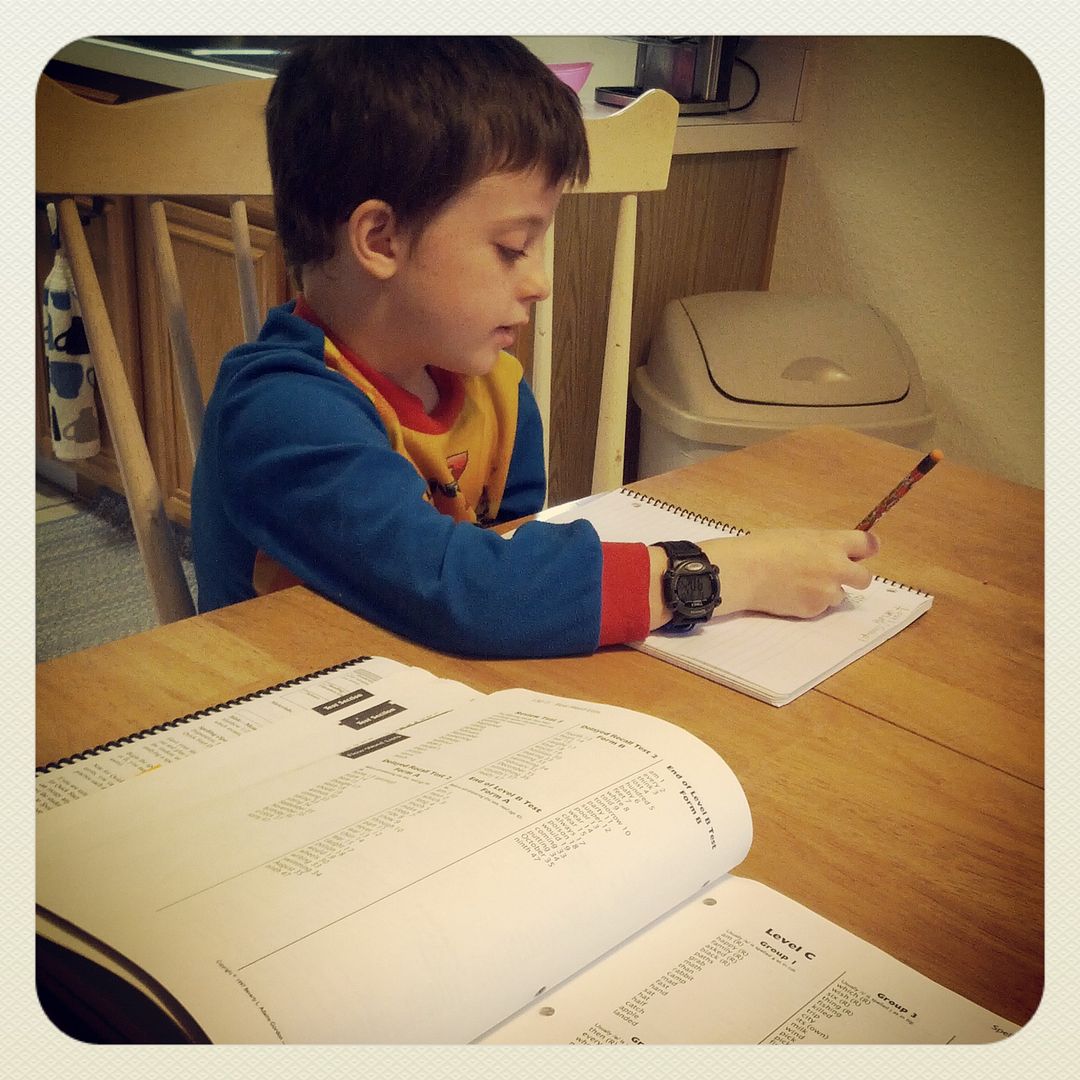 Spelling words daily test.
* My darling sons came out of Preston's room while I was doing some work and were both clothed in at least 10 shirts each. They had decided to make themselves fat by putting on as many layers of shirts as they could. Well, when Preston went to take his off, he pulled really hard and it yanked his head back really far. He said he heart a crack, and he began to freak out. I went running and found him, with his neck twisted one way and he said that if he moved anything it hurt really bad. When he tried to show me, he cried. Poor kid! I put ice on it and finished up what I was doing. It was totally a God thing, because I was doing some ironing for a friend who is a chiropractor... so we ran up to her office to take it back and I asked if instead of paying me, she'd help Preston's neck and, of course, she did. She worked on him a little and he was able to move a ton more than before, so praise God for that. In the picture above, he is doing his work with an ice pack on... having to do that periodically to help him heal. Never a dull moment around here, for sure!