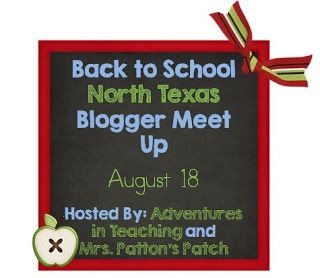 This afternoon I attended a Teacher/Blogger Meet-Up in Southlake, hosted by Cassie with
Adventures in Teaching
and Colleen from
Mrs. Patton's Patch
. About 30 women from all over North Texas were brought together to hang out, eat and have fun.
When I was originally invited a few weeks ago, I jumped right on it! But suddenly, on my way there, I became slightly nervous. I started wondering if it was going to be awkward answering the question "Where/what do you teach?" with "Oh, I homeschool." Turns out I had nothing to worry about. Everyone was so sweet and kind, and I didn't feel "weird" about not being a traditional teacher at all. In fact, a few of the ladies had questions about homeschooling, so it was fun getting to tell them all about it!
I'm really glad I went... I met some pretty awesome teachers! Even though we don't currently use the public education system, it's so nice to know how many fantastic teachers there are helping to shape future generations!