Monday:
- Did our usual daily devo and some math (addition practice).
- I received a fun packet of study materials on the Chinese New Year from
Panda Express
. So, we talked about that (using the Fact Sheet) today. I explained that they have an animal-based Zodiac, and that 2011 is The Year of the Rabbit. Then we figured out what years we were born in (Preston: Rooster, Me: Monkey, Daddy: Horse and Callen: Tiger). Of course, we don't believe in zodiacs or things of that sort, but it was still interesting.
- Preston colored in a
Lai See
(red, of course) and we placed the bookmark and coupon inside of it as his "lucky money." We also did a word search featuring words that are related to the tradition of Lai See.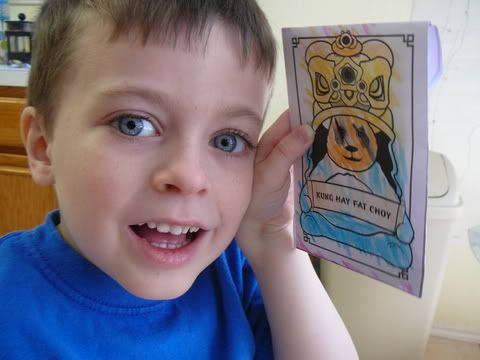 Kung Hay Fat Choy
- We watched the DVD that came with the study pack, showing different customs and information regarding the Chinese New Year. At the end there is a little pop quiz, and Preston got all the answers correct! Yay!
Tuesday:
- Devo & math again.
- Created a Chinese Dragon. I told Preston to draw some shapes, designs or lines on the 'scales' of the dragon, and he ended up creating these elaborate scenes and stories instead. So, it took a lot longer than I anticipated, but he had a great time making up all kinds of stuff and drawing it out. Then we assembled the dragon on our pantry door - it got a little wonky because I let Preston 'direct' me where and how to put each one, but again... oh well, he had a great time, and is very excited every time he passes it!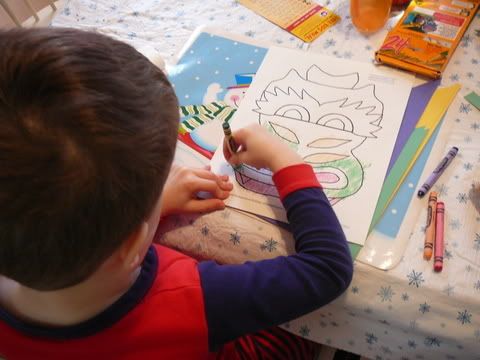 Dragon head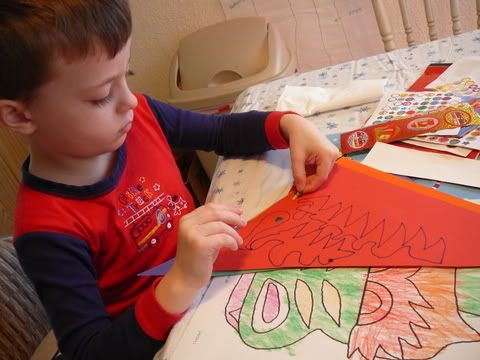 Dragon scales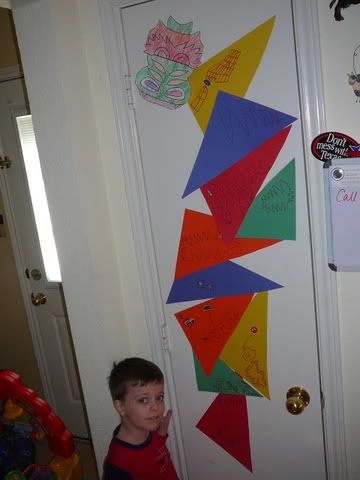 Finished project!

Wednesday:
- It iced and snowed again today, but we carried on with school as usual. Poor kid, won't know what a real "snow day" is like, and why everyone gets so excited about 'em. Haha!
- Started on Valentine's Day activities with a maze and a fun Secret Code-type worksheet. He had to figure out what the Valentine's Day messages were (for example: It had a picture of an eye, which really meant "I" or a picture of a deer, which really meant "dear"). He thought deciphering the secret code was pretty fun.
- I had him color a large heart with the words "Be Mine" on it, then we cut it out and laminated it (woo hoo, finally put
my laminator
to use, and.I.love.it!). Then I punched holes around the edges and let him lace some ribbon through. It came out really nice. He'll un-lace it and re-lace it a few more times before he's done, I'm sure.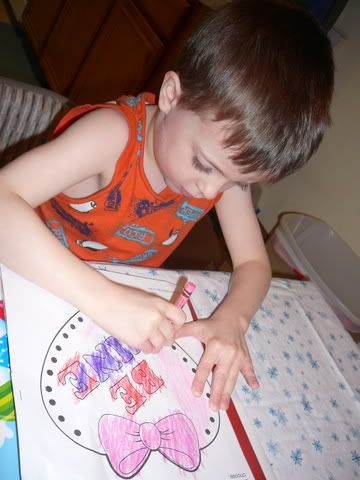 Coloring his heart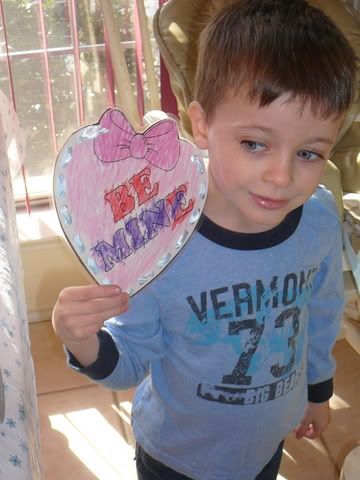 Finished!
- I read him the story of
Saint Valentine
, to try to explain why we celebrate Valentine's Day with hearts, candy and cards.
- We also cooked up some beef stew* and made some mint fudge together.
Thursday:
- We did a math chart using Preston's cereal with marshmallows. It was similar to charts we've done where we roll the dice and see which picture "wins" the race. This time it was just that we poured a bowl full of cereal, he picked out all the marshmallow shapes and we counted and put them in the chart to see which shape had the most in the bowl. For the record, today's winner was the star-inside-a-circle-shape. Haha.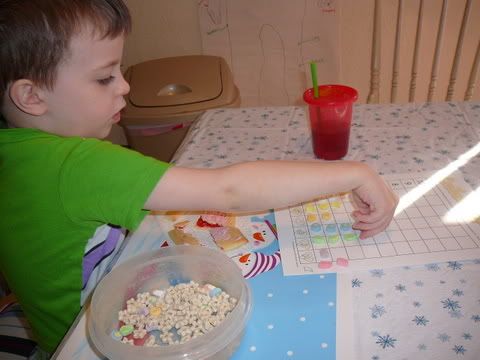 Which shape will win?
- We also worked on some conversation heart printouts. Preston wrote things inside them like "Be mine" and "I love you," then colored them. We're going to cut them out and use them with our Valentines. That took most of the morning.
- We read
Arthur's Valentine
.
Friday:
- Preston drew a picture of something he remembered/learned from his devotionals this week. He chose to show "God's light shining through the darkness."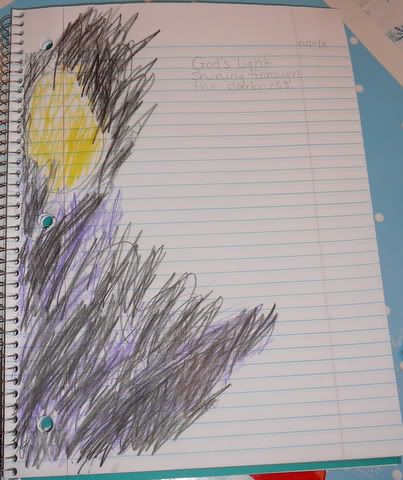 He comes up with the drawings on his own
- Then we did the cereal chart again, to see how data can always come out differently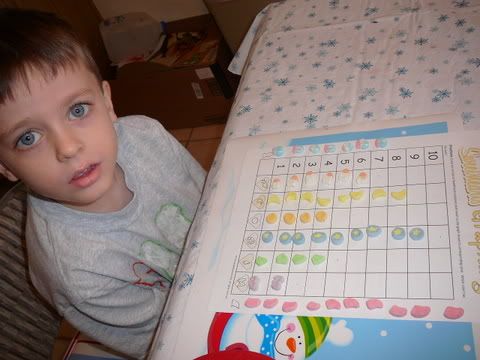 This time the pink shark fins (?) won
- Then we read
My Heart is Like a Zoo
. This is a very neat book! We used the pictures as examples, and made animals out of different sized hearts (he chose the bear and the crab). These will be Valentine's for the Grandmas and Grandpas (So, Grandma, if you're reading this before Monday, oops!)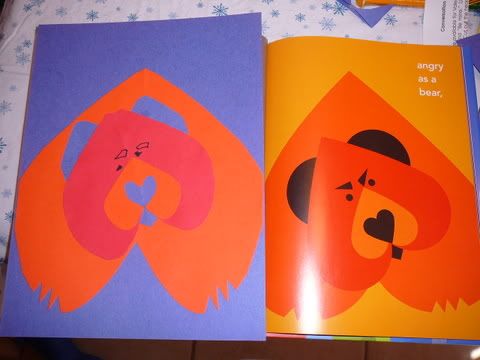 "Angry as a bear"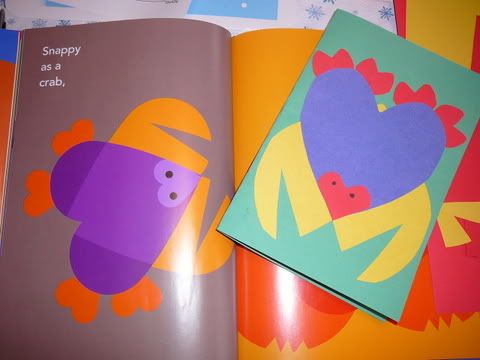 "Snappy as a crab"
- And we continued finishing up the Valentine's for the rest of the family as well, using the Conversation Hearts Preston wrote on the other day.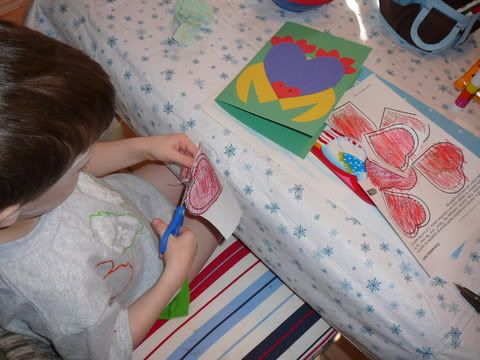 Cutting out hearts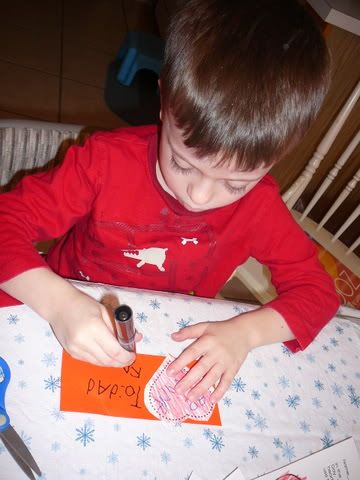 Writing on them
The books we checked out from the library this week:
*Mr. Potatohead Fun Gone Wrong!
Early this week, Preston asked me if he could make a 'real' Mr Potatohead. I didn't have any potatoes then, but was going to the store and knew I'd be getting some for dinner. So, on Wednesday morning I wanted to prepare everything for beef stew in the crock pot, and while I was prepping everything, I let him have a potato to play with. He got the pieces to his toy Mr Potatohead and I helped him poke them into the real potato.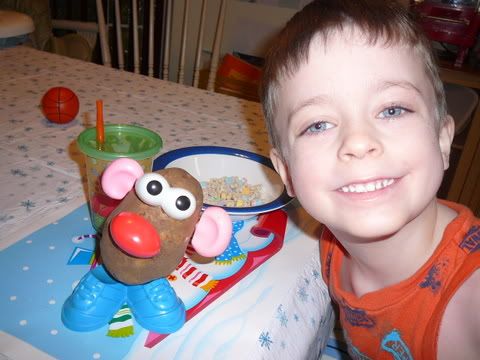 Happy for a minute...
At one point, I started peeling and chopping the other potatoes, and realized I was doing it right in front of Preston and his Mr Potatohead. Jokingly I said, "Oh, Mr Potatohead, I'm sorry you have to see this!" Preston goes, "Oh no, he has a tear!" I thought he was joking, but when I looked, he DID have a tear (the potato juice had dripped out of where we poked the eyes in and it looked link he was crying!)!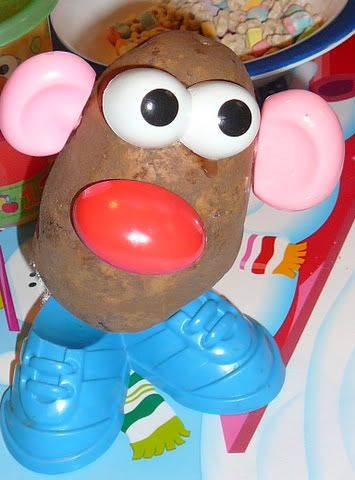 Tearful Potatohead
Then, I told Preston that I needed his Potatohead to finish up prepping the stew, he gave him to me, but as I was peeling that guy I looked over and saw that Preston was crying! OH man! He was really upset that I was going to be using his friend in the stew! Poor guy, didn't think he would take it that hard! At dinner, when the stew was ready, Preston wanted to know which potato chunks were his Mr Potatohead. Uhhhh, yeah. He ate it, and was fine... but it was all rather sad. Note to self: Do not let your kid befriend his food!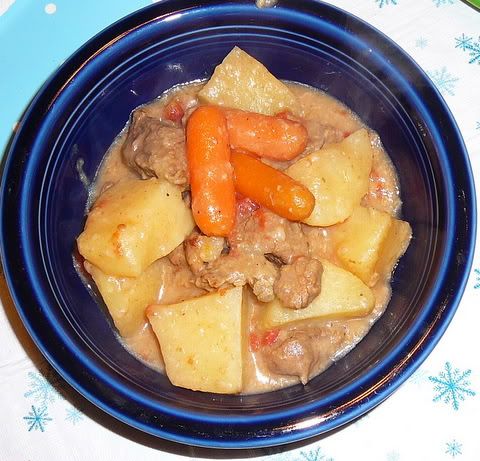 Sorry, Mr. Potatohead!