Sunday:
- What? Sunday? Huh? Well, last week when we told Preston that he couldn't have candy on Valentine's Day and that there were other presents we could give him, he decided that as a present, he wanted a day off of school on Monday. Ok, no problem. He didn't get ice/snow days like all the other kids around here over the past few weeks. But, I found an
adorable dentist activity
and wanted him to do it before he went to the dentist on Monday, so... I convinced him to do it on Sunday evening. Haha. I know, I'm mean! He didn't mind at first. Until I had to MAKE him trace the words (it was the See, Trace, Make part of the unit). He thinks he's beyond having to trace things and doesn't need to do it. Sigh. Anyway, he did it. Eventually.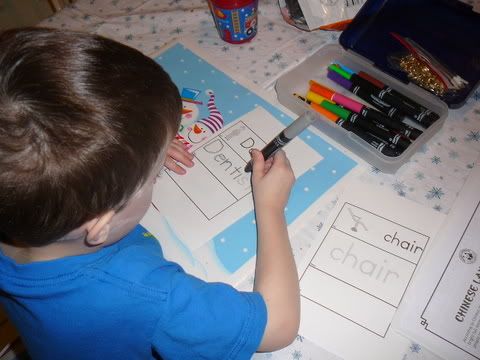 The 1st page, he was still eager to work on it.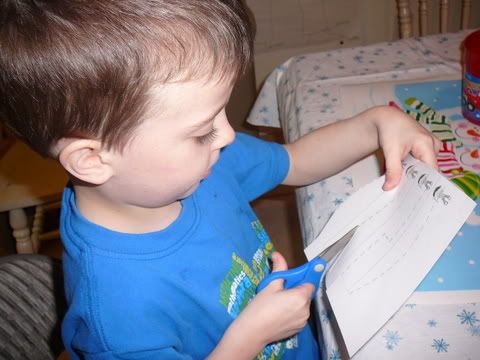 The last page, he got to cut the lines towards the Tooth Fairy.
Monday:
- As I said, he didn't want to do school on Monday, so we didn't do anything formal. I was clipping coupons at the table and he joined me. I kept showing him fun pictures leftover in the ads, and he got excited and wanted to make a collage. He did a great job of cutting and pasting and arranging the images. Sshh, don't tell him those are 'school'ish activities. Haha!
- Grandma Jill got the boys a new book,
How Do I Love You?
, and Preston read that to his little brother, carefully making sure to show him the pictures after each page. So cute!
Tuesday:
- School got started a little later than usual because we were up all nite due to Preston's dental work. While he was an amazing trooper through the procedure and showed absolutely no sign that anything had happened to him, let alone a giant, rotting, broken tooth being yanked out, the would started bleeding around 9pm, and would not stop. Long, gross story short, we had to go back to the dentist as soon as they opened on Tuesday to make sure everything was ok. It was, mostly. We're still watching the healing, though.
- Preston did some language and math work in his LED workbook... again, mostly just learning how to read and follow directions more than the actual work it was having him do (find the differences in the picture, circle the ones that match, etc. - he's far beyond that, but following instructions needs practice).
- We also read
Bringing In The New Year
, since Chinese New Year is still going on.
- We were going to do a few other things, but since we had a rough nite and late start, I figured we'd just forget about it and play and watch a movie. We never did get around to watching a movie, but Preston wanted to "play" with his flip book. I got it at Borders for 75cents, and he practiced writing. Um, yeah... I can't say no to that kind of "playing." Haha!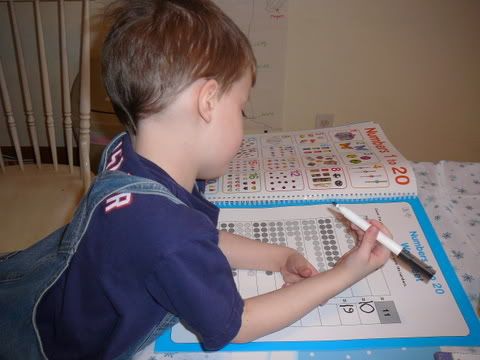 Wednesday:
- Nothing too exciting school-wise today. The boys were ridiculously hyper all morning, maybe because Daddy was home? Michael switched shifts with someone so Wed-Fri he worked the afternoon-evening shift, and having him home in the morning was a little weird for the boys.
- Workbook language and math skills.
- Preston has been enjoying watching Nova ScienceNow with me lately, so for "science" we watched the episode called
"How Smart are Animals?"
which was pretty interesting. There were some mentions of evolution in the video. And I don't think we'll be watching this week's episode because it's about "how we got here" and I'm pretty sure it's going not going to be about The Creation.
- We read our last
Chinese New Year
book. We also read a
Valentine's book
we forgot to read on Monday, oops.
Thursday:
- Daily devo, workbook stuff, blah blah blah. Haha, can't help it, it gets redundant... even when it's technically 'new' stuff... to type it out here, makes it look really boring.
- We made a Chinese Lantern, because it was the last day of Chinese New Year. Preston led me on a parade to the mailbox, so... that was cool. Heh.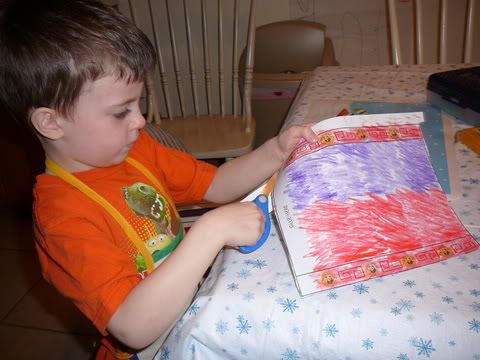 Cutting it out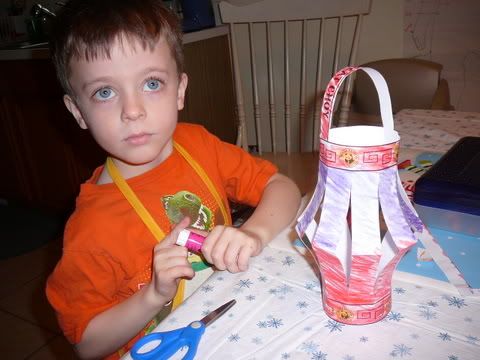 All done!
I also asked him the review questions on the info we learned about the Chinese New Year, some of it we haven't discussed since the first day two week ago, and he NAILED it, got every question correct!
- We also went to the library today to stock up on President books for next week! Thanks for the ride, Grandma Jill!
Friday:
- Daily devotional and reflection. He drew a picture of himself little, then big which is supposed to be "The New You" we talked about once Jesus is in your life.
- Did a quick review of things we've learned over the past several weeks (months?!). I kept forgetting to do little reviews with him, so I wanted to see how much info was retained. He hates being 'quizzed' so it's kinda difficult to really get a feel of if he knows it or not because his automatic answer is "I don't remember" even when I KNOW he does! But, he did pretty well... so I can't complain.