And the winners are:
Congratulations to
Carole Spring
and
Sarah W
, it's your Free Flavor Friday! You both win a coupon for a free bottle of Coffee-Mate Non-Dairy Coffee Creamer! Please email me (heyjade[at]gmail[dot]com) your address so I can mail it to you! Thank you to everyone for visiting my blog and entering the giveaway. I hope to do more like this in the very near future!!!
-------
A few months ago,
Coffee-Mate
held what they called "Free Flavor Friday." Unfortunately, technology couldn't keep up with the massive amounts of people who desperately wanted a free bottle of Coffee-Mate Non-Dairy Coffee Creamer. What can we say? We love our coffee. Because I'm a member of the Brew Crew (a sort-of street team for the Coffee-Mate brand), they sent us some of the coupons to help appease our family and friends that may have been put off by the FFF disaster. Ok, seriously, I was reading some of the nasty comments left by people who couldn't get through to get the coupon on CM's facebook wall, just wow. It was a FREE giveaway... I couldn't believe how angry people were about it! Anyway, I've sent out most of them, but retained a few to give away here on my blog. So, want some free coffee creamer? You know you do!
If you follow my twitter or just so happen to know me in person, you know that I am allll about the coffee. I can't survive or function without it. But, I only like coffee if it has a rich, delicious flavor... that's where Coffee-Mate comes in! I have tried other creamers, but honestly... they don't hold a candle to the one and only Coffee-Mate brand. Are they paying me to say this? No. I'm serious, I love this stuff! It's hard to pick a favorite flavor though, there are so many to choose from!! My favorite changes with the seasons (or if there happens to be a Limited Edition flavor out - oh, Black Cherry Streusel, how I miss you!). All that being said, I would admit that Peppermint Mocha is the one I always make my way back to eventually.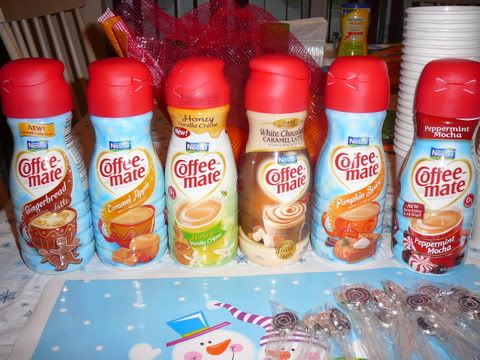 I'm just a little flavor obsessed, that's all!
Now on to the Contest!
2 winners will receive one coupon for a free bottle of Coffee-Mate Creamer. I will use random.org to pick two random entries. All you have to do to enter is leave a comment telling me which Coffee-Mate Creamer flavor is your favorite! Entries must be in by Thursday, April 14th at 10pm (Central) and the winners will be announced on Friday morning, April 15th, so check back here (winners will also be emailed if you leave your address in your comment). If you are a winner, you have 48-hours to respond/claim your prize once it has been announced.
[I am a member of the Coffee-Mate Brew Crew and received these coupons for being part of the team. The statements about the product are my own, honest opinions. Coffee-Mate is not responsible for this giveaway.]