I had a little more motivation this week after finding all kinds of fun stuff Spring, Rain, Flowery stuff to do. So, we did lots of flower and weather type activities. We have to celebrate Spring while we can, right?
Monday:
-
Daily devo
and Godly Character Trait: Prayerful.
- Read Eric Carle's
The Tiny Seed
.
- Flower Measurement worksheet from
Musings of Me's Spring unit
. After we cut out and measured the flowers, Preston wanted to make a 'collage' of them, so I let him arrange and paste them on paper. That way we can display it on our pantry door (instead of the fridge, we display his weekly work on the pantry door).
Measuring flowers
Got 'em in order, answering questions.
- Some easy math and numbers work in his
Learn Every Day
(LED) workbook. Since this is a preschool book, I try to up the challenge. We worked on counting by 2's and 3's instead of just counting the animals or whatever.
- The other day we were getting some top soil and things at Lowe's, and I spotted a cute, little cow planter thingee. I snatched it up and bought it, knowing it'd make a great addition to the Spring/Flower stuff we've been doing. So today we planted the grass seeds!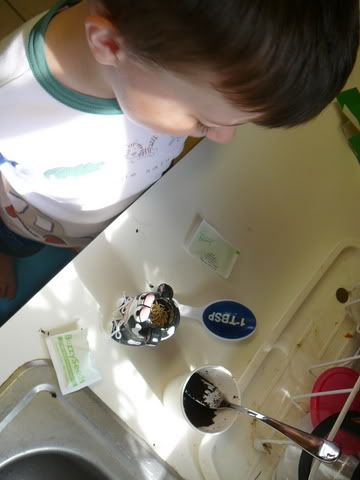 Mixing dirt to plant the seeds.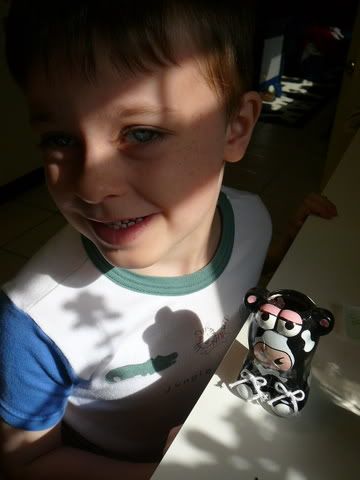 Planted!
On our window sill with the other plants.
- Also, later, I opened up the freezer and found this:
It's a bowl of ice with a note that says "Do Not Tuch." He froze water in a bowl, then switched the ice into a slightly bigger bowl at some point and added the note. He loves doing "experiments" like this. I love that.
Tuesday:
- Daily devo and Godly Character Trait: Modest.
- Rainy Day subtraction worksheet from
here
.
Subtracting raindrops.
- More LED work.
Counting by 2's and 3's.
- Has Preston read
The Windy Day
to me (a first reader book with lots of silent letters).
- Did a fun worksheet called "It's Raining On the Roses" from
this Spring Unit
. Preston stamped little raindrops with his pinky finger and stamped roses with his thumb. I let him decide how many of each he wanted, then we counted 'em and figured which had more, the raindrops or roses.
Thumbprints for roses.
- Later we used the
Magic Noodles
to create a 3D Springtime scene with a caterpillar and flower. Preston said the flower needed water, so in addition to the sunshine, he added a cloud and some raindrops!
I made sunshine!
Writing "Preston's 3D Picture"
Wednesday:
- Daily devo and Godly Character Trait: Joyful
- More LED work.
He hates coloring! Coloring by numbers!
- Did a variation of the Fraction Caterpillar activity I found
here
using the Springtime scene we created the day before. He had to tell me things like how many parts of the caterpillar were white (3 out of 8) and how many white parts out of ALL the pieces were there (8 out of 28), then we made those into fractions. I know that's a little much for Kindergarten, but he totally got it and had fun with it!
Fraction hunting.
- We read
The Kite
, a Davey & Goliath book.
- And last I let Preston paint an abstract picture using the bottom and sides of some bottles we had in the recycling bin to make designs!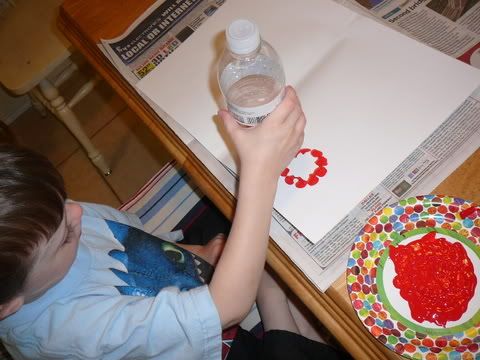 Stamping designs from a bottle.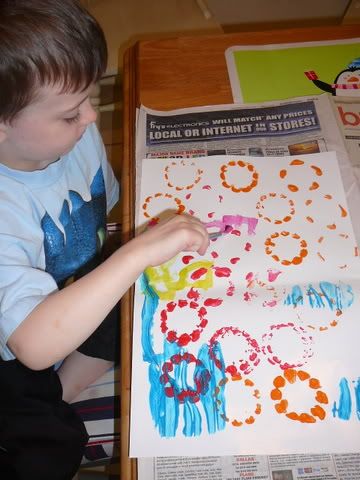 Adding to the designs by hand.
- Later we were outside having a picnic lunch and the boys discovered a grasshopper on the slide. The spent quite a while staring at and talking to this little guy. Haha!
Mr Grasshopper was very patient!
Thursday:
This morning, my mother-in-law and I took the boys out to a field of bluebonnets to attempt some photos. Then we had lunch at their house, and while Callen zonked out for a long nap... Preston and I did just a little bit of schoolwork.
- Daily devo and Godly Character Trait: Generous
-
Home At Last
addition manipulatives. Preston used the birds to help figure out the addition problems he couldn't do in his head.
Birdies help with addition!
Yellow birdies in this house!
- Daddy came home between his two jobs and hung out with us for a bit. He read
Winnie The Pooh: The Big Fat Bee
, while Preston did the puppet work.
- Later this evening, Preston was bored and asked what he could do. I told him to "go write a book." He obliged! He grabbed some paper and worked at the kitchen table for a while and finally announced he was finished. I went to see what he created and it was a "Counting By 2's" book. It had several pages of 2, 4, 6, 8, 10 and the words "Counting By 2's." Glad to know he's got that down!
Friday:
- Daily devo and Godly Character Trait: Responsible.
- LED workbook, writing numbers (he still gets his 2's, 3's and 6's backwards most of the time).
- More of the Home At Last addition work.

This post linked at: