I was contacted by a representative from Time4Learning, asking if I would try out their site and write a review. I said "Sure!" instantly because I know how much Preston (age 5) loves playing on the computer... and if it's education, that's even better!
Time4Learning.com
is a fun and educational site that uses games to teach children all kinds of subjects. It can be used for homeschool, summer refreshers, after-school learning if your child needs help in certain areas and more. There is so much to this website, that even in the month we used it, we didn't scratch the surface! There are tons of lessons in each subject, in each grade. There are lesson plans available to turn this program into a full-scale homeschool curriculum if you wanted to. There are also parent forums to reach out, get help or give tips on the program. Very cool!
I started Preston out in the Kindergarten level and went through some of the lessons with him so we could see what it was going to be like. Most of the language arts lessons were below his skill level and he found the instructions that were repeated over and over to be somewhat annoying (I think he may have actually rolled his eyes at them once!). However, once he started checking out other areas of the site and getting into the science and math areas, he was a little more challenged and found it interesting!
A few weeks ago we were studying the planets, and we ran across a section on Time4Learning for that! He was pumped!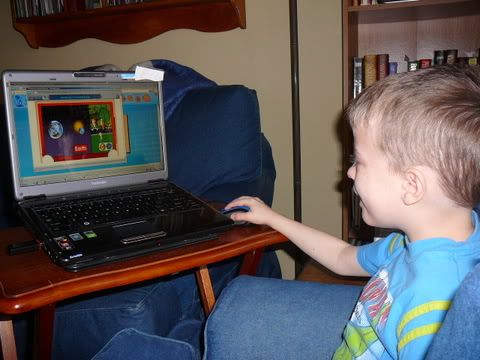 Happy to be on the computer!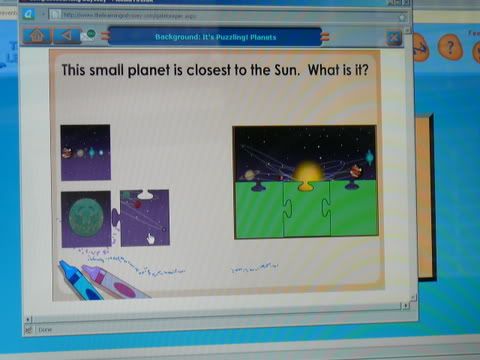 Answering the riddle solved the puzzle.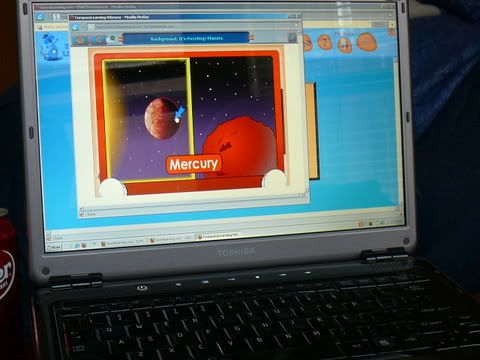 Learning about the planets.
After the first couple of times, I let Preston just have free range of the site... he could do whatever lessons or subjects he wanted. At one point, he learned about Vincent Van Gogh. I was able to extend that lesson and show him the prints I have on my bathroom wall of "Starry Night" and more (I have 8 prints of Van Gogh's work in there!). He was pretty impressed. And he retained the information he learned because I quizzed him on it today! After about two weeks, I moved Preston up to the first grade level because most of the lessons were just too easy for him (letter sounds, etc). The first grade level was definitely more challenging, and according to him "MORE FUN!" He told me he liked the characters in the lessons and that they had fun games to play, like "Dunk the Bugs!" He definitely enjoyed it, because he asked several times a day to "play" Time4Learning.com!
I like that Preston thinks he's playing, but he's learning at the same time - that makes it so much easier on me to get him to sit and concentrate on the subjects. It's fun! And as I said earlier, there is so much to do that I don't think a child would get easily bored with this program. It's easy to navigate, it's fun to explore and the feedback on how your child is doing is helpful. I could tell that Preston really was just playing at a few of the lessons (he was getting things wrong on purpose to see what would happen!), but then I could also see where he was trying, but not quite understanding. There are all kinds of reports you can get to check on your child's progress with the lessons.
I think
Time4Learning.com
made a great supplement to my homeschool curriculum for Preston. He loves being on the computer, and I don't usually let him do much on the internet, so it was a nice break for me to have something to occupy his time, while teaching him and being safe for him at the same time.
I was given a free month-long trial membership at Time4Learning.com in exchange for writing an honest review of the site. The review posted above is my own, personal opinion.