The Homeschool Mother's Journal
: Summer Edition, a link-up with
The Homeschool Chick
.
In my life this week...
- Our car broke down in the middle of Michael's pizza shift Tuesday evening. Alternator went out. Thankfully, my amazing brother-in-law is a mechanic and was able to fix it!
- We had a wacky schedule because Michael worked 1-9pm Wed-Fri. It was nice having him around in the mornings, we did cool stuff like breakfast with Regina & Kevin and going to a birthday party at the Splash Factory! Also, I worked on Thursday evening... woo hoo!
In our homeschool this week...
I had Preston start on the workbooks I planned for him to do this summer. One is
A Reason for Handwriting A
and the other is a generic
First Grade workbook
. I also did more prep work... mostly cutting, laminating, cutting, hole punching, etc. I have really been enjoying the prep work... and I hope I always will!
A photo to share...
I've got two.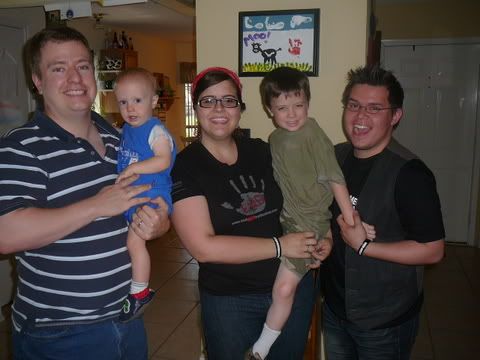 The Hernandezeseses came for a visit!
Preston... pants. Preston Pants!