In my life this week...

Getting my recap post up a bit late. Friday got away from me, as did most of Saturday. Friday, after we finished school, we met with a friend from our home school group and the kids played at the indoor playground at McDonald's. Yay for getting some energy out INDOORS when it's 100+ degrees outside! Today was at least 105, I believe. Yuck! Today I had a booth at a
Mom's Only Homeschool Boot Camp
in Granbury, put on by
Heather Mac
. It was a small event, but was a lot of fun and I really enjoyed getting to meet fellow homeschool moms... and of course, show off our awesome
Usborne Books
, haha.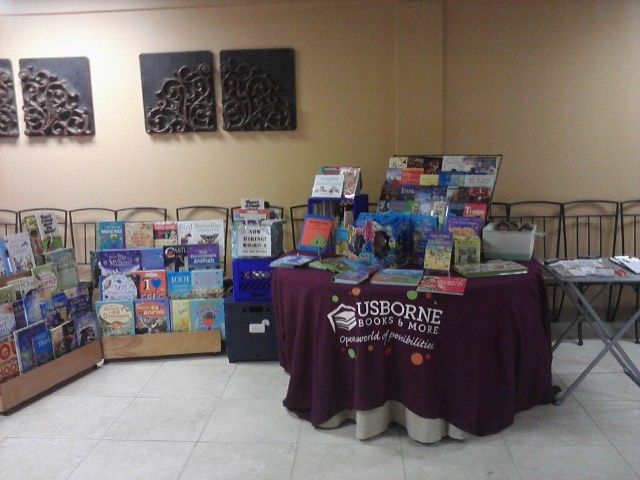 My Usborne display at the conference!
I got to meet Connie from
Smockity Frocks
(whom I've blog and twitter stalked for a few years now) and ran into Tina from
Shema Homeschooler
, who lives around the corner from me... and yet, I had no idea was speaking at this event. Lol!
In our Homeschool this week...
Our second week went a bit smoother, as we didn't have nearly as much going on to distract us from school. And we're getting into our new groove.
Emperor's New Groove
fans say it with me, "beware of the groove!"... um, nevermind.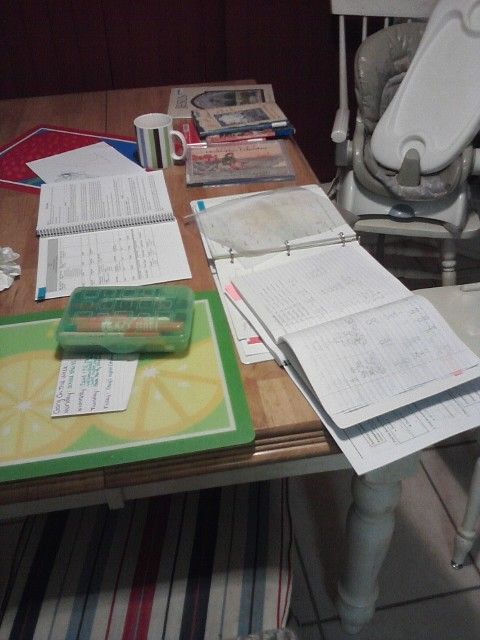 Peek into my prep work.
Because I'm not letting Preston write in a few of our curriculum books, I'm copying down some of the info/problems into a notebook for him to use. This creates a bit more prep work for me than is really necessary. However, it's going to save me in printing costs and from having to buy books again when it's Callen's turn. We do a lot of writing on a sheet protector with a dry-erase marker too. So, just a peek at what my table looks like on Sunday night after the kids go to bed. Fun, huh?
Tot School:
This week, with Callen, we did more Dry-Erase activities, but he also decided since he liked the Dry-Erase Crayons, he would use the regular crayons more too... so that was nice (and less messy). I have to tell you, after praising the Dry-Erase Crayons... they still do make a giant mess on your kid and surrounding areas, BUT... it is SO much easier to clean up. So, still worth it! IMHO. Anyway, I realized that he was holding his crayons PERFECTLY! I didn't teach him, or specifically show him how to hold it, so I was really proud to see him coloring like this: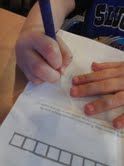 Perfect grip!
We also continued using the
Mama Jenn Education Cubes
Alphabet Movements. We read several books suggsted for Callen's age in
Honey for a Child's Heart
, like
The Bremen Town Band
,
Christina Katerina and the Box
and
Brown Bear, Bear, What Do You See?
Bible:
We started our first Name of Jesus this week, our little cut our says "Jesus - The Lord Saves" and we added it to our Advent Tree. I decided instead of a poster board, we would use that. Mostly because... we don't have any space on our kitchen wall for another poster board, ha! We talked about what that meant and looked up some Old Testiment verses in
The Discoverer's Bible
that spoke on the name "Jesus" and how he came to "save" us. Preston loved being able to look up real verses in his new Bible! We read the beautifully illustrated book
Jesus
by Brian Wildsmith.
Reading/Writing:
We continued
Spelling by Sound & Structure
. Again, the words are super easy, BUT I didn't catch Preston not adding the extra "l" on a few words, like "bill" and "bell" so there was something we needed to work on! Continued just practicing our letters, c-j this week.
History:
This week we dove into Columbus! Added to our History Notebook and Timeline. We read from
Story of America
and
American Pioneers and Patriots
that come with MFW. We also read
A Picture Book of Columbus
by David Adler,
I, Columbus: My Journal
edited by Roop and
Pedro's Journal: A Voyage with Christopher Columbus
by Pam Conrad. We used some of our bath boats to show how wind helps sail a boat. The boys thought this was great fun... making waves and wind for the boats as they tried to get from one end of the bath tub to the other.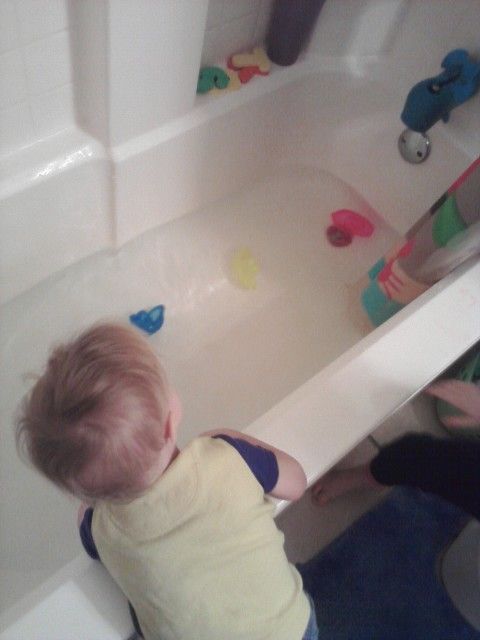 The boats sail from Spain to The New World.
Math:
Finished up the first chapter of our Math Mammoth workbook and did the review. He's doing really well with starting to memorize some of the math facts so that he doesn't have to figure them out each time. Yay! Preston will have his first quiz on the material on Monday! I'm interested to see how he handles it!
Science:
Did a few pages of
Science with Air
this week, just talking about how air is everywhere. We had a paper race. We put a couple of sheets of paper on the floor, then used some cardboard to fan air at them to get them to move. I won. Ha!
Music/Art:
We continued the
My Very First Art Book
, this time drawing animals out of basic shapes. Preston drew a fine monkey. We also did a page in the
My Very First Art Coloring Book
where it was a page full of random lines and marks and Preston created a scene from that.
Spanish:
Preston and Callen both enjoyed the next two episodes of
Salsa
, which continues the story of Goldilocks & The Three Bears. We reviewed words having to do with "La Cocina" in our
First Thousand Words in Spanish
. Callen was sitting in his chair coloring while we were doing this and every once in a while would pronounce a Spanish word along with us, so fun! I am so pumped, because at the conference I was at on Saturday there was a full Spanish curriculum,
La Clase Divertida!
, on the "free" table. Someone recently told me about this particular curriculum and I meant to look it up, and then there it was FREEEEE! Thank you, Jesus, for that blessing! I brought it home and it fits in perfectly with what we already have planned... so we'll be doing a little more Spanish that I first anticipated, but I think it's going to be great! Woo hoo!
We are using Adventures in My Father's World. See our curriculum
here
.
[
This post contains affiliate links for Usborne Books & More and Amazon.com. By clicking on those links and purchasing items, you are helping me continue to be a SAHM so that I can focus on homeschooling my children! Thank you!]