In my life this week...
Last week was our break week. We went to see a production of
Winnie The Pooh
at Artie's Playhouse (The Artisan, in Hurst). The boys enjoyed it, as did I. We ran lots of errands as well, and had a bunch of meetings to attend... AWANA start-up meeting, Cub Scout meeting, our last regular Wednesday night church class and on Sunday I attended one of my
Usborne
recruits' kick off party. So, even though it was a "break," we certainly kept busy. As for this week... same story, meetings, errands, etc., but we mixed in school again, hehe. We had our AWANA registration night, and quickly signed up over 50 kids! Exciting. I am the Puggles Director... that's kids that are 2 and 3 years old... I already have 6 in my class, and probably more after Sunday's registration as well. Wow!
Enjoying the weather at the park.
Places We're Going & People We're Seeing...
We are looking forward to this weekend because I'm hosting a Fisher-Price Joy of Leaning Playdate through House Party. They sent us a TON of brand new Fisher-Price toys to try out. I couldn't believe how much they sent... I'll be posting about the party later. But we're looking forward to seeing lots of friends on Saturday. Then, Preston and Michael are going on their first camp out with the Pack! I am praying it goes smoothly! Dear Lord, PLEASE let it go smoothly for both of them! Lol. Also, tonight, Michael and I are getting a date night, as we're going to see the new movie called
Unconditional
. I finished the novel last night and am excited about seeing the movie, since I know the guy who wrote and directed it. Soooo neat! Go see it this weekend if you can and let's give him a fantastic opening!
In our Homeschool this week...
Tot School:
We continued the
1plus1plus1equals1.net
"Tot School" printables
this week with letter "E" for egg! We worked on our Tot Notebook and read lots of egg-themed books:
Tillie Lays An Egg
,
Egg! A Dozen Eggs, What will they Be?
,
The Egg
,
Duck & Goose
,
Eggday
and
The Egg Tree
.
This craft was NOT toddler-friendly. Oops.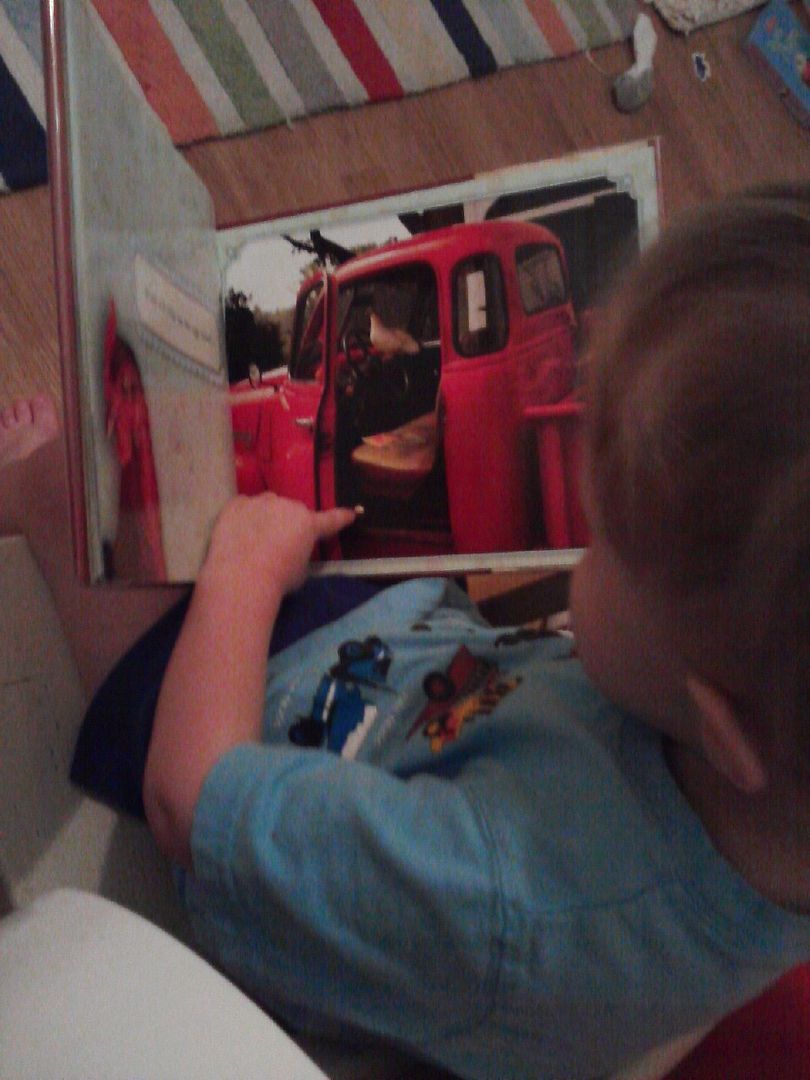 Callen enjoyed finding the egg in each picture!
Bible:
We used
Mama Jenn's printable
up on our Morning Board to help us continue to memorize Matthew 7:24 this week. We are learning about Jesus as our rock, and Preston had the verse completely memorized by Thursday (it's kind of long, but he's got it perfectly!). We looked up verses in
The Discoverer's Bible
that described Jesus as our rock and shelter, and we listened to a bunch of songs with that theme as well.
Reading/Writing:
We continued
Spelling by Sound & Structure
. Preston aced both spelling tests he had this week. Continued with lessons 13-15 in
Primary Language Lessons
. We did some conversational questions and went over the difference between to, too and two.
History:
Last week, during our break, we started the book
The Sign of the Beaver
. We finished that earlier this week and Preston really enjoyed the story. We also started a new read-aloud,
Sarah Whitcher's Story
. This week's main lesson was about George Washington, prior to the Revolutionary War. We read about early life in our history reader, made a tri-corn hat like Washington wore, and we read several books from our collection and the library about Washington, Adams and Revere:
George Washington: A Picture Book Biography
,
Big George
,
George Washington's Breakfast
,
Paul Revere's Ride
,
And Then What Happened, Paul Revere?
and
Why Don't You Get a Horse, Sam Adams
? Also, on his own, Preston looked through the book called
Go Go America
, we are getting ready to start learning more about the individual states soon!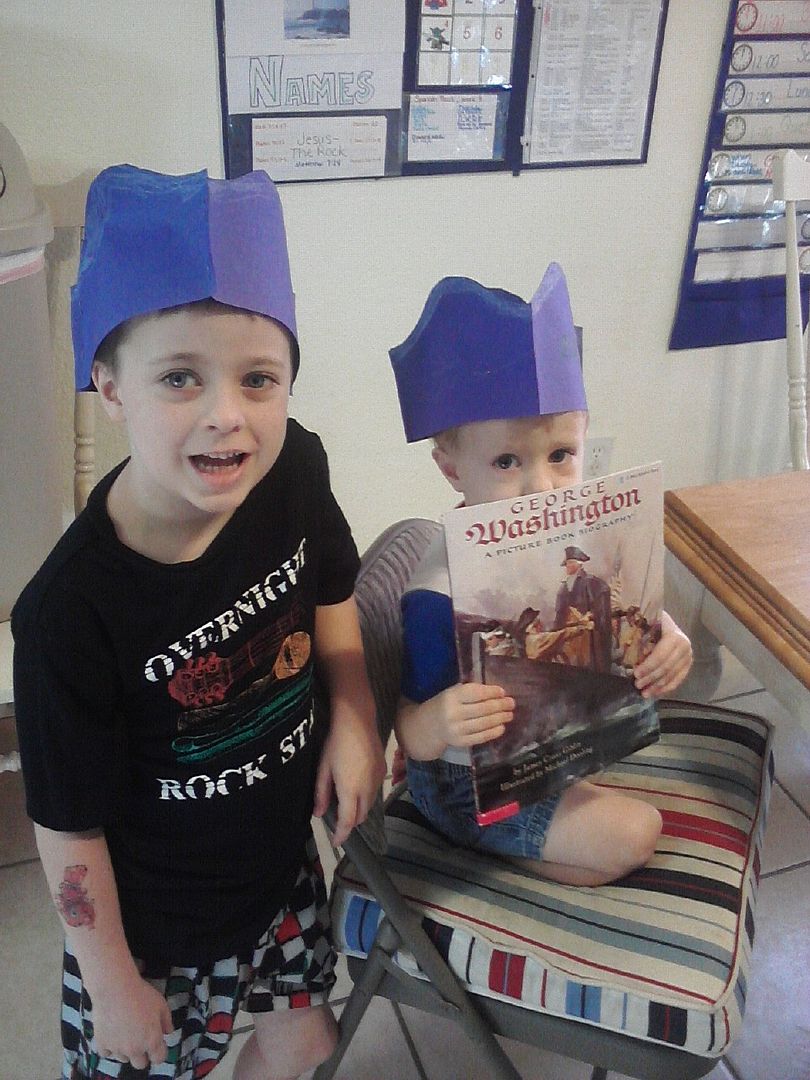 Tri-corn hats like Colonel Washington!
Math:
Preston got an 89 on his Chapter 3 Math Mammoth test, and we started up on Chapter 4. We're going over addition or subtraction that goes over 9 into a new 10. We had a bit of meltdown on Thursday because he refused to use "the trick" I was teaching him, instead insisting on using his fingers. He was just being so stubborn. I finally gave up and had him go over it with his dad later that day. It's crazy because the days before he had done so well, pretty much on his own. I left him with the sheet and he completed it, no problem.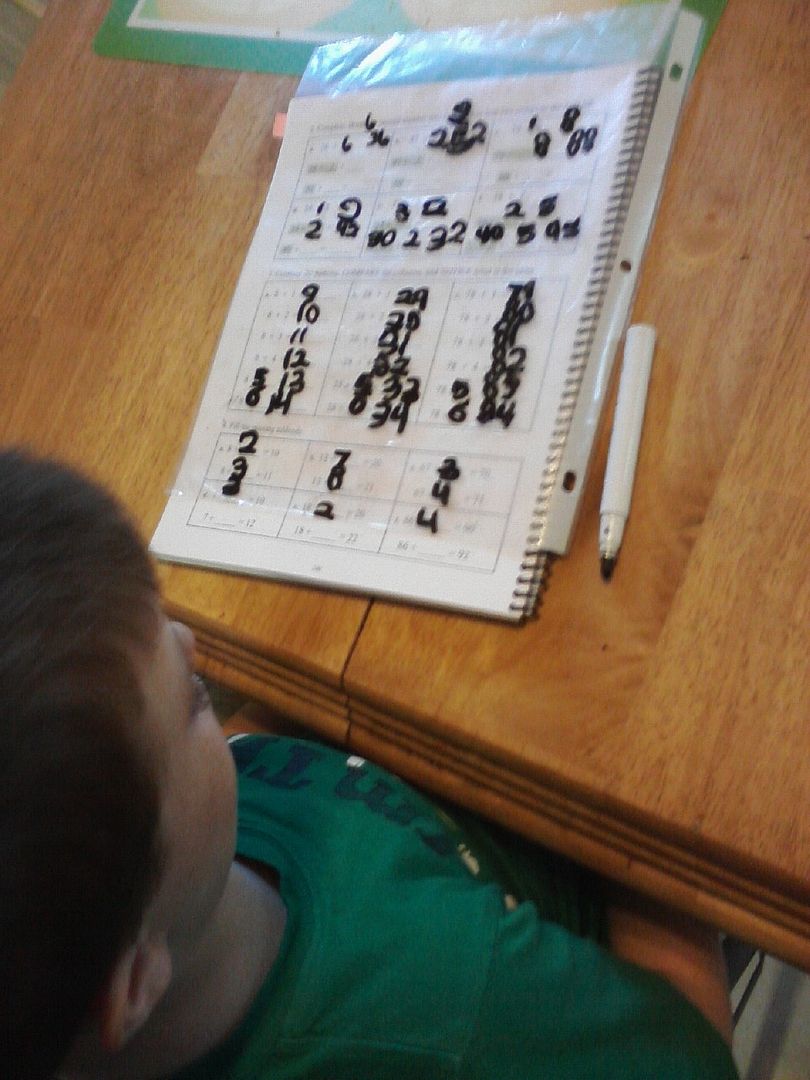 When he was doing well!
Science:
This week's science focus was on seasons, how timely with FALL officially starting tomorrow (yeeahhhh!) We read from
First Encyclopedia of Science
about the seasons and read
The Reasons for Seasons
,
Sky Tree
and
Month By Month A Year Goes Round
. We went outside a couple of days, and he drew our tree and some leaves. We also used some of those leaves later in his art work. It was nice the weather was cool in the mornings and we could really enjoy our outside time.
Drawing/Chalking our tree
Tracing/Drawing a Leaf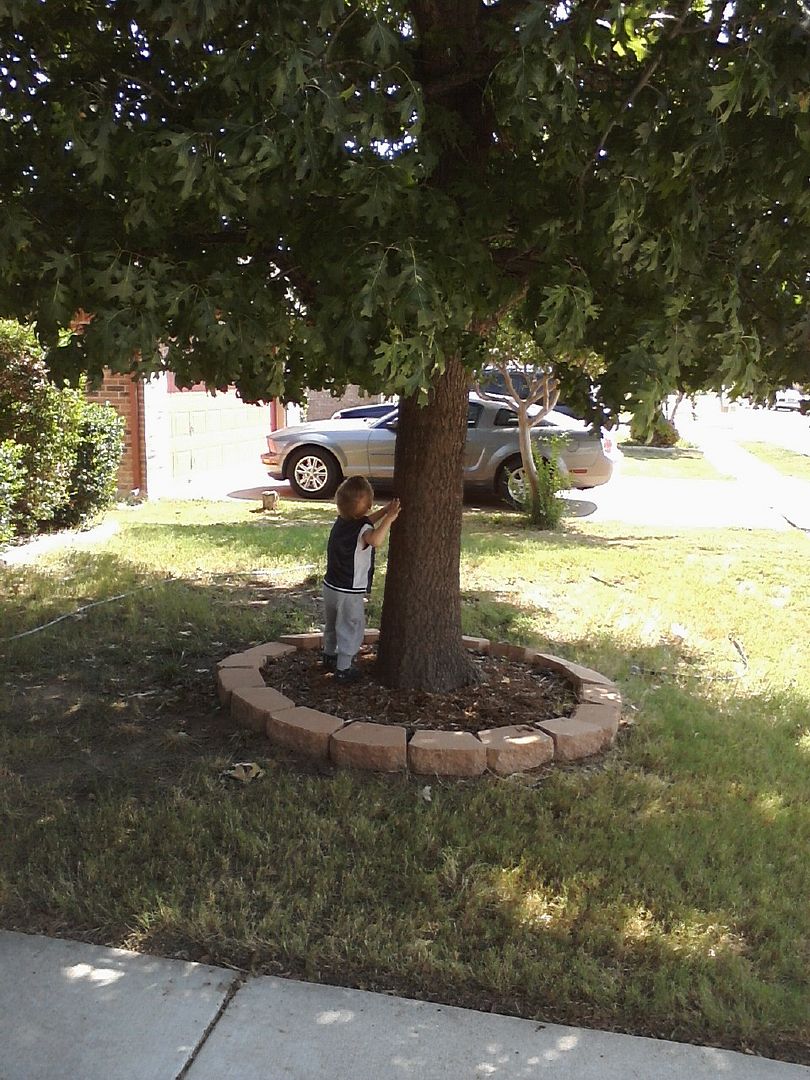 Callen trying to reach a leaf.
Music/Art:
We continued in the
My Very First Art Book
, using some of the leaves we had collected to create prints on our paper. We slathered pain on the leaf, then pressed it down and pulled it back up, like a stamp. Preston made a pretty image. We listened to the rest of the
Story of Tchaikovsky CD
, telling us about his life interspersed with examples of his music. And we started learning Yankee Doodle (not to be confused with Yankee Doodle Dandy, geez) from our Celebrate America CD.
Spanish:
Continued with the next two episodes of
Salsa
. We reviewed words having to do with "El Viaje" in our
First Thousand Words in Spanish
. And we went through our fourth lesson of
La Clase Divertida!
continuing to go over the vowels, days of the week and going over some new alphabet letters, now we have A-Ñ. There is a catchy song for the days of the week and Callen was singing it the other day to himself when he was playing, so cute!
We are using Adventures in My Father's World. See our curriculum
here
.
[
This post contains affiliate links for Usborne Books & More and Amazon.com. By clicking on those links and purchasing items, you are helping me continue to be a SAHM so that I can focus on homeschooling my children! Thank you!]