In my life this week...
This week was fun, and that means it flew by. It was pretty chill. We didn't do a full load of schoolwork, but focused on Thanksgiving and Fall activities. My Father's World has a built-in Thanksgiving week to use whenever you get there, and technically you're supposed to do it the week of Thanksgiving... but I wanted to take that week completely off... so we did it this week instead. Yay flexibility! Anyway, we ran errands. Had scouts, homeschool group meeting and AWANA as usual. Put my van in the shop and will be picking it up this evening... praying they were able to fix all the crazy noises it was making. I swear, some days it sounded like it was just ready to crumble into a million pieces, then the next day, not a peep out of it. I'm pretty sure people thought I was crazy when I tried to explain this to them, but the shop found some issues that seem to explain all that. I hope! Praise God for my parents who are paying for this van operation! I am so blessed!!!
In our Homeschool this week...
Tot School:
We didn't do a specific tot school this week, but Little Brother got to do lots of the same stuff we were doing! So he enjoyed that a great deal. I also had a few easy things for him to do that I printed out. He traced lines, went over some letters like "P is for Pilgrim," did lots of coloring and such.
Bible:
We focused on verses expressing thankfulness, of course. We looked up several passages in
The Discoverer's Bible
that talked about being thankful for what we have and what God' done for us. We'll continue trying to memorize these verses next week too.
Reading/Writing:
We continued
Spelling by Sound & Structure
. Had to do this to keep on track to finish by end of school year. Preston also did several fun activities, like write a story describing "How To" help a turkey escape being Thanksgiving dinner. He came up with the information, I wrote it for him and he illustrated the scenes. He also filled out an acrostic for AUTUMN that contained words having to do with Fall. And, as always, we have been reading like crazy. In fact, I had checked out a bunch of books from the library for us to read together, but one day while I was working, he ended up sitting and ready nearly every one of them on his own. No fair! Haha. Here is what we checked out:
Gus the Pilgrim Turkey
,
We Gather Together, Now Please Get Lost
,
A Turkey for Thanksgiving
,
One Little, Two Little, Three Little Pilgrims
,
Apples & Pumpkins
,
Thank You, Sarah: The Woman Who Saved Thanksgiving
,
The First Thanksgiving
,
The Thanksgiving Story
and
The Tale of Two Bad Mice
(which isn't about Thanksgiving, but Callen picked it up and then Preston said, "Hey, we're your two bad little mice, we have to get this!" How could I refuse?)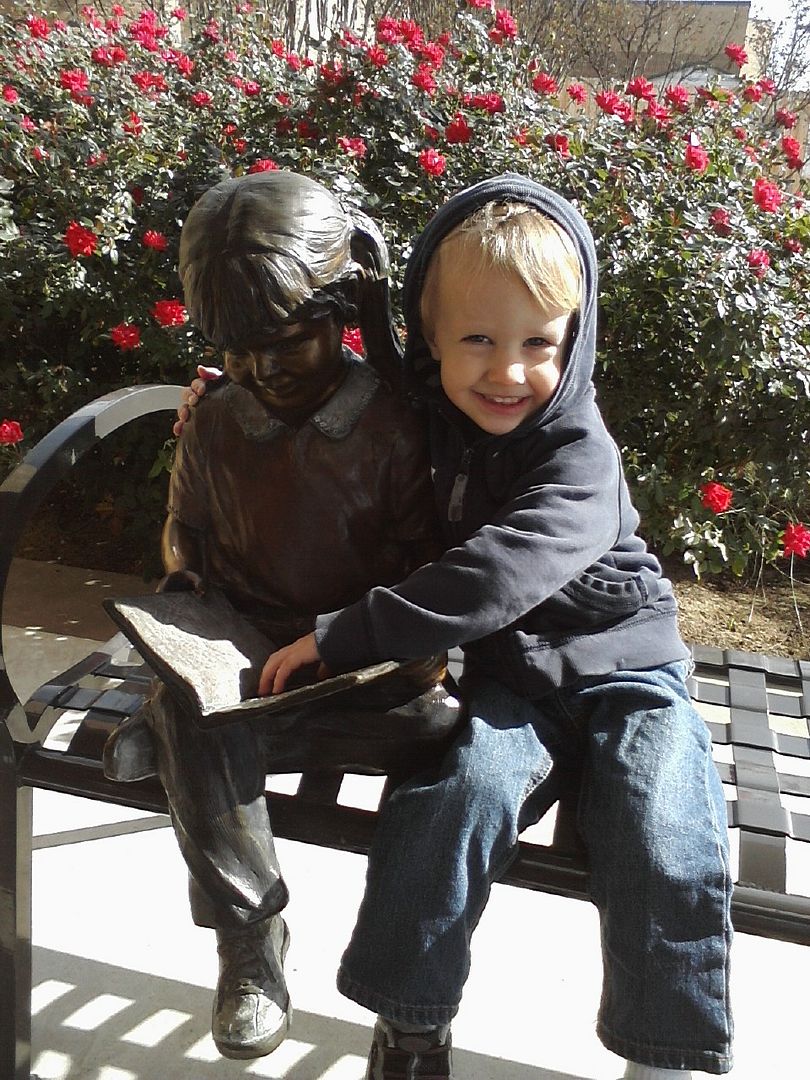 Callen enjoys visiting this little girl at the library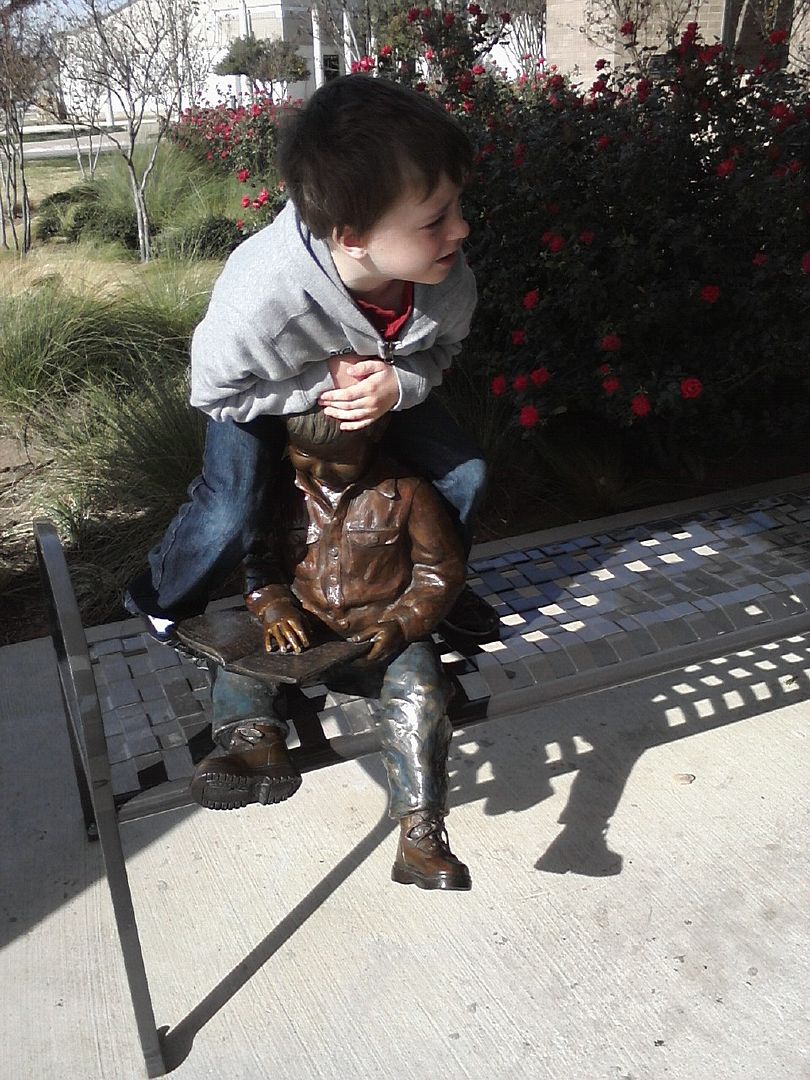 Preston, well.... yeah.
How to Help a Turkey Escape, basically he just needs to blend in!
History:
Obviously, we have been going over the history of Thanksgiving some more. We've been reading several chapters a day from
Stories of the Pilgrims
, which is really interesting because it even focuses on before the Pilgrims went to Holland... I haven't found many books that go over that part of the story much, so it's been nice to learn more in depth of how awful they were treated in England when they refused to obey King James.
And Preston wrote up a quick summary of why Thanksgiving is celebrated in America.
Math:
Preston did one little Fall-themed addition and subtraction worksheet. He also helps me do math around the house, and he spent a long time helping me do some math work for my book business earlier this week, trying reconcile my inventory and sales slips.
Science:
We did some pumpkin experiments with our Halloween pumpkin, which is still in great shape since we didn't carve it. Preston did some estimations about it's weight, if it would float and how big around it was, then we measured to find the real answers. Both boys created a pumpkin book about it's stages of growth from a seed to being ready.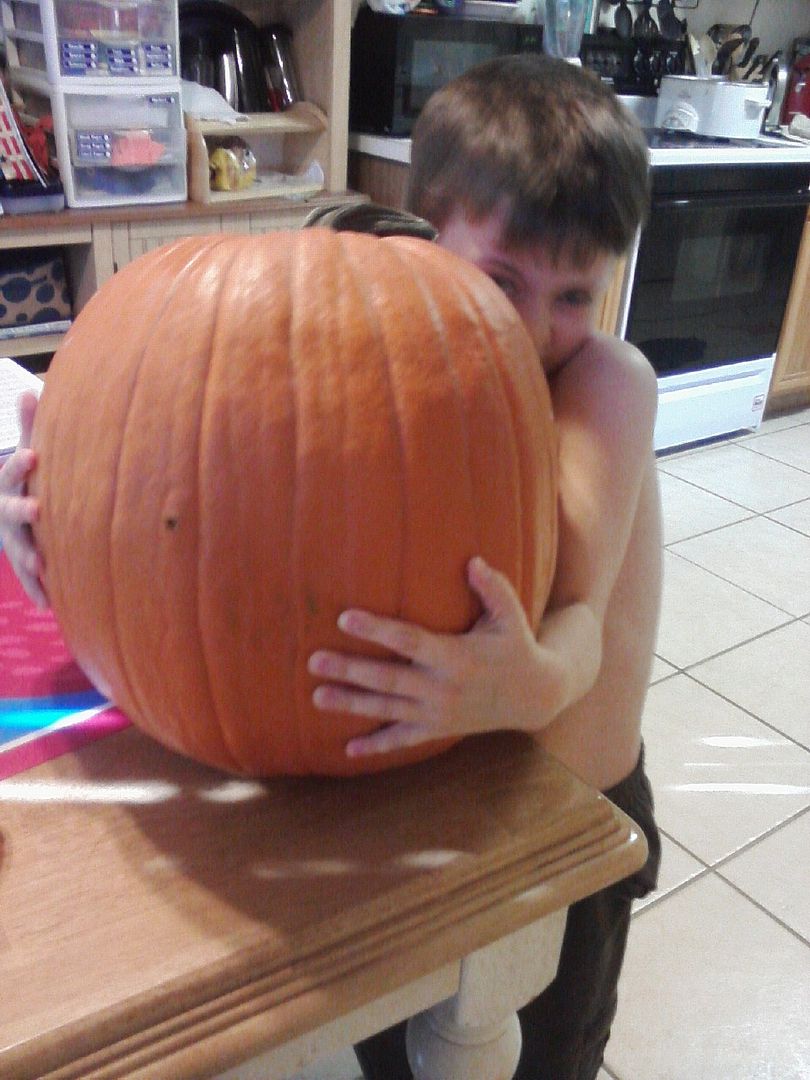 It's gotta be 52 pounds! (it was 23)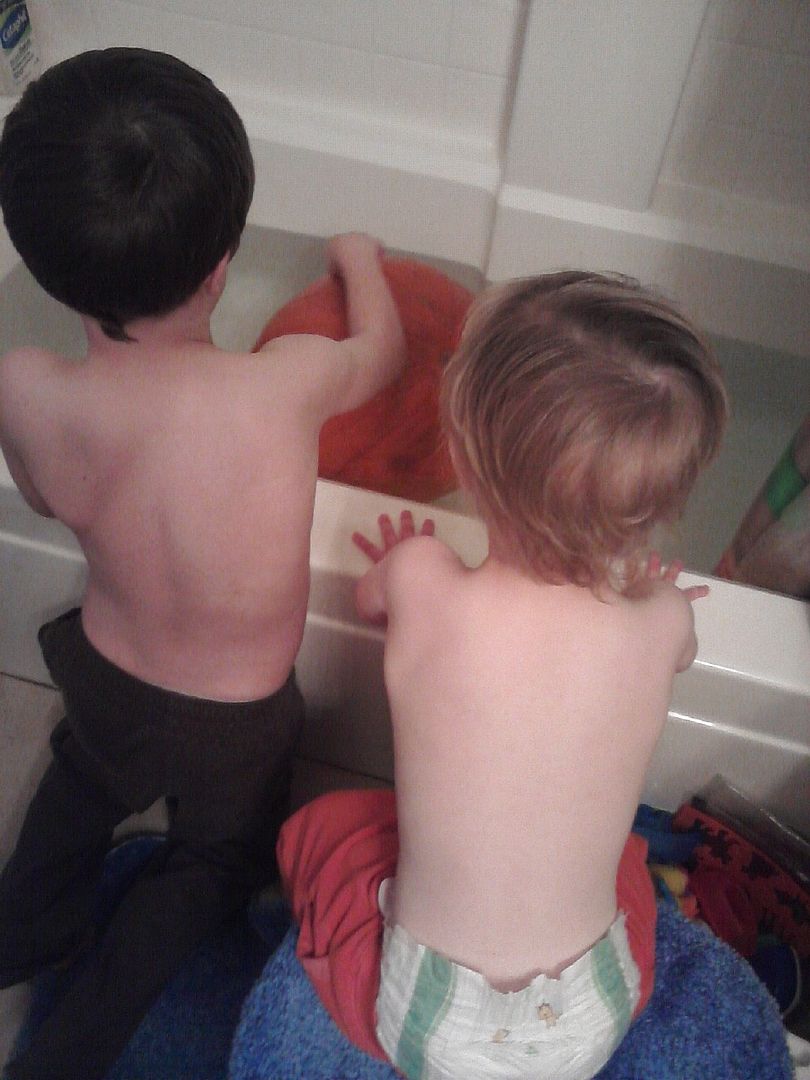 It'll never float! (it did)
Music/Art:
We worked on some fun coloring and crafts for the grandmas to use as decor, lots of ideas from
here
. The boys did turkey handprints in paint... Callen giggled through the whole thing, so cute! We also made
Thankful Pumpkins
, and the boys put in pictures of what they were thankful for... including Mommy's iPad, apple juice, snacks, tv, and oh yeah... family. Lol.
Falling leaves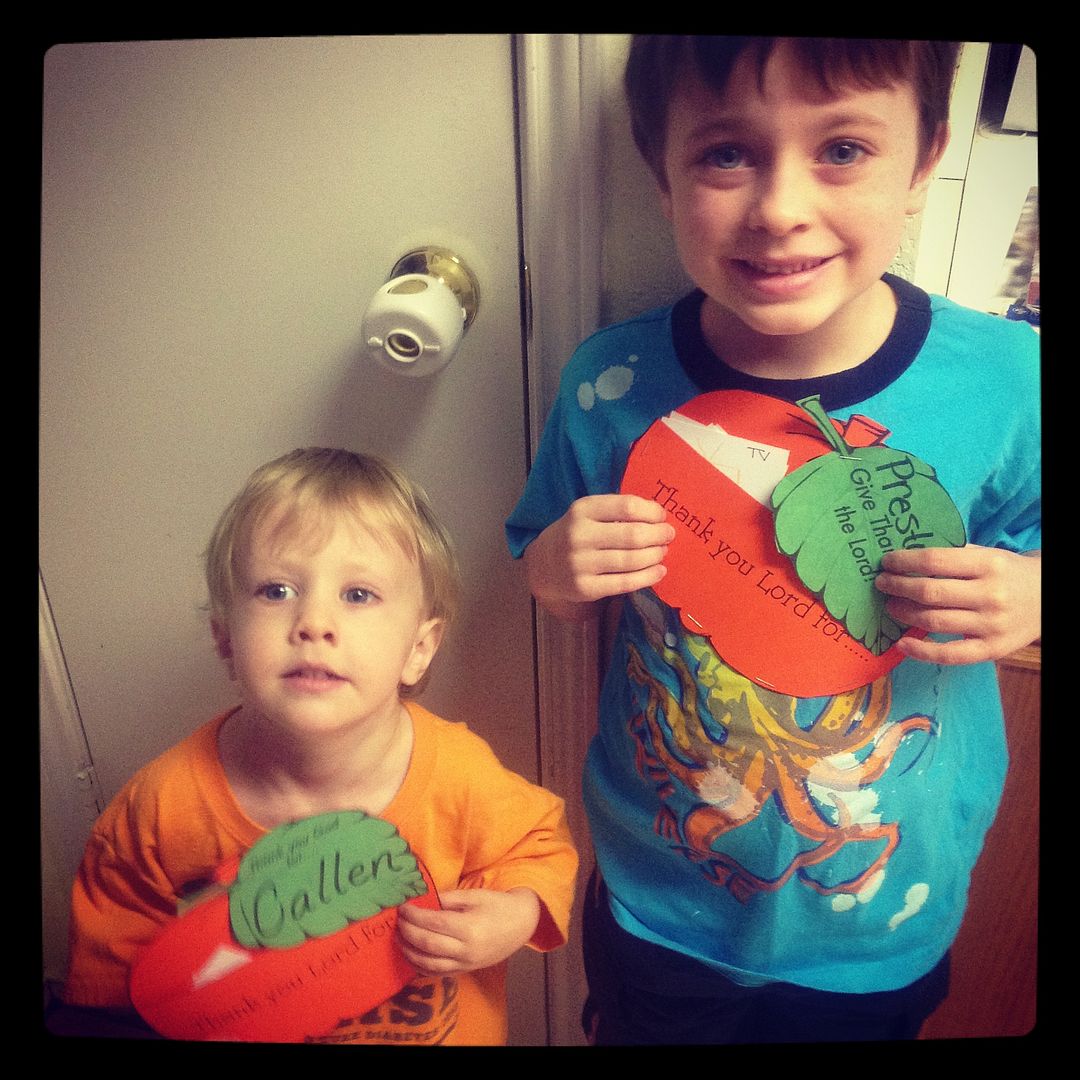 Thankful Pumpkins!
Spanish:
To stay on track, we did two reviews
First Thousand Words in Spanish
. It was "La Tienda" and "Los Alimentos." Mmm!
We are using Adventures in My Father's World. See our curriculum
here
.
[
This post contains affiliate links for Usborne Books & More and Amazon.com. By clicking on those links and purchasing items, you are helping me continue to be a SAHM so that I can focus on homeschooling my children! Thank you!]