In my life this week...
This week was a bit wacky, because I had Usborne events on 4 out of the 7 days. The boys got to spend time with friends and Grandma and Grandpa this week, so they enjoyed that a lot. We squeezed school in as best we could.
Reading/Writing:
We continued
Spelling by Sound & Structure
. Continued with lesson 61-63 in
Primary Language Lessons
. We continued our read-aloud,
On the Banks of Plum Creek
, by Laura Ingalls Wilder.
History:
This week Preston learned about the Santa Fe, California and Oregon trails, as well as the state of California joining the U.S. We read
Roughing it on the Oregon Trail
and
The Josefina Story Quilt
.
Math:
Preston continued Part B of Math Mammoth, Second Grade. Continued Chapter 8, and worked on subtracting three-digit numbers and regrouping.
Science:
This week's lesson was about solids, liquids and gases in
Science with Air
, and we talked about different states of matter. We also talked about "fizz" using
Science in the Kitchen
, and did this fun little soda and raisin experiment.
Music/Art:
Our patriotic song this week was "Columbia, the Gem of the Ocean." We also continued our
World's Greatest Artists, Vol 1
unit study, with our fifth artist: Henri Matisse. This week, we read from
Usborne Children's Book of Art
and
Famous Artists
. Preston colored a picture like the Sadness of the King in My
Very First Art Coloring Book with Stickers
.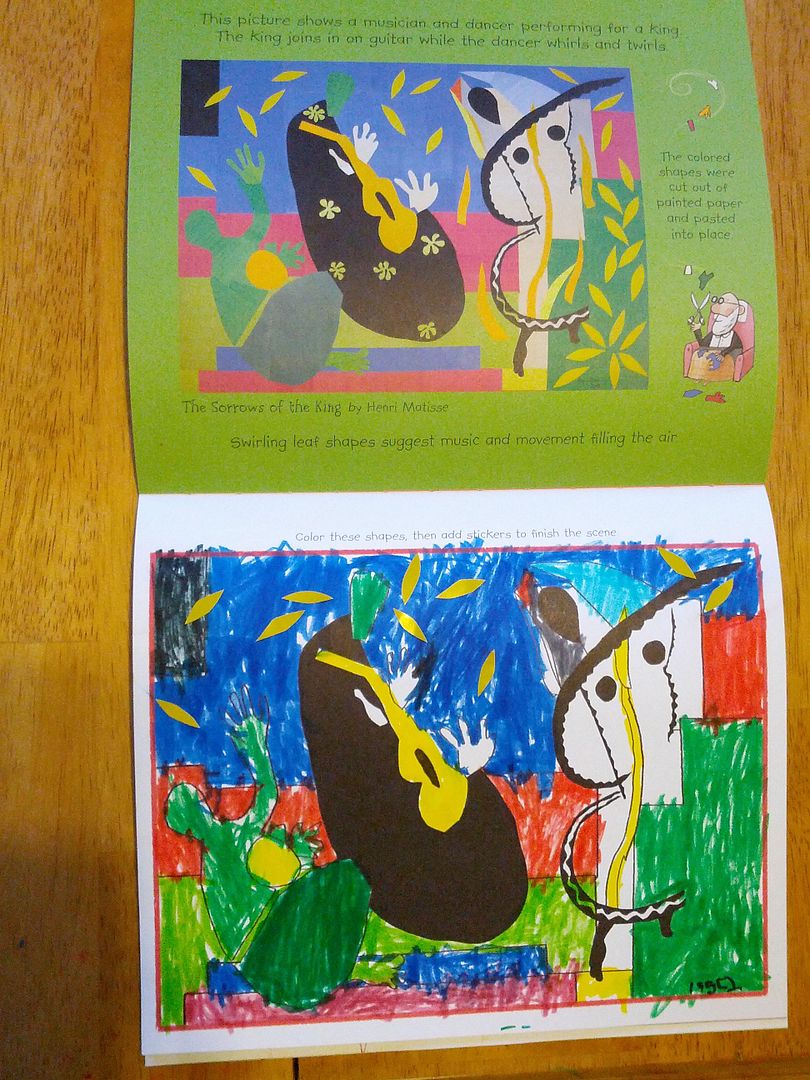 Recreation of a Matisse masterpiece.
We listened to a track from Tchaikovsky Sleeping Beauty and watched the Disney version (even though MFW suggests we don't since it's not really a good representation of the composer's work. Oh well). We also listened to
Best Loved Stories in Song & Dance
, read by Jim Weiss.
Spanish:
Continued with the next episode of
Salsa
. We reviewed words having to do with "Colores y Formas" in our
First Thousand Words in Spanish
and went through some review using the
Spanish Words & Phrases Flashcards
.
We are using Adventures in My Father's World. See our curriculum
here
.
[
This post contains affiliate links for Usborne Books & More and Amazon.com. By clicking on those links and purchasing items, you are helping me continue to be a SAHM so that I can focus on homeschooling my children! Thank you!]