People we saw...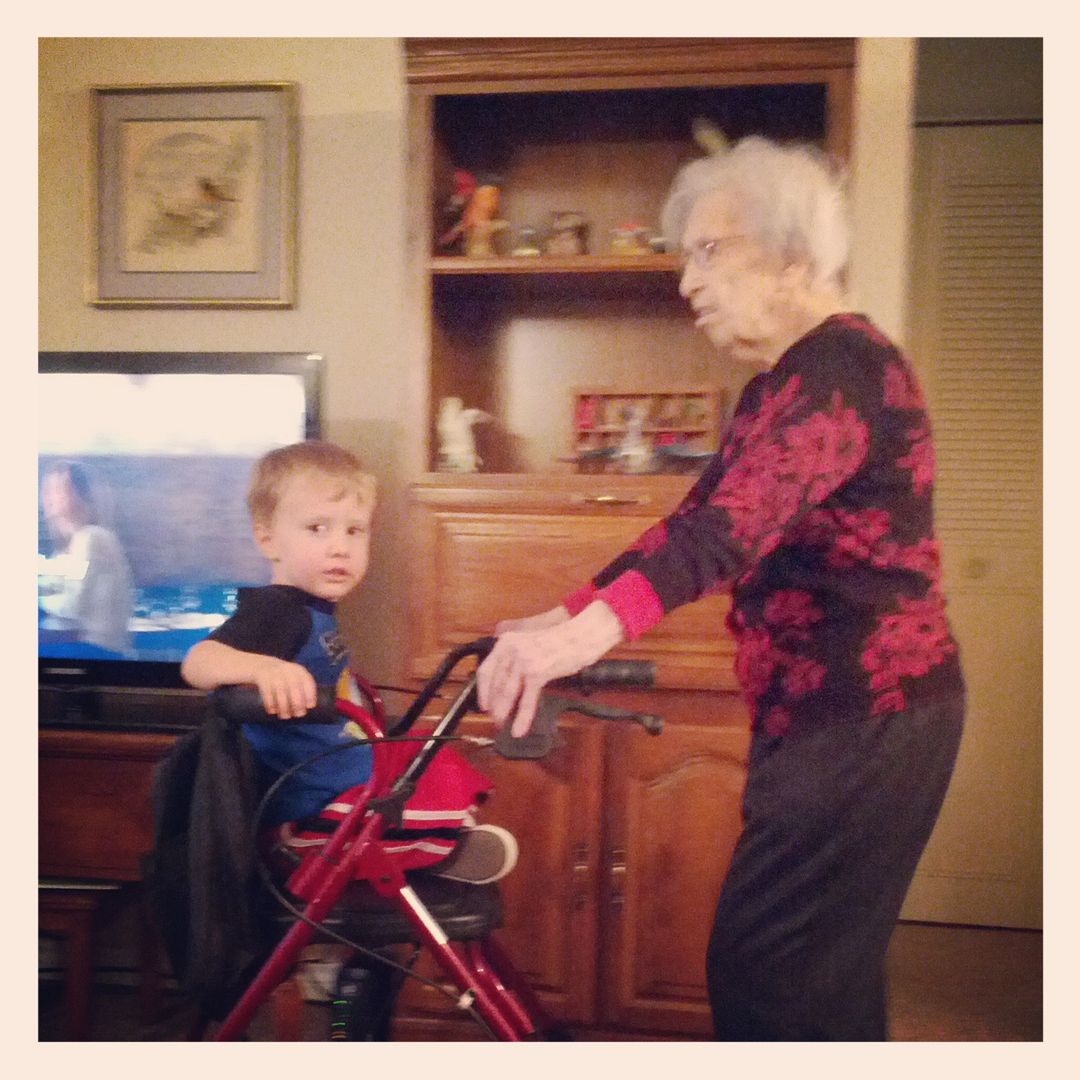 Go, Mema, go!
We visited my husband's grandma, aka Mema, and Callen hitched a ride. We also met up with some new friends at a really fantastic indoor playplace.. the kids had a blast. Definitely gonna have to go back there again soon!
In our Homeschool this week...
Tot School:
We continued the
1plus1plus1equals1.net
"Tot School" printables
this week with letter "
Y
" for Yo-Yo or toys! We read a variety of books this week, not necessarily all on topic:
The Toy Farmer
,
The Little House
and
Red Sings from Treetops
.
Bible:
This week's name of Jesus was "The Resurrection and the Life" (a great follow up to Easter!). Preston's memory verse is John 11:25 and we looked up verses in
The Discoverer's Bible
that talked about Jesus' resurrection and such. We added to the Names of Jesus branch, Preston did his copywork. We were supposed to make Resurrection Cookies, but since we did Resurrection Rolls last week, we skipped that.
Reading/Writing:
We continued
Spelling by Sound & Structure
. Continued with lesson 73-75 in
Primary Language Lessons
. We started our last read aloud: In Grandma's Attic by
Arleta Richardson
. So glad that this one is much more light-hearted after the last one. Lol.
History:
This week the lesson was about the railroad spreading out across America and how it changed how people settled the land. We also studied Colorado. We read:
Iron Horses
,
Boss of the Plains: The Hat That Won the West
and
Prairie School
.
Math:
Preston continued Part B of Math Mammoth, Second Grade. Finished Chapter 9 on adding and subtracting money, and did the chapter review, mixed review and chapter test. Also, did a subtraction with regrouping worksheet to continue practicing that skill.
Science:
This week's lessons continued about magnets, using the "Fun With Magnets" kit. The boys really enjoyed playing with the magnets and trying 'em out different ways. Unfortunately we could not make our electromagnet... simply could not get that experiment to work (even with Daddy's help).
Music/Art:
Our patriotic song this week was "Battle Hymn of the Republic." We also continued our
World's Greatest Artists, Vol 1
unit study, with our seventh artist: Georgia O'Keeffe. We read about her in the
Usborne Children's Book of Art
and
Georgia O'Keeffe
, and the boys colored a skull and flowers.
Spanish:
We're not doing much for Spanish anymore, just reviewing where we can. Preston read a board book called
Grande Pequeno
and I had practice saying the words correctly and figuring out what they meant.
We are using Adventures in My Father's World. See our curriculum
here
.
[
This post contains affiliate links for Usborne Books & More and Amazon.com. By clicking on those links and purchasing items, you are helping me continue to be a SAHM so that I can focus on homeschooling my children! Thank you!]